Iconic Names and New Faces: Days Three and Four At Lollapalooza
After the first two days of Lollapalooza Music Festival, every performer had a lot to live up to.
After the first two days of Lollapalooza Music Festival, every performer had a lot to live up to. For artists like J. Cole and Green Day, this expectation was nothing new. While they delivered unmissable performances, younger acts like WILLOW and j-hope provided heavy competition across Grant Park giving their fans just as much satisfaction.
Saturday July 30
On the BMI Stage, punk-rock trio Meet Me @ The Altar brought shining vocals and a bright stage presence to the festival's shaded corner. The group jumped and danced under flashing stage lights while delivering flawless harmonies during their early afternoon set.
Across the park, pop fans waited patiently for singer Gracie Abrams to begin her 4 p.m. show. Opening with her 2021 release "Feels Like," the up-and-coming pop princess brought warmth and good energy to the Discord Stage.
The indie artist was stunned by the crowd's size. With this being her first Lollapalooza, Abrams was beaming with happiness while waving to fans and holding her head in her hands.
As the Indiana Jones theme played a few blocks away, Wallows triumphantly walked onto the T-Mobile Stage. Wearing an *NSYNC t-shirt, frontman Dylan Minnette demonstrated he is much more than "the guy from '13 Reasons Why.'"
The set was full of moments of pure joy. Trumpet solos, synchronized hopping and reflective pauses all added to the band's blissful set.
"Seeing everyone just playing sets up here, it just felt like a pipe dream," Minnette said about their 2018 appearance at the festival.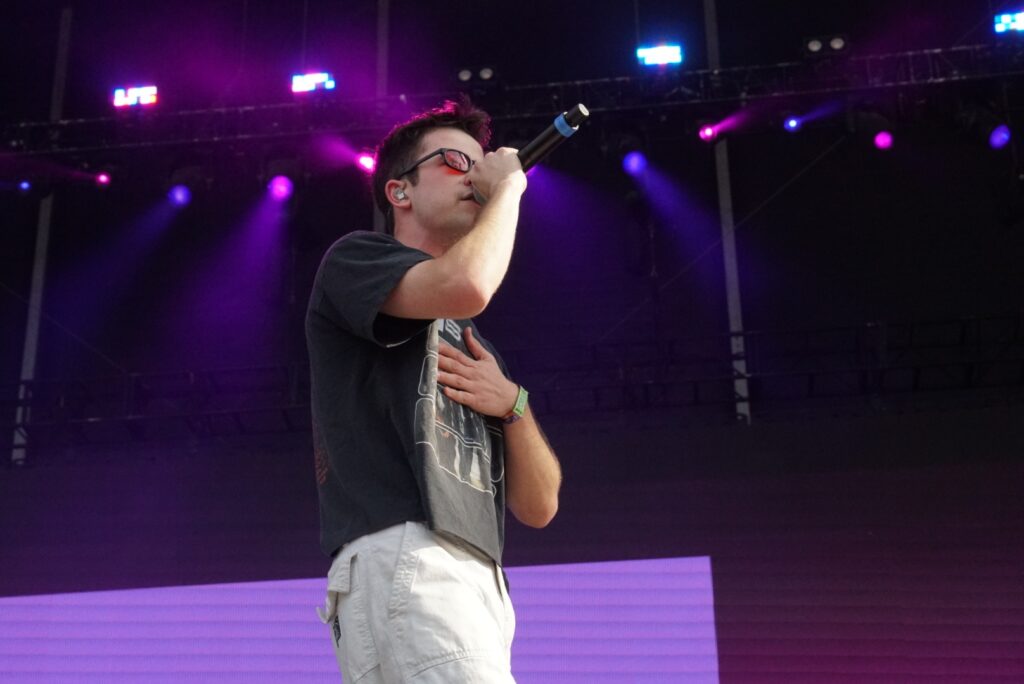 A giant ladybug and patches of sunflowers served as COIN's picturesque background Saturday evening.
Lead vocalist Chase Lawrence led his bandmates onstage as the Tito's Stage crowd cheered on the fashionably late trio as if they'd never lost a minute of performance time.
"I just wanna teach her a thing or two / Let's lose control and alt delete," Lawrence sang into the crowd, who accordingly matched his energy with head bops and waving hands.
COIN's boundless stage presence and undeniable fan loyalty worked flawlessly to make Saturday evening one to remember.
Rapper Big Sean's performance settled the crowd into what remained of the day's upbeat lineup.
People immediately flocked to the field when he opened his set with his 2015 song "Paradise." The audience's enthusiasm continually grew and seemed to peak when the rapper welcomed singer Jhene Aiko to the stage for a performance of their 2013 collaboration "Beware."
He concluded his set with two of his most iconic tracks — "I Don't F— With You" and "Bounce Back." The sound of fans chanting the lyrics echoed through the park and wrapped up Big Sean's performance with an explicit yet communal atmosphere.
The Solana x Perry's Stage was no match for the massive crowd awaiting TOMORROW X TOGETHER, many with light sticks in hand.
One by one, the boy band members' names flashed on the rectangular display screens: Soobin, Taehyun, Huening Kai, Beomgyu and Yeonjun. The K-pop band's coordinated dance moves were met with a heavily condensed crowd who just about exploded when they arrived on the brightly lit stage.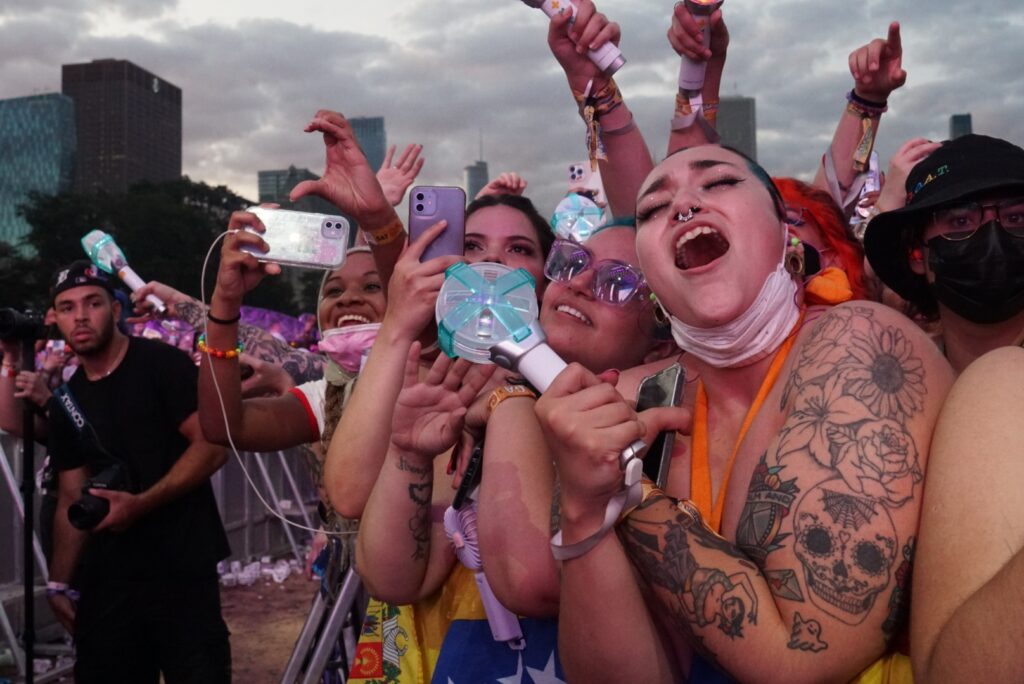 The idols concluded their short-but-sweet set with "0X1=LOVESONG (I Know I Love You)," a pop-rock anthem that left fans chanting every word, echoing into the blue-orange hued sunset tinting the sky.
After an errant guitar riff, the crowd began chanting the name of the artist they had been waiting all day for — "WILLOW! WILLOW! WILLOW!"
Competing with the whirring helicopters overhead and KYGO's techno beats across the street was no issue for WILLOW whose powerful voice shook the leaves off the Discord Stage's trees.
"I wanna fill this area with as much positive energy as possible," the punk-rocker said.
She rounded out her set by playing her hit "Meet Me At Our Spot" and TikTok craze "WAIT A MINUTE!" The latter's bridge was changed to fit her current rock sound, giving the whole audience exactly what they wanted.
A seemingly endless crowd of festivalgoers occupied the vast field in front of headliner J. Cole. The crowd erupted in cheers when the rapper casually strolled onstage, screaming the lyrics to his 2021 song "9 5 . s o u t h."
Throughout the set, he brought out other members of his record label Dreamville Bas and JID, making the set feel like a wholesome collaboration between partners.
The juxtaposition between J. Cole's calm demeanor and the intense energy of his songs rounded out Saturday in an unforgettable way.
Sunday July 31
Djo's performance in the sweltering Sunday heat was full of freedom and self-expression. Wearing a strawberry blond wig, his live performance combined heavy guitar riffs with '80s synths and high notes.
"I lived in Chicago for many years," the DePaul University alumnus said. "To play this festival and be here today, that means a lot.
He followed this up by playing the unreleased "End of Beginning" that he said was for the Windy City and the people within it.
Italian band Måneskin took to the T-Mobile Stage for a mid-afternoon rock set. The relentless heat was no match for the four-person group's radiant stage presence and rockstar performance abilities, with their hit songs "Beggin'" and "I WANNA BE YOUR SLAVE" encouraging the crowd to sing and jump along.
Lead singer Damiano David maintained steady, fast-paced vocals while incorporating subtle dance moves into his active performance. Bassist Victoria De Angelis, guitarist Thomas Raggi and drummer Ethan Torchio created complex and danceable instrumentals while entertaining the crowd with an intimate dynamic of their own.
The stunning María Zardoya was the last of her band, The Marías, to strut out on stage in a cherry-red number — she was impossible to miss amongst her bandmates dressed head-to-toe in black.
As she performed "Un Millòn" from the band's 2021 album "CINEMA," Zardoya swayed side to side, the crowd mirroring her exceptional poise and seamless movements.
"¿Donde esta mi gente Latino aqui en Chicago? (Where are my Latino people here in Chicago?)" asked Zardoya, who received screams from proud fans peppered within the vast crowd.
Porno for Pyros, led by their bottle of wine toting frontman and founder of Lollapalooza Perry Farrell, provided one of the purest rock performances of the daytime, priming the crowd for Green Day just hours later.
After complimenting Chicago's bars and steak, Farrell said the city and him share a friend: Illinois native and lead singer of The Smashing Pumpkins Billy Corgan. Together, they performed "When the Levee Breaks" by Led Zeppelin, a song repeatedly referencing Chicago.
Having grown in popularity due her TikTok virality, PinkPantheress exuded a lovely aura that made her set the epitome of a genuine experience. The London-based artist's techno-pop hit "Pain" made dancing easy in the shade of the Discord Stage.
As the festival neared its end, singer Dominic Fike offered Lollapalooza attendees a laid-back performance ahead of the day's headliners. Fans chanted his name before he appeared on stage and began his set with his song "Babydoll."
Fike upheld his reputation as a strong vocalist, effortlessly alternating between raspy belting and smooth sing-talking. The audience's dedication to the singer was evident from his cover of Neon Trees' "Everybody Talks" to his performance of his 2018 hit "3 Nights."
The anticipation was palpable within the sea of lightsticks that brightened the Bud Light Seltzer stage for the first South Korean artist to headline a major U.S. festival.
Sans the rest of BTS, k-pop idol j-hope drew in a sea of loyal ARMY who had been screaming and crying well before the artist sprang out of a giant jack-in-the-box prop, cueing the start of an unforgettable performance.
Pyrotechnics, strobe lights and j-hope's exceptional dance skills set the tone for what would be a boundlessly entertaining set.
Towards the finale, he performed his 2018 single "Chicken Noodle Soup," alongside surprise special guest and feature Becky G. The duo electrified the now-starlit Chicago sky and made their first live performance together a spectacle.
By the end of the night, it became clear Green Day knows how to structure a setlist.
As Sunday's headliner and the weekend's closing act, the rock band opened their performance with "American Idiot," the title track of their Grammy-winning 2004 album. Having established themselves as one of the most formative bands in recent history, they allowed themselves to just have fun.
A saxophone solo during "King for a Day" turning into George Michael's "Careless Whisper" solo, a full-blown cover of "Shout" by The Isley Brothers and a fan's impromptu on-stage guitar solo proved Green Day still has their finger on the pulse of their audience.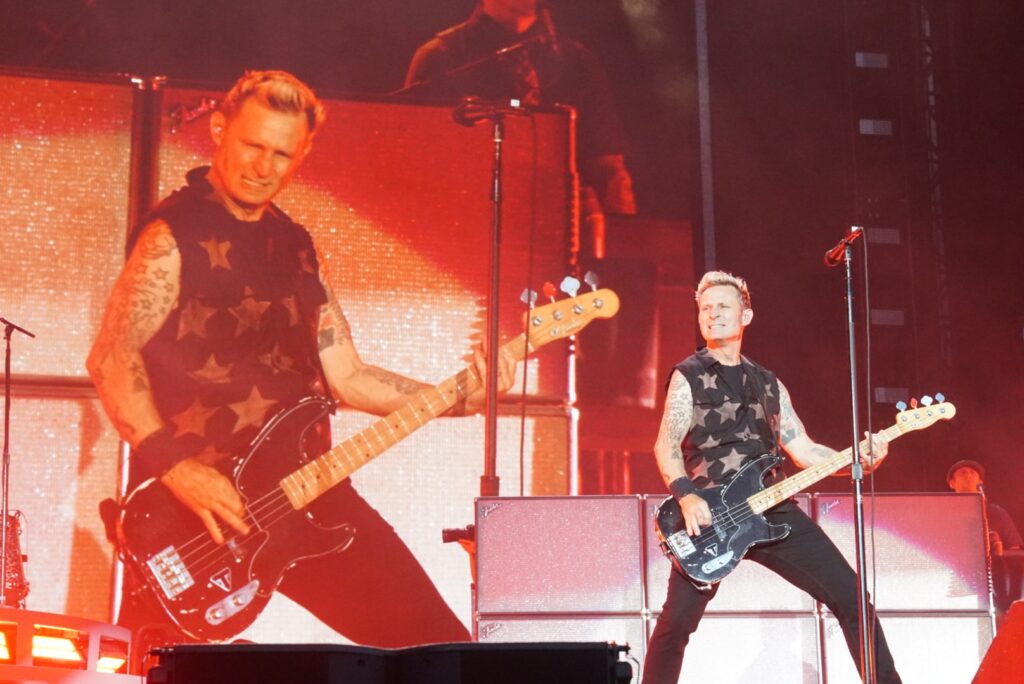 Even with the crowd's enthusiasm during "21 Guns" and "Wake Me Up When September Ends," the shining moment of their performance — and potentially the whole weekend — was when lead singer Billie Joe Armstrong returned from the darkness with just a spotlight and a guitar.
Singing and strumming "Good Riddance (Time of Your Life)," Armstrong sent Lollapalooza home with fireworks overhead.
"It's something unpredictable / But in the end, it's right / I hope you had the time of your life."