Blenders whirring. Keychains jangling. Pompoms rustling.
These were the sounds of the grand opening of Taiwanese bubble tea chain Gong cha's first Chicago location. The quali-tea chain opened by Loyola's Lake Shore Campus at 1139 W. Sheridan Rd. on Sept. 15.
Founded in 2006 in Kaohsiung, Taiwan, Gong cha has over 1,800 locations in 20 countries. Gong cha (貢茶) translates to "tribute tea for the emperor," according to the brand's website.
Bubble tea, also known as boba tea, originated in Taiwan. Customization is inherent to the product — customers can adjust the sugar level, amount of ice, flavors, syrups and toppings to their liking.
The grand opening featured eight best-selling teas and offered a raffle to win two free drinks and a BTS tumbler through the chain's Illinois Instagram account.
According to signs posted in the store, their Milk Tea Series ranges from $5.00 to $7.00. Their Milk Form Series ranges from $5.50 to $7.50 and slushes range from $6.50 to $7.25.
The chain's first corporate-owned store in the country opened in Naperville in June, making the Loyola location their second.
The Phoenix spoke to John Malesh, director of operations for Gong cha's Chicago branches.
Malesh, a Chicago native, said Gong cha plans to open other locations in the Loop and Lincoln Park within the year.
"Chicago's got a real excellent, vibrant food and beverage scene," Malesh said. "We think it's a great place to open up a store, especially with the rising popularity of bubble tea." Analysts estimate the North American bubble tea market will grow by 12.4% by 2032, according to Future Market Insights.
A cursory Google search finds at least eight other restaurants serving bubble tea within walking distance of the Lake Shore Campus. One of these is Zen Sushi and Boba, which opened last spring in the Damen Food Court. By Tuesday, Sept. 20, Loyola dining services had yet to comment on Gong cha's opening.
Malesh said Gong cha's fresh ingredients, innovation and personalization of drinks would draw customers away from competition.
"We source all our signature teas from the finest tea estates in Asia," Malesh said. "We're as fresh as possible."
He also claimed Gong cha was the first bubble tea brand to add milk foam, a sweet and salty topping similar to whipped cream.
Malesh emphasized the partnership with Loyola, saying the store would offer a 15% discount for anyone with a Loyola ID. He said some of his relatives attended Loyola and said Gong cha meshes well with Rogers Park's vibrant, diverse community. Loyola pennants and Rambler signs adorned the store's otherwise minimalist aesthetic.
Alderman Harry Osterman from the 48th Ward and representative Kyle Ryan from the 49th Ward cut the ribbon for the Loyola location's grand opening ceremony, though the store had been operating with a limited menu the previous week.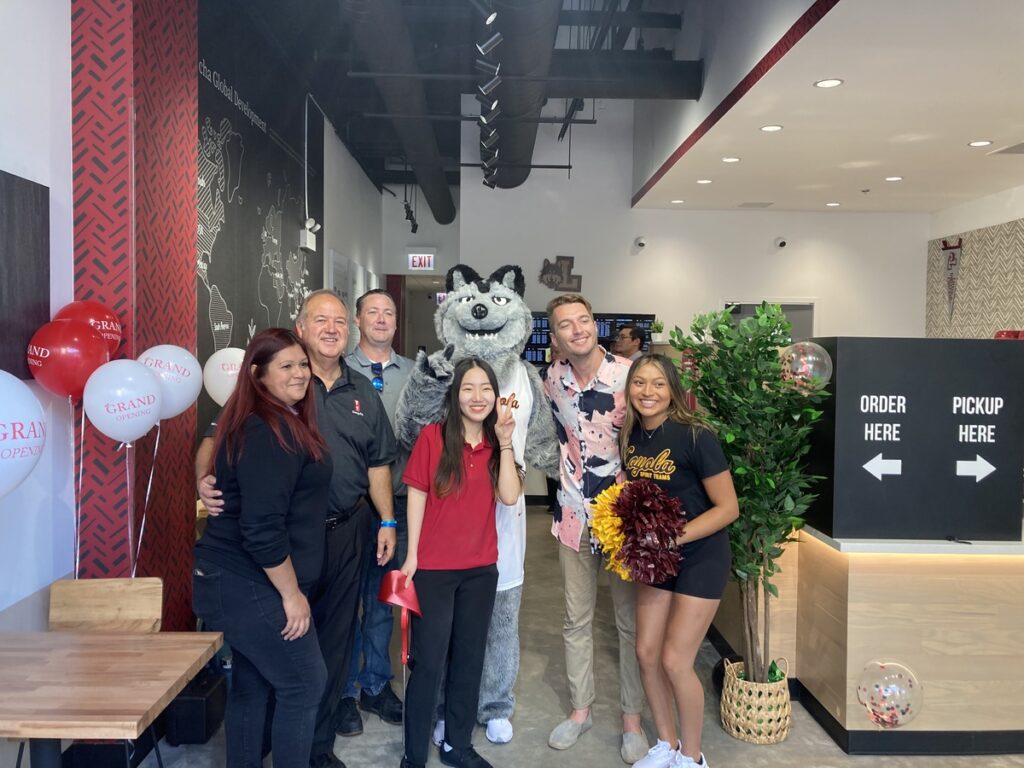 Ryan, the 49th Ward's Manager of Economic Development, said he showed up to support the business and community, praising Gong cha's branding and smooth opening.
Ryan said he'd had bubble tea before from stores in Argyle and Chinatown.
"It's always great to see another location filled in, another option for students and the local community to have," he said. "We're always happy to see new businesses thrive in our community. We hope the best for them."
Rambler cheerleader Jada Barajas appeared with Loyola mascot LU Wolf for the grand opening. Barajas, a sophomore biochemistry major, said she was a fan of bubble tea.
The 19-year-old said she'd never been to Gong cha before, but rather to rival bubble tea chain TBaar, located just down the street.
"I think it's cool that they're bringing it to the city where a lot of college students are," Barajas said. "It's great for the community."
First-year international business and pre-law student Matthew Fu was one of the first people to order at the grand opening.
Fu, 18, said bubble tea from his native Ohio couldn't compare to Chicago's. After ordering a wintermelon milk tea, he said Gong cha was higher quality and more customizable than Damen's Zen Sushi and Boba.
As Ramblers lined up out the door on opening day, Fu voiced his gratitude for the company choosing Edgewater as its first Chicago location.
"There's other big campuses here in Chicago, like around Northwestern or even DePaul," Fu said. "But we're first."
Featured image by Mao Reynolds | The Phoenix