The Phoenix's Top New Shows of 2022
Whether you're a true crime junkie or an Italian beef fanatic, these shows had Phoens glued to their televisions.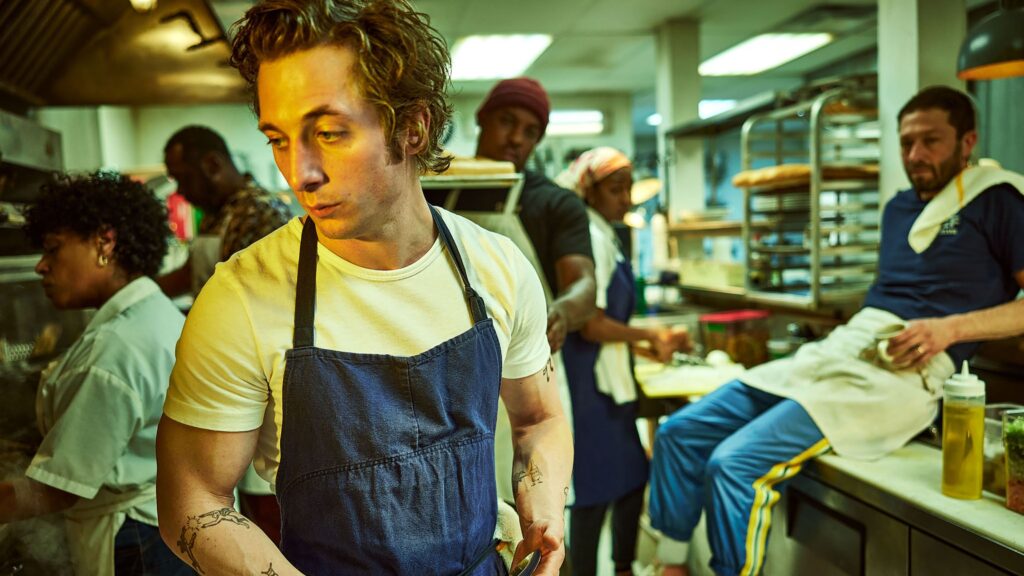 Whether you're a true crime junkie or an Italian beef fanatic, these shows had Phoens glued to their televisions.
"Under The Banner of Heaven" – Mao Reynolds
"Under the Banner of Heaven" blends true crime with storytelling in a masterful mini-series deserving more than just a nod from the Emmys.
Based on a book of the same name by Jon Krakauer, the story has something for everyone, including religious fanaticism, tax evasion and Andrew Garfield in a very well-tailored suit. Garfield ("The Amazing Spider-Man," "The Social Network") stars as Detective Jeb Pyre, a Mormon questioning not only suspects in a high-profile murder case but also his faith.
The profound horror of the crimes in question never fades from view. Garfield lets his progressively grim facial expressions do the work. Other show stealers include Detective Bill Taba (Gil Birmingham), Samuel Lafferty (Rory Culkin) and Brenda Lafferty (Daisy Edgar-Jones).
The show's only faults are its flowery dialogue, which may make viewers beg the writers' room to put the thesaurus down, in an overly simplified portrayal of the Church of Latter-Day Saints.
Whether it's spellbinding shots of forests or riveting plot twists, viewers won't be able to look away.
"Under The Banner of Heaven" can be streamed on Hulu.
"The Bear" – Hanna Houser
Content warning: This story contains mentions of suicide.
Forget deep dish, the true Chicago staple is the Italian Beef — Hulu even made an entire show about it.
After losing his brother to suicide, chef Carmy Berzatto (Jeremy Allen White), is tasked with saving his brother's failing restaurant, The Original Beef of Chicagoland. Presented with a ragtag group of inexperienced cooks, debt, dirty kitchens and a spiraling cousin, Allen White ("Shameless") portrays a character burdened with stress in a chaotically real way.
Altogether, "The Bear" is an exploration of grief shown through an entirely humorous lens. Filmed at River North's Mr. Beef restaurant (666 N. Orleans St.), the series perfectly encapsulates the gritty resilience of Chicago, offering intricate cut scenes, edgy shots of the 'L' and a top-notch performance by Allen White and Ebon Moss-Bachrach's ("Andor" "The Dropout") character, cousin Richie.
The eight-episode series will have watchers reviewing Italian beef across the city, calling friends "cousin" or repeating the phrase, "Heard, chef."
"The Bear" is available for streaming on Hulu now.
"Andor" – Brendan Parr
"Andor" brings political drama to a galaxy far, far away.
From "Rogue One" creator Tony Gilroy, "Andor" follows The Rebellion's inception as consequence to The Empire's tyranny.
Reprising the role of Cassian Andor from "Rogue One," Diego Luna brings thoughtful maturity to the series. Luna ("The Book of Life," "Narcos: Mexico") gradually depicts Cassian's transition from survivalist mercenary to idealistic revolutionary in the wake of ensuing war.
Taking place between "Revenge of the Sith" and "Rogue One," "Andor" illustrates how the rise of fascism within the galaxy inspired insurgency. The series is deeply political and parallels the original trilogy's commentary on the Vietnam War.
"Andor" isn't your average "Star Wars" media — no lightsabers, no Jedi, no Mandalorians. The series is a character drama focused on everyday people in a war-torn galaxy.
The series is also surprisingly adult for "Star Wars." Characters die with little regard and allusions to sex, genocide and execution occur regularly. The first sequence of the show sets the grounded tone with Cassian killing a surrendering enemy.
The show takes its time developing a morally gray world, but despite the slower pace it has immense payoff. "Andor" isn't just a great "Star Wars" show, it's a great show period.
"Andor," rated TV-14, is available now on Dinsey+.
Featured image courtesy of FX Productions