Moody Blondshell Opens for the Majestic Suki Waterhouse at the Metro
Blondshell opened for Suki Waterhouse at the Metro on Jan. 21 as both delivered powerful and energetic performances.

With a towering balcony above and a packed pit on the floor, Blondshell opened with an intimate performance before the magical Suki Waterhouse captivated a sold-out crowd at the Metro on Jan. 21.
After climbing up the winding staircases of the Metro (3730 N. Clark St.), concertgoers were first met by Sabrina Teitelbaum, who performs under the name Blondshell. The dim, violet lighting matched her casual t-shirt and jeans look, reflecting her music's honest nature.
Blondshell started with a song named after the 2004 CW show "Veronica Mars." Halfway through, the song fell into an intense rock break as Blondshell reclined on the floor.
"Veronica Mars / 2000 oughts / Logan's a dick / I'm learning that's hot," she calmly croons.
At the time of the show, Blondshell had only officially released four songs. With nine on the setlist, she said they were going to play "a bunch of new songs" and "basically a whole album."
Before playing her third song "Sepsis," she put her hair into a bun and let the angry lyrics and flowy melody envelop her demeanor. In the song, Blondshell writes of being with someone she doesn't love but still having faith that there is someone better.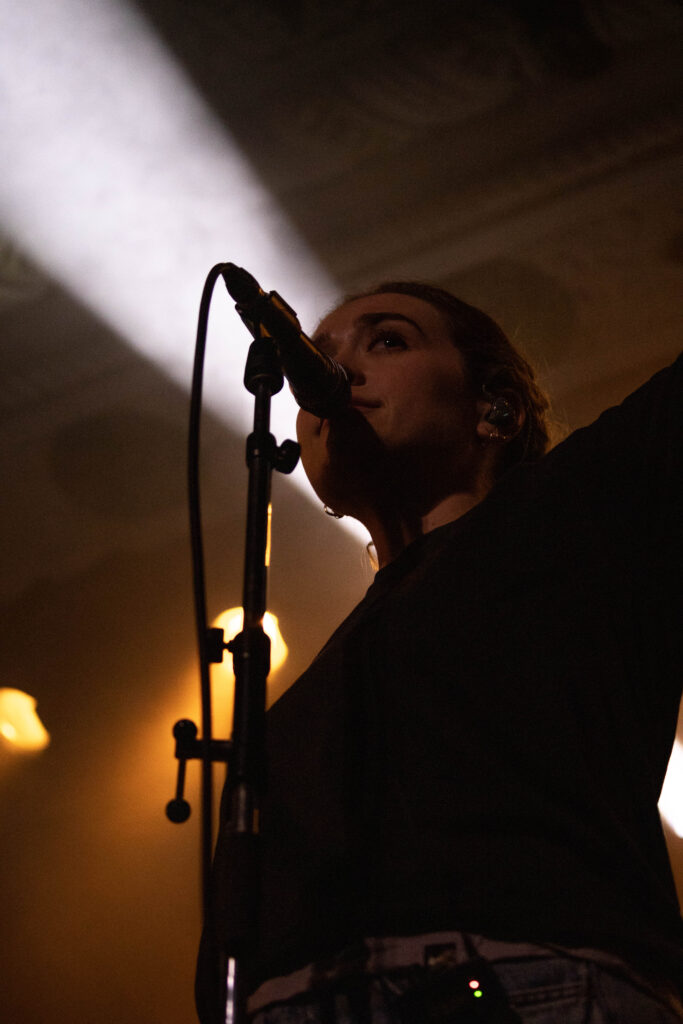 "I'm gonna find a cure / If I'm in love nothing hurts / Give enough, make it work / Clarify what I deserve," she sang.
An eerie and almost haunting guitar opens her song "Olympus," which leads with fitting lyrics.
"I'd still kill for you / I'd die to spend the night at your belonging," she sang of a former lover.
The crowd was there for Waterhouse, but Blondshell held audience members in a chokehold for all nine songs as fans viciously sang the lyrics back to her from the center of the pit.
Closer to the end of her set, Blondshell covered "Disappointment" by The Cranberries, a sonic match made in heaven.
"That's our secret Cranberries cover," she joked.
It was immediately followed by what Blondshell described as her "most vulnerable" song yet — one she was "humiliated" for her parents to hear.
"Just look me in the eye when I'm about to finish / Kiss City / I think my kink is when you tell me that you think I'm pretty / Did you expect something different?" she screamed in the second chorus of "Kiss City."
A final unreleased song led to a quick wave as Blondshell strolled off stage, leaving it open for Waterhouse.
"Do you know where dreams come from?" a voiceover of Waterhouse asked before she strutted onto the stage to screams from the crowd.
She opened with "Bullshit on the Internet," the sixth track of her May 6 album "I Can't Let Go." With her signature wispy voice and alternative sound, the song chronicles relationships in the modern world, with online gossip and oppressive rumors.
"Neon Signs" — the opening track off her November EP "Milk Teeth" — was the next song on the setlist. The song utilizes dreamlike imagery as Waterhouse implores listeners to pursue independence.
"Free yourself up from the shackles of dreams / Because the best break is one that is clean," she sang.
Waterhouse strikes a balance between being cheesy and earnest in "Coolest Place in the World," also the namesake of her tour.
"I just think anywhere that you are / Coolest place in the world," she sang.
Despite the holiday still being a few weeks away, the standout moment of the entire show was her performance of "Valentine," also off her latest EP. After taking a giant fan-made heart from the crowd for her tour bus, she asked if anyone had plans for Feb. 14.
"Well of course you're all single," she said after only a few hands shot up. "You're at a Suki Waterhouse show."
During this time, her whole band left the stage, leaving Waterhouses guitarist Jane to accompany her. The performance featured Waterhouse's raw vocals, simple chords and Jane's vocalizations between lines of the verses.
"(Ooh) If only you could be here sometimes / (Ooh) Then I could control my symptoms," they sang.
A few songs later, she stood staring at the crowd.
"I know I keep saying this, but, like, wow," she said. "This is one of the biggest shows I've ever had."
Despite the packed balcony and pit, Waterhouse's crowd work and calm demeanor made everyone feel as though they were in the front row.
She performed "Melrose Meltdown" as the band continued to play, but came back moments later for the expected encore with the same calmness with which she left.
During the first encore song "Blessed," she hopped down to the crowd and hugged fans in the front row.
"This has genuinely been my favorite show I've ever done," she said. "Thank you."
The night ended with "Good Looking." Originally released in 2017, she described this song's TikTok revival as a "rebuff."
The crowd shouted along and she walked back and forth during the waltz-like rhythm.
"The skyline falls as I try to make sense of it all / I thought I'd uncovered your secrets but, turns out, there's more," she sang.
Waterhouse strolled off stage for the last time, smiling as the lights went down on the coolest place in the world.