P1Harmony Doesn't 'Back Down' At The Chicago Theatre 
P1Harmony, a South Korean boy band, performed an unforgettably dynamic show at the iconic Chicago Theatre Jan. 29.

The Chicago Theatre (175 State St.) was graced with the sensational South Korean boy band P1Harmony on the evening of Jan. 29. The sextet brought bass-blasting beats and swagger to the regal halls of the iconic venue.
Jiung, Keeho, Soul, Intak, Jeongseob and Theo debuted as P1Harmony, also known as P1H, on Oct. 28, 2020. They've since released five EPs with their most recent addition being "HARMONY : SET IN" on Nov. 30.
Approximately 15 minutes before the show started, chaos ensued when a brief clip of the members filled the stage's big screen. Deafening screams from the concertgoers exceeded the video's volume.
Louder screams didn't seem possible — until the lights dimmed.
Six backlit silhouettes stood in a line upstage, with each member exuding a near-tangible confidence. Their coordinating outfits consisted of sleek, perfectly tailored blazers, each adorned with a unique and elegant array of gems across the front and shoulders.
Bright orange lighting cascaded onto the stage, accompanied by synced spurts of fog at the front of the stage. Every dance move caught the overhead spotlights, reflecting off the members' blinged-out ensembles.
Their opening performance of "Look At Me Now" set the stage for what would be an unforgettable night.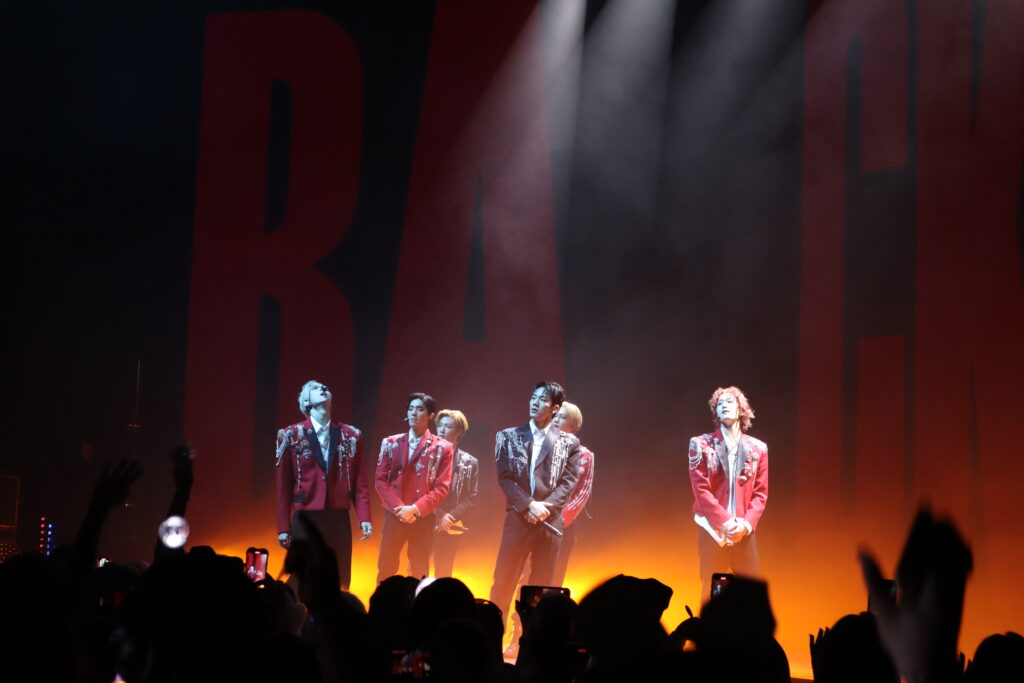 Fans' eyes were glued to the group, from Keeho's incredible vocal display to Soul's effortless hip-hop freestyle dance. Even a brief head turn was enough to miss an exciting moment.
They immediately followed with "Back Down," the title track of their latest album. The song's high-octane choreography proved unchallenging for the members, who sang each word valiantly with every move.
"We don't need, we don't need second chances / We don't care we ain't scared anymore," Keeho, 21, sang.
After their first three songs, the members chatted with concertgoers while taking a brief water break. They glistened with sweat but didn't look overly exhausted — serving as a testament to their performance level.
Each idol introduced themselves to the audience, with every introduction moment was met with louder cheers than the last. Vocalist Jiung sent the crowd into a frenzy with a cheeky moment of flirty compliments to the crowd.
"I like this venue, it's really pretty," he said with a smile as the theater rumbled. "But you guys are more beautiful."
The frequently occuring cool-down was one of many throughout the concert, when the members would take time for fan interactions or wardrobe changes. During these intermissions, short clips of the members performing a song or playing an interactive game would show on the big screen.
The venue's energy skyrocketed back up with their performance of "End It," one of six songs on their 2021 album "DISHARMONY : BREAK OUT." Their live performance of this intense record reflected in their choreography and fiery stage presence.
Notably, a glimpse into the audience reaped visuals of concertgoers who were either singing and dancing along or staying perfectly still to capture a zoomed-in video of their performances. In a venue as large-yet-intimate as The Chicago Theatre, the sea of screens was difficult to oversee.
Nevertheless, even the highest quality cell phone camera couldn't pick up the liveliness of P1H's energy.
The show's second act was divided by small group and individual performances.
Theo, 21, performed first with a cover of "21" by DEAN, a South Korean singer-songwriter. The slowed, R&B and pop anthem made for a moodier performance, with a single spotlight shining down on the idol.
Soul, who typically raps on P1H's tracks, made time stand still with his rendition of the somber Korean ballad "Hug Me" by JOONIL JUNG. The 18-year-old donned a coal gray cardigan with red rosettes on the front, fit with a white collared shirt beneath.
P1H's leader Keeho followed Soul's laid-back performance with an energetic cover of "Deja Vu" by Beyoncé featuring JAY- Z. The 21-year-old's smooth vocal riffs and stage presence charmed the venue.
Jiung, 21, joined Keeho and Soul for a group cover of Michael Jackson's "Love Never Felt So Good," just before rappers Jongseob and Intak took the stage for a performance of an unreleased song.
The collaborative efforts of the audience and P1H during "Gotta Get Back" was a highlight from the night. In that moment, the ambience of the theater was nothing short of blissful.
"Baby I gotta get, gotta get back to you / I'll do whatever you want me to / I'll do whatever I've gotta do," the crowd sang while swaying in unison.
The show concluded just after Keeho and his bandmates walked through the main aisle of the theater, interacting with fans and receiving gifts such as festive head boppers, plushies and bouquets.
"I'm so honored to be able to do what I love, singing and dancing and rapping," Keeho said to the crowd, his hand on his heart. 
He then invited the Chicago crowd to join in a group photo, a tradition they've done at every tour stop so far.