Standing on the sidewalk and looking through the floor-to-ceiling windows of Ralph Arnold Gallery presents a tranquil view of a small gallery. Very different from the concrete realm outside inhabited by hectic car-filled streets, austere apartments and a run-down 7-Eleven. As visitors step indoors, a beautifully disorienting landscape awaits.
"Invisible Architecture" is a new show at the Ralph Arnold Annex that features 14 pieces by six artists. The show, which opened on March 17, was curated by Marina Ross, an art professor at Loyola who said she wanted the show to elicit a meditative feeling.
The show remixes reality in a unique way, exemplified by the abstract ceramic sculptures created by Sonya Bogdanova, a Chicago based artist that like Ross is originally from the former USSR. The sculptures are perched on household items like a chair, a pillow and a bucket causing visitors to maneuver around them to peruse the exhibit. The precariously placed sculptures appear vulnerable, all it would take is one careless patron to knock the bucket and send a piece crashing to the ground.
"They function very differently than the paintings," Ross, 32, said. "I think the paintings are more like these windows into beautiful idealistic landscapes, and then these sculptures are more like the things we have to deal with in everyday life."
Though they may initially appear as monochrome, formless blobs, closer inspection reveals intricate, enlivening glaze. Ross said she interpreted the artist's work as discussing the ways trauma manifests in everyday life.
Ross said she was interested in exploring boundaries with the show, with two stand-out works by Alessandra Norman, a Chicago based artist, supporting the effort. Norman's sculptural canvases are designed to look like a window and a metal fence. With airbrushed natural scenes overlaying the surfaces, the pieces enjoin the natural and the manufactured.
"It's kind of collapsing space between inside and outside," Ross said. "That is kind of another theme I think comes through in the show — this idea of inside and outside and boundaries between the two."
Jaclyn Mednicov created complex sculptural paintings of decaying plants picked from her own garden. By filling fabricated molds with layers of acrylic paint, she creates three-dimensional paint skins revealing the most delicate details of the plant life.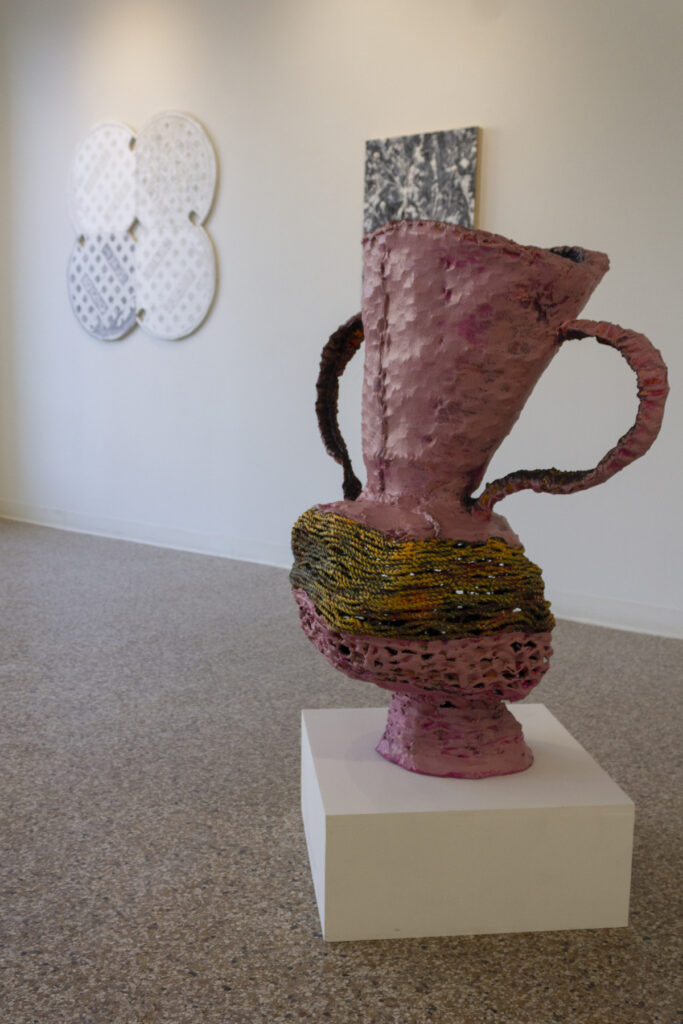 "I'm thinking about preserving or loss and memory, and how can I kind of hold on to time in a way because it's always so fleeting and moving," Mednicov said.
The work by Mednicov exposing the intricate formations of plants in conjunction with a piece by Ian Miyamura depicting a slightly abstracted bird wing recalls the complex structures found in nature.
Elena Clim, a psychology and women and gender studies major, said that he was drawn to Mednicov's pieces because of the way they interacted with the broader theme of the show.
"I really liked the nature incorporation and architecture aspect, like all of the garden pieces. I thought it was interesting because they were just flowers and you wouldn't really think about that with architecture," Clem, 19, said.
Salvador Dominguez, another featured artist, has two pieces in the show that both use materials to twist viewer's perception. "CS-04-0121" is a piece consisting of four molded Chicago sewer grates suspended on a wall like ornate tiles. He used silicon molds and layers of acrylic paint to create the strikingly detailed pieces.
"I noticed that if I brush the paint and build up multiple layers that the paint starts to function more like fabric, so I'm taking the fabric and upholstering it in a sense around wooden cutouts," Dominguez, 37, said.
Dominguez said his interest in reworking materials relates to his experience as a Mexican American. With his tile sculptures he wanted to create familiar artwork that his father, who does not have knowledge about the broader context of art history could connect with.
"He's familiar with tiles, so just making these basic tiled compositions it's like a point of contact. Then we can have a conversation about it and he starts understanding a little better, because he is already familiar with the process," Dominguez said.
His piece in the show titled "En español se dice Ánfora" is a bright pink and yellow sculpture of a vase constructed out of fabric and rope that was soaked in paint to create a hard structure. His work further prods the questions raised by the show about structure and the unseen processes used to create architecture.
"This is my take on a representation of ancient Greek vessels," Dominguez said. "I'm really interested in those recently, particularly because they are anchored in European art history. It's a good way for me to ground my Mexican heritage to kind of juxtapose both."
His use of rope as a fine art material in the sculpture is a nod to his interest in elevating and recontextualizing materials typically associated with labor.
Mattie Wild is a double major in history and printmaking at Loyola that saw the show on its opening day.
"I liked that it was architecture based but that it's using different mediums besides just drawing," Wilde said. "I think that's a really cool outlook."
The challenging of specific disciplines is something Ross said she wanted art students at Loyola to take away from the show.
"You know a painting is a painting and a sculpture is a sculpture, but almost all of this work is in between a painting and a sculpture," Ross said. "It kind of challenges what people might think of conventional art forms and for students to just think more outside the box."
The show opened on March 17 and will be running until April 14. The gallery is open from 8:30 a.m. to 5 p.m. Monday through Friday. More information about the gallery can be found on their website.
Featured image by Heather Higgins | The Phoenix