Loyola's Latin American Student Organization Discusses What it Means to be 'Latino'
Loyola's Latin American Student Organization hosted an event for students and staff to discuss what it means to be Latino.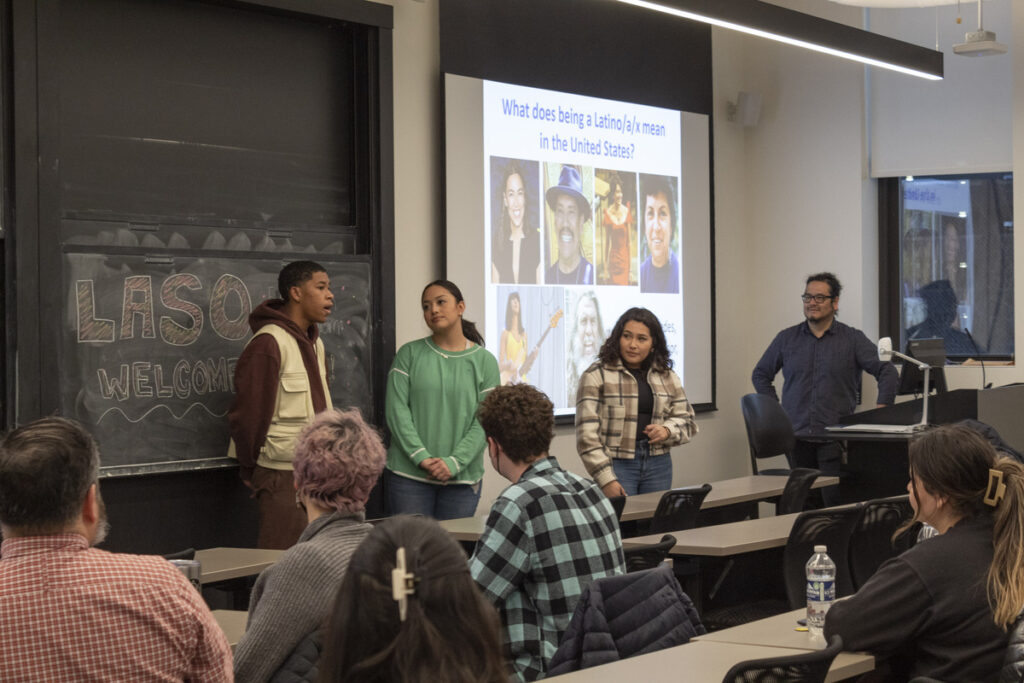 Loyola's Latin American Student Organization (LASO) hosted an event Feb. 23 focusing on what it means to be Latino. The meeting involved a presentation by faculty members, followed by a discussion with students.
Students and faculty gathered in Cudahy Science Hall for a presentation by Dr. Cristian Paredes, an assistant professor of sociology specializing in race and ethnicity, who was invited by LASO to lead the event.
Alejandra Sastoque, a campus minister who works as an advisor for LASO, said the event's discussion topic was a suggestion from students.
Paredes began by posing the question of who is considered Latino in the United States, accompanied by images of prominent Latino figures including Danny Trejo and Alexandria Ocasio-Cortez. He said the way these figures are defined as Latino despite their varying backgrounds and physical appearances helped him understand the term as denoting more than race.
Parades continued by presenting a questionnaire from the 2020 census, which allowed respondents to identify themselves as both Latino and a racial group, such as white or black, rather than making them mutually exclusive options. He said it illustrates how Latino people are heterogenous in terms of both physical and cultural characteristics, rather than a monolithic racial category.
Rowen Vargas, a junior majoring in political science, said this idea resonated with him because of his own experience filling out personal background questions.
"Something that caught my eye that I've even heard in different classes on being Latino is the census question," Vargas said. "Even just in my years, I remember one year I had to put down I was white, not Hispanic, because I think the question format was really awkward."
Samuel Febres, a junior majoring in molecular biology, identifies as Afro-Latino. He said to him, being Latino means representing his culture even though his appearance differs from how many people picture Latinos.
"I may not seem Latino from first glance, however, it means representing my culture regardless," Febres, an outreach correspondent on the LASO board, told The Phoenix.
Febres said being Afro-Latino also means being connected with family and community as well as being open and welcoming, a type of environment he hopes LASO events provide for Latino people on campus.
In addition to self-identification, Paredes said the perception of others can impact the identity of a group. As he displayed a series of xenophobic comments from media outlets, he emphasized the importance of recognizing the potential harm they can cause, especially as he said not everyone is equally likely to be classified as Latino.
Paredes presented data that conveyed how demographic trends may influence what it means to be Latino in the modern day. A decreasing share of the Latino population in the United States is foreign-born, according to Pew Research Center, making second and third-generation Latinos more common. Paredes said this growing native-born Latino population is redefining not only what it means to be Latino, but also American.
"We have people of Mexican background, Cuban background, Salvadoran background, but they are not just immigrants, they are not just foreign born," Paredes said. "That is particularly important because it also suggests that we have U.S.-born people who are continually redefining the meaning of being an American in the United States."
Elizabeth Marquez, a junior majoring in behavioral neuroscience on the pre-med track and president of LASO, was born in the United States to parents from Mexico. She said there's a sense of pressure felt by native-born Latino students to find academic success as a result of their parents' experience.
"I think that as a first generation student and also being Latina, it's definitely a lot of pressure trying to be successful, because you feel like your parents have sacrificed so much to be here, and you're the person that should be successful regardless of the obstacles your parents have faced," Marquez said.
Paredes discussed how historical factors have affected demographic trends in the Latino community, such as the 1965 re-opening of American borders to immigration from other countries. This included an increasing number of immigrants from Latin American countries outside of Mexico, according to Paredes.
Mexicans made up 59.5% of the 62.5 million Latinos in America in 2021, according to Pew Research Center.
Evelyn Cruz-Hernandez, a first-year majoring in information systems, said hearing data in the presentation helped her conceptualize the significance of the Latino community in the United States.
"I think one of my favorite moments was just hearing Dr. Paredes talk about actual studies," Cruz-Hernandez said. "Getting to see those actual numbers is such a big impact on what it means to be a Latino in the United States. You know, we're not just a small little portion, we're a big number that should be heard and should be valued."
Cruz-Hernandez said LASO helped her feel at home on Loyola's campus. This semester, she began working as the group's marketing manager, which she said also allows her to connect with the larger Loyola community.
One objective of LASO's events is to provide Latino students with a venue to interact and share a taste of home, according to Cruz-Hernandez. Following the presentation, students and staff snacked on alfajores, a popular cookie throughout Latin America. Upcoming events this semester may include a Latino board game night, an event the organization also hosted last semester, Cruz-Hernandez said.
Marquez said community-building is an important aspect of LASO's activities.
"I just want everyone to network with each other and really learn from each other and be able to bond with each other as a Latino community," Marquez said. "I think Latino communities are stronger when we all have connections with each other."
Paredes said the topic of the event interested him because he didn't consider himself a Latino in his home country of Peru, where the word doesn't refer to an ethnic category as it does in the United States. He said he began exploring the topic after moving here.
"The process of becoming a Latino in the United States made me interested in ethnic and racial issues," Paredes said. "I took advantage of that interesting word to investigate not only these topics in the United States, but also to apply what I've learned here to other research studies in Latin America."
Updates on future LASO events can be found on Instagram at @laso.luc.
Featured image by Grace Mooney | The Phoenix