Caroline Dayton: From Makeshift Golfer to Loyola Golf Stalwart
Dayton said her journey with golf had an atypical beginning.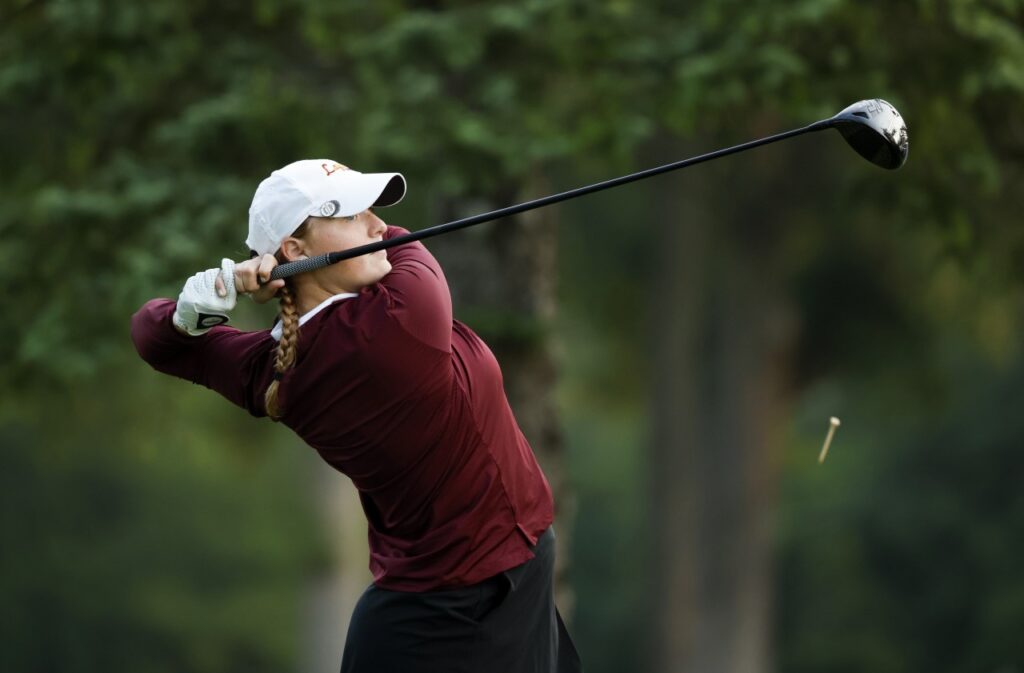 Senior golfer Caroline Dayton has spent the last four years representing Loyola women's golf. She was recently named Metro Athletic Atlantic Conference (MAAC) Player of the Week — the first for Loyola and the first of her career — after carding a four-under-par 67, the best of her career.
Dayton attended Ottawa Hills High School where she started competing in cheer, dance and lacrosse — where she said she suffered an injury that took her a year to recover from.
Dayton said her journey with golf had an atypical beginning. Her brother started playing golf during middle school, turning into a pretty decent golfer in high school.
After her injury, Dayton said she decided to give up contact sports but still needed something to do, so she decided to try golf. One day, while at her brother's golf tournament, Dayton said she picked up a club and started swinging, ultimately leading to her starting a new career.
Dayton said there wasn't a girls' golf team at her high school, so her dad stepped in as a volunteer coach. The team consisted of two other players who traveled to tournaments together but competed as individuals.
At the end of her sophomore high school season, Dayton said her dad went over the team's statistics and realized they would be able to advance to the sectional tournaments if they could scout another golfer who shot at least a 120. A few days later, Dayton said the team found a fourth player and was on their way to the sectional tournament.
"We went to the sectional tournament, and I think she shot 130," Dayton said. "And somehow, we made it out. Kind of a Cinderella story."
After making it through the sectional tournament, the Cinderella story continued all the way to the state championship.
"I came in seventh at the state tournament, Second Team All-State," Dayton said. "At that moment, I realized, 'Oh, maybe I could do this. There's some potential here.'"
Following a successful sophomore season, Dayton said she set a goal to play Division 1 golf. Two years later, she graduated from high school as a three-time state championship qualifier and achieved her goal by moving to Rogers Park.
"Golf is something that I think anyone would tell you is addicting," Dayton said. "It's not fun but when you're in that intermediate stage trying to get better, you hit one good shot and it makes you want to come back tomorrow and keep trying to repeat it."
Though Dayton said she hasn't had her best year so far after a tough fall season, she's made her mark on the spring season after being named the MAAC Player of the Week March 22 — a career-first award.
The recognition comes after Dayton led Loyola at Lake Jovita Country Club, where she finished 16th with a score of 220 (80-67-73), a career-low four-under-par 67 and the first MAAC award in program history, all in her third appearance in the spring season.
After her strong performance, Dayton said it felt great to go out and have a solid run, giving her a boost going into the final stretch of the season.
"I didn't need the award to validate my performance. I didn't need it to be proud of myself. But it is just a little extra validation and encouragement, especially near the conference tournament. We have potential."
Dayton and the Ramblers have one remaining tournament in their spring season, the Dolores Black Falson Invitation in Bowling Green, Ohio on April 7 and 8, followed by the MAAC championship April 21 to 23.
Dayton said she believes if the team stays united and at the top of its game, the Ramblers have the recipe needed to win the conference.