Regis Hall Students Warned with Community Fine Applying to all Residents
Regis residents received an email from Washington stating "the community fine will not be assessed," April 12.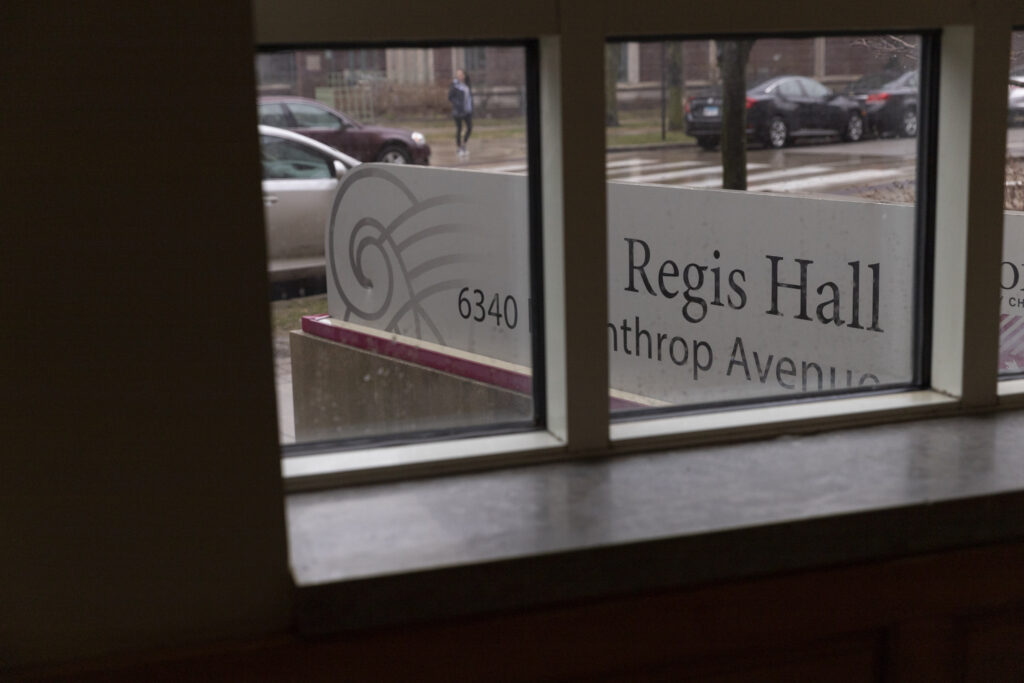 All residents of Regis Hall were temporarily issued a community fine March 24 from Residence Hall Director, Keelah Washington. Her email stated the approximately 400 residents in the building would be fined after nobody came forward taking responsibility for incidents of vandalism on the first, fifth and sixth floors. 
"This is notice that I am initiating the process of issuing a Community Fine to all recipients of this email due to failure for information reported to the Resident Assistants or myself concerning the previously addressed vandalism issues and a recent additional property damage," Washington wrote in her email.
On Feb. 19, damage was done to hand-cut letters stolen from the board in the lobby, multiple bulletin boards were destroyed on the fifth floor and a poster was stolen from the sixth floor, according to Washington's email.
An email by Washington was sent to residents March 3 urging students to come forward with information.
"Please reach out to me via email no later than Monday, March 13, as a lack of information could result in moving forward with the community fine for all residents," the email warned.
Regis residents received an email from Washington stating "the community fine will not be assessed," April 12.
"Keelah received information relevant to the situation that allowed the department to not move forward with a community fine," Melissa Bagdon, assistant director for assignments at Residence Life, wrote in an email to The Phoenix.
Bagdon responded on behalf of Washington and Residence Life about the community fine.
"Rather than speak to a particular incident(s), I believe it's more important to address community/property damage in the residence halls in general," Bagdon wrote. "Should a situation like this arise, the university has the right, and even more so, the responsibility to address the situation."
Sophomore economics major Jasmine Rhabb lives in Regis Hall and before the community fine was recalled, was frustrated with the idea of being fined for something she didn't do.
"I'm not paying for something I didn't do," Rhabb said. "I did not vandalize. I did not take down anything. I respect this building because I live in it. The whole building shouldn't be fined just for somebody's immaturity."
The right for Residence Life to fine an entire residence hall comes from the Liability and Damage clause in the Student Housing Agreement, according to Bagdon.
"The student shall be responsible for any malicious damage which occurs to any common area of the Student Housing when the University is unable to determine the person who is at fault," the agreement reads. "The total costs for repairs will be divided equally among all members of the applicable community, as determined by the University."
Before the community fine was recalled, fourth floor resident Griffin Hall, a sophomore majoring in chemistry, said he was stressed about the additional fine and lack of information given.
"I'm not surprised that Loyola is going to do this," Hall said. "My theory is that they're just trying to squeeze as much money out of us. They're not doing due diligence to actually find the person who did this."
Political science major Delaney Costa lives on the sixth floor of Regis. They were surprised and confused with the fine.
"I thought it was pretty goofy," Costa said. "It felt strange to lump all of these incidents together and make everybody pay for it."
Second floor resident Andreas Noel wasn't worried about the fine assuming it'd get taken off eventually.
"It seemed like a total mess," Noel said. "When you're talking about stuff like that, you have to use the most care possible and I feel like that wasn't the case in that situation."
Featured image by Holden Green | The Phoenix