Stray-ing From the Norm: "Community Cats" Facebook Group Befriends Chicago's Feral Felines
Anna Ligtenberg manages 35 "Community Cats" Facebook groups, connecting neighbors looking to help local feral city cats.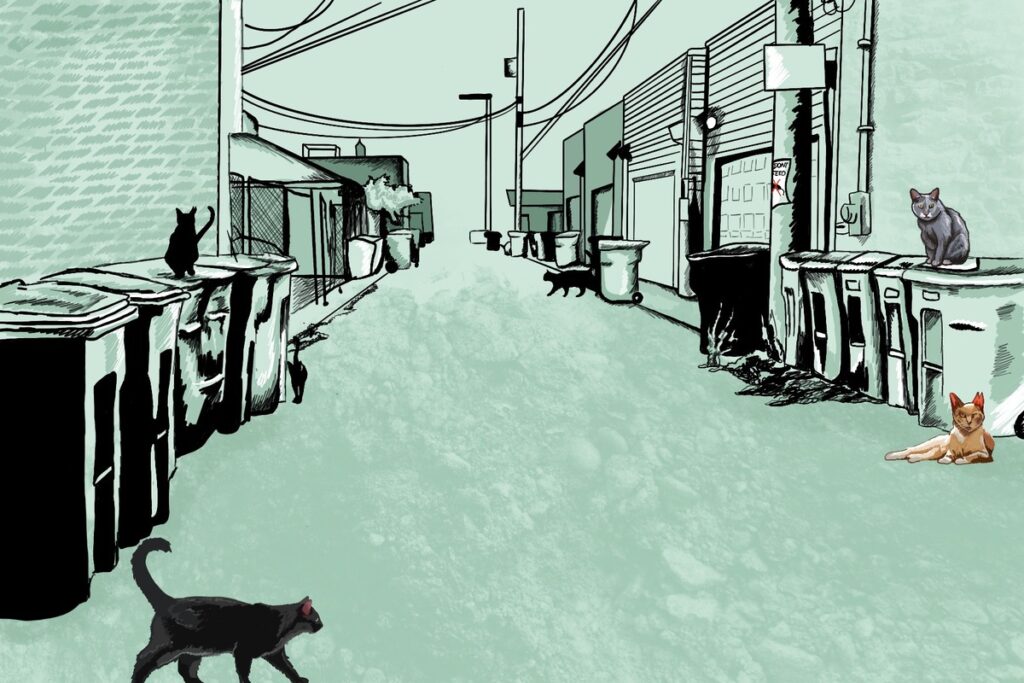 Like most things in her life, Anna Ligtenberg's recent personal venture started with a cat.
Then another.
And another.
Soon enough, she was nurturing over 60 cats across a 15-year period, most of which entered through an open window in her first-floor apartment.
Later, she'd release many of them back into the outdoors through trap, neuter and release methods, also known as TNR. The approach aims to sterilize wild, feral cats who are afraid of humans at local shelters and return them to where they were found.
The Chicago native, formerly a resident of Rogers Park who now lives in Lakeview, currently manages 35 "Community Cats" Facebook groups for different neighborhoods across the city. In each group, members will post about local strays and ferals, often trying to find their owners or provide food and support.
Now, she's set out to merge them into a non-profit: "Snip, Chip and Tip." 
Among Ligtenberg's groups is "Community Cats of Rogers Park & West Ridge," which is her second largest, garnering 179 members since October. Ligtenberg said she attributes the group's growth to the caring nature of Rogers Park residents.
"There are people in the Rogers Park news groups who we have passionate disagreements about politics and crime," she said. "But you post a cat pic, and they're on my side."
Ligtenberg said she began creating groups to connect her ex-husband, Paul Navarro, with those managing cat colonies, or groups of feral cats. After feeding a kitten in his Albany Park backyard, he was soon left with a pack of returning feral cats and kittens which Ligtenberg now helps him sustain by providing food and outdoor shelter, she said.
And she's not alone — many other group members choose to devote their lives to those with nine.
Doorie Ferguson, a member of Ligtenberg's "Community Cats of Albany & Irving Park" group, regularly tends to a colony of 10 cats with her husband Chris Ferguson.
"I'm not gonna not take care of some animals," Doorie Ferguson said. "We call them our outdoor kitties. We have our indoor kitties that we sought out and personally adopted, but now we have our outdoor cats, too, and they're ours as well. We're very attached to them."
Together, Chris and Doorie Ferguson have trapped, neutered and released 32 cats, 12 of which were rehomed to members of the group looking to adopt, she said. The trapping process involves using a humane cat trap — distinct from an animal crate — to transport the cat to a shelter.
The couple feeds their feline posse twice a day, even building a heated outdoor shelter for the winter. Medical care is also an oncoming neighborhood expense, with neighbors assembling to treat various issues within their colony.
Given the extensive costs of willingly providing for feral and stray cats, Ligtenberg said "Snip, Chip and Tip" hopes to alleviate the financial burdens of those looking to TNR or maintain a colony but can't afford to do so.
Ligtenberg said she first considered the financial undertaking of feeding ferals while working with a group member in Wisconsin. She said the group member was an elderly woman on a fixed income, who, after deciding to feed one feral barn cat, soon acquired 70.
"It got me thinking, what do you do when you're the person who decides, 'I'm gonna take care of this one feral cat in my yard,' and eventually you find out there are 12 of them?" Ligtenberg said. "That becomes an expense you have to take on if you're going to do this. That's the gap we want to fill."
Fellow Albany Park "Community Cats" member Krissy Rhyme took on a second job to support her TNR rescue work, with spaying costing $50-85 per cat, Rhyme said. Most recently, she paid for the medical treatment of three neighborhood kittens impacted by eye infections.
"The main motivation for anyone who does TNR is we want there to be less suffering of animals — cats breed very quickly," Rhyme said, adding that a female cat can produce up to three or four litters in a year.
The intake of stray cats reached a four-year peak in 2022 with 4,075 incidents, according to data from Chicago Animal Care and Control. Ligtenberg said many were overwhelmed by 2022's kitten season, with the "Community Cats" owner receiving over 100 requests for support.
What to do if encountering a distressed city cat as 2023's kitten season kicks off?
Cecelia Ocampo, the programs manager for Tree House Humane Society in West Ridge, advocates for TNR for feral cats. Though, if a feral cat is in extreme agony, contacting animal control to assess the situation is another viable solution. If the cat is lost but friendly, connecting with neighbors through fliers, door-knocks, Facebook posts or bringing the cat to a shelter to check for a microchip is the best practice, Ocampo wrote in an email to The Phoenix.
For Ligtenberg, the fear of encountering discarded kittens is a plausible reality. After a group member found six living kittens stuffed in a garbage bin, Ligtenberg knew her feline family would be gaining new additions.
And she's willing to take on more, intentionally walking down alleyways to check for other abandoned strays.
"You know how that story ends," Ligtenberg said of people discarding kittens. "I open every bag I pass, every box I pass, just in case. Because that's what people do. It's out of sight, it's out of mind."
Cats aren't the only ones benefiting from the Facebook group. Both Ferguson and Rhyme appreciate the neighborhood camaraderie fostered by "Community Cats."

"I've kind of accidentally become the neighborhood cat lady," Rhyme said. "Now, enough people know who I am, they'll pass my number along and be like, 'Oh you can call Krissy and she'll come and get the kittens out of your yard.'"
Despite the group's friendliness, some aren't welcome in the "Community Cats" Facebook — rats.
Since moving to her house in 2020, Ferguson has yet to find a rat in her neighborhood, despite Chicago being named the rattiest city in 2022 — a testament to the benefits of caring for ferals, she said.
"They serve such an important purpose in the city that if we're able to take care of them and offer them safety and security, they could be a massive help to the city as a whole," Doorie Ferguson said. "But only if they're cared for."
Featured image courtesy of Hanna Houser