'Pink Moon' on Display at Roman Susan
"Pink Moon" features Tompkins' raw silk textiles dyed with natural materials alongside Ronan's porcelain ceramic jars, planters and wall hangings.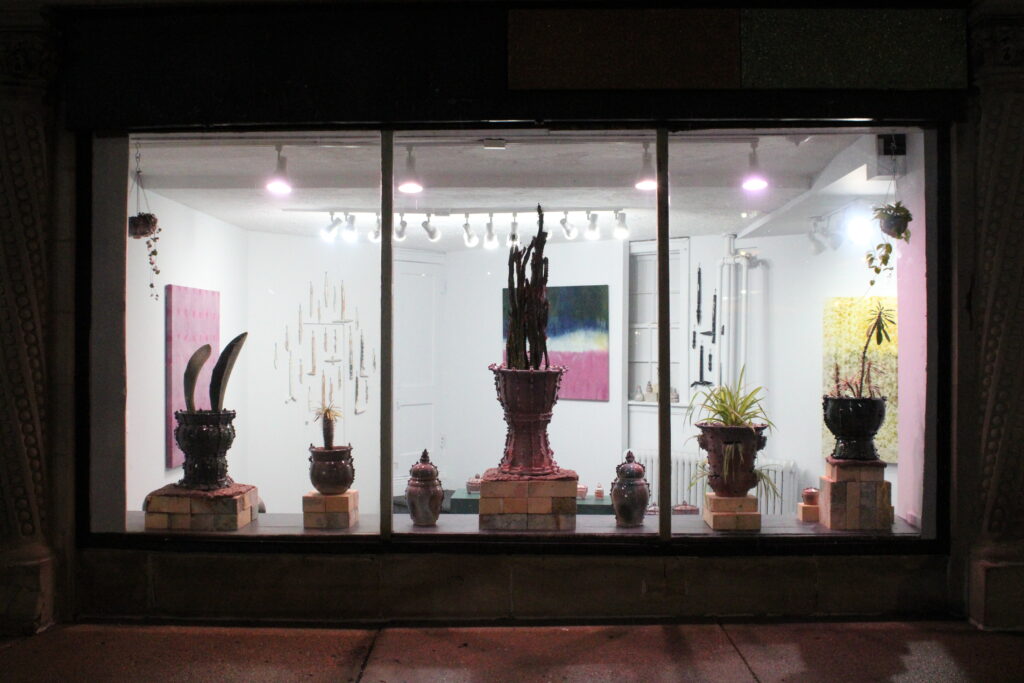 The Old Farmer's Almanac predicts this year's pink moon — the full moon of April named after the pink wildflowers that bloom in unison with the event— will reach peak illumination at 11:37 p.m. on April 5. In honor of the celestial phenomenon, the "Pink Moon" exhibit is on display this month at the Roman Susan Art Foundation gallery at 1224 W. Loyola Ave. The exhibit was created and curated by artists Cassie Tompkins and Peter Ronan.
"Pink Moon" features Tompkins' raw silk textiles dyed with natural materials alongside Ronan's porcelain ceramic jars, planters and wall hangings.
Ronan said he uses the color pink in his works as an ode to queer culture and gender.
"It's sort of this reclaiming and being able to use it as an openly queer person, whereas before I felt like I wasn't allowed to use it or didn't have access to this color," Ronan said. "It's a reclamation and it's just beautiful. It's a celebration."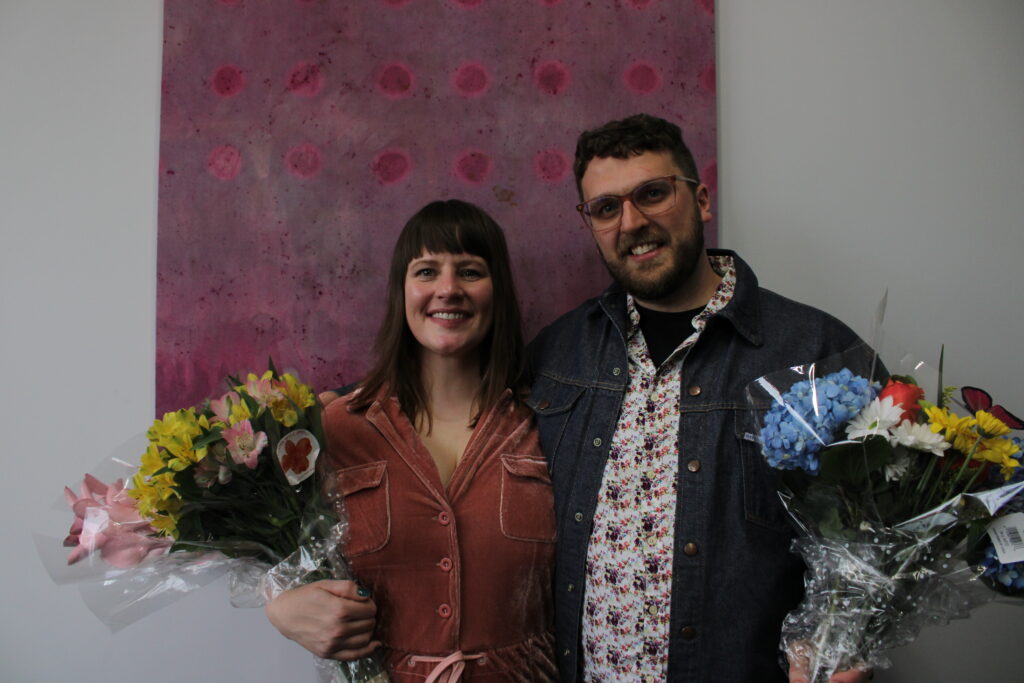 "We both love pink and work with pink a lot," Tompkins said. "Pink is very political – it's considered a feminine color. There's lots of negative connotations for it if you're a believer of the patriarchy. I use it as a feminist statement."
Tompkins, originally from Sterling, Illinois, said she has been creating art in Chicago for 18 years. She currently works as a freelance artist as well as a design director at Women Unite! – a local women-led nonprofit that offers free brand-development services to grassroots organizations. Tompkins met Ronan in 2019 at Chicago's Lillstreet Art Center where he had a residency in ceramics. Ronan said he continues to teach and maintain a studio at the center.
Tompkins said she usually creates her art based on intuition rather than a goal, but she and Ronan took a different approach when creating the "Pink Moon" exhibit. They developed "Pink Moon" as a concept before creating the displayed art, focusing on experimentation and inventive processes.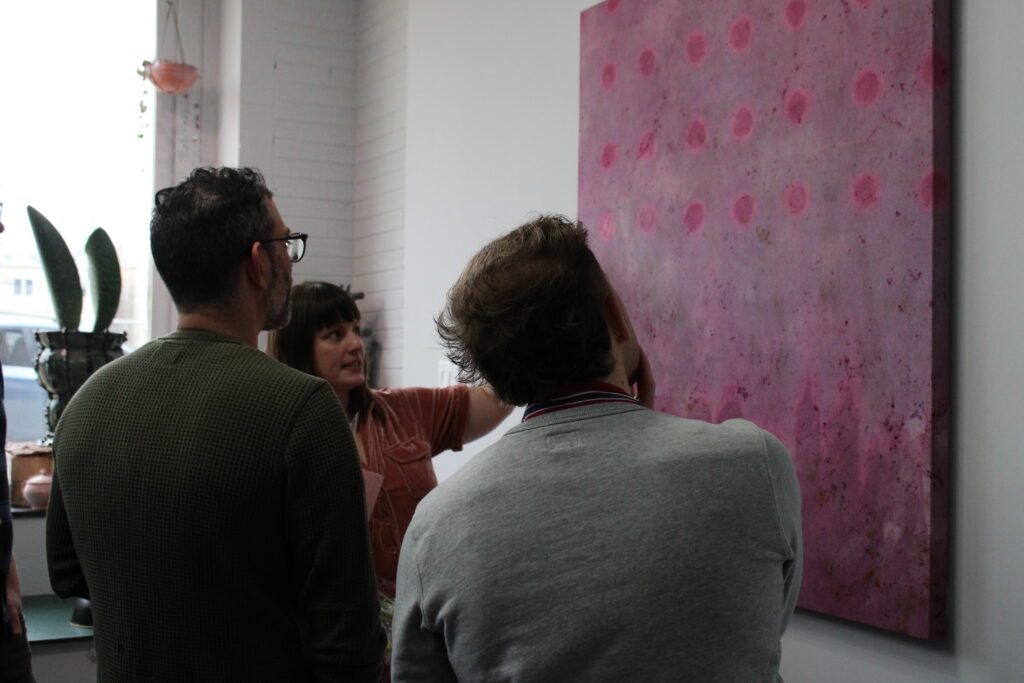 "We came up with the idea for the show because we were both gardening a lot during the pandemic," Tompkins said. "We were both working with plants and dirt, Peter was making amazing pots for all of his plants, and I started working with natural dyes like indigo."
Tompkins and Ronan said they drew inspiration for the exhibit from strawberries, moon cycles and the song "Pink Moon" by Nick Drake.
Prior to moving to Chicago, Ronan would often lay in a strawberry patch in his backyard at night to relax after a long day of work as a line cook.
"I would roll in the dirt and eat strawberries off the plant," Ronan said. "It was beautiful."
While tending to her home garden during the pandemic, Tompkins said she began referencing the Farmer's Almanac, where the spring moon is often referred as the pink moon after the creeping phlox, a pink flower that blooms in the spring.
"Named by Indigenous Americans after the native phlox — one of the earliest widespread flowers of spring — the 'ink Moon' exerts a strong gravitational pull," Tompkins wrote in the reception program. "Upsetting the tide and provoking tectonic activity, it signifies metamorphosis, reminding us that awkward transitions and warmer days are ahead."
In their textiles and ceramics, Tompkins and Ronan build forms and colors from natural materials such as clay, fiber, insects, plants and minerals, according to the reception program.
Tompkins says she and Ronan are very process-oriented in creating their art, especially for "Pink Moon," focusing on experimentation with materials and learning through the process of making.
Tompkins uses modifiers in her textile dyeing such as rusted objects, citric acid, lemon juice and avocados to experiment with shape and composition.
"Dyeing silk is a long, slow process," Tompkins said. "I didn't even see these pieces finished until last week. I've been working on them for months, stretching them and putting them in different dye vats, waiting and drying and sitting around."
Ronan said he uses materials like sodium bicarbonate to create one of a kind finishes on his pieces. He said the firing process of ceramics is central to the outcome of his work.
"The flame and the glaze in the atmosphere of the kiln create the pattern on the finished piece, unable to be repeated," Ronan said.
Tompkins said the technical nature of their art informs the message of the exhibit. Silk dyeing and the firing of porcelain is an arduous process, threatening at any moment to corrode or shatter. Tompkins said a central theme of the "Pink Moon" exhibit is growth through volatile environments shown through the tenuous process of their mediums, along with the unique experience of curating the art and its inability to be recreated.
"A lot of this work is about life cycles, death, reemergence, growing and the circle of life," Tompkins said.
The Roman Susan Art Foundation sits at the corner of West Loyola Avenue, tucked inconspicuously behind the Loyola Red Line stop. This gallery space is a non-profit run by artists for artists, according to their website.
Roman Susan has free gallery showings year-round and often shows the work of Loyola students, teachers and alums, board member Nathan Abhalter Smith said.
"Pink Moon" will be on display at Roman Susan from April 1-30, with visiting hours on Thursdays from 4 to 7 p.m. and Saturdays 1 to 4 p.m. The work is also visible from the street all hours of the day every day of the week. Tompkins and Ronan will be hosting a pop-up market at Roman Susan to sell their work on April 29 from 1 to 4 p.m.
Featured image by Ella Govrik | The Phoenix