A Summer of Music Festivals Arrives to Chicago
Genres of all kinds will be represented across four major music festivals taking place in Chicago this summer.

With the return of four major music festivals, Chicago is a notable summer spot for music lovers across all genres.
Summer Smash, Pitchfork, Lollapalooza and Riot Fest will take place from June to September, offering performances from emerging acts as well as music's biggest names.
Summer Smash (June 23-25)
With legendary hip-hop and rap acts on this year's roster, Lyrical Lemonade's Summer Smash boasts an explosive start to the music festival season.
Since its inception in 2018, the festival found its home in Douglass Park on the city's west side. This year, it welcomes a new location at Seatgeek Stadium at 7000 S. Harlem Ave. in the Bridgeview neighborhood. One stage will be located inside the venue and another two will be on turf fields outdoors, according to Summer Smash's official website.
Alternative hip-hop mogul Kid Cudi will serve as Friday night's headlining act. The artist released a full-length album for his original animated Netflix series "Entergalactic" in September.
Notable acts on Friday's lineup include New York's rap princess Ice Spice, who remixed her chart-topping single "Princess Diana" with a Nicki Minaj feature in April. Artists Vince Staples, GloRilla and NLE Choppa will also kick-off the weekend.
Fresh off their May 26 release "YING YANG TAPES: Winter Season (1989-1990)," punk-rap cousin-duo $uicideboy$ are listed as special guests for the festival's first night.
Saturday's headliner Future delivered exciting collaborations this past year including "All the Way Live" — a song on Metro Boomin's soundtrack for "Spider-Man: Across the Spider-Verse." Joining him on the track and appearing as a special guest, rapper Lil Uzi Vert previously collaborated with Future on their 2020 synergetic album "Pluto x Baby Pluto."
Chicago native G Herbo released his album "Strictly 4 My Fans 2" in April and is set to perform Saturday evening. Joining him in the lineup are Ski Mask The Slump God, Cordae and Three 6 Mafia founder Juicy J.
Another pair of Chicago rappers, LUCKI and special guest Lil Durk, are set to take the stage on Saturday. They're joined by "MANSION MUSIK" artist Trippie Redd and British rapper Central Cee alongside a plethora of dynamic hip-hop acts.
Wrapping up the weekend as the headlining act is Playboi Carti, performing for the second consecutive year at Summer Smash. Aside from his new collaboration for Max's "The Idol," Carti's most recent release was his electrifying, ad-lib clad album "Whole Lotta Red" in 2020.
Three-day GA passes are priced at $275, with Friday tickets at $99 and Saturday and Sunday tickets at $109 each. Purchases can be made on Summer Smash's official website, noting a low ticket warning.
Pitchfork (July 21-23)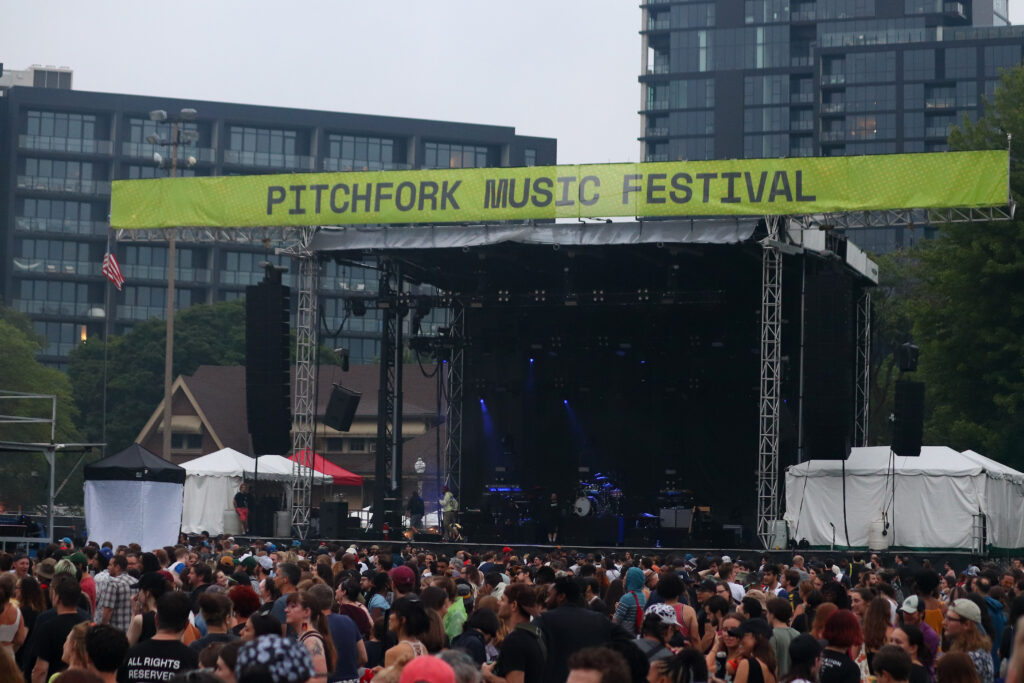 Accessible from the Ashland stop on the Pink and Green line, Pitchfork brings alt-indie tunes from both up-and-coming and renowned performers to Chicago's Union Park.
The Smile — a band with members from Radiohead — will take to the green stage for an 8:45 p.m. performance, concluding their Live in 2023 Tour. The set will likely consist of songs from their 2022 rock debut album "A Light for Attracting Attention."
On Saturday, the festival's red stage will see a beginning and end for alt-rock band Palm, who announced their breakup through a tweet on June 13, according to Pitchfork. As one of their farewell shows, the band's Pitchfork set will kick off red stage performances on day two.
Indie-folk band Big Thief will be closing out Saturday night. The bands most recent release "Dragon New Warm Mountain I Believe In You" is their fifth studio album. Festivalgoers can hope to catch a glimpse of their song "Certainty" which was nominated for best Best Alternative Music Performance at the 65th Grammy Awards.
Rounding out the festival is indie-folk band Bon Iver — who are no strangers to the stage. With five albums under their belt since 2007, material is plentiful. The band's most recent releases have been features on Taylor Swift's 2020 albums "folklore" and "evermore."
Though constant performances keep the festival going from beginning to end, festivalgoers can also visit the on-site vinyl record, craft and poster fairs throughout the three days, according to the festival's website.
One-day general admission tickets cost $115, while three-day general admission passes are $249 and can be purchased on the Pitchfork Music Festival website.
Lollapalooza (August 3-6)
Filling Chicago's historic Grant Park with over 170 musical acts, Lollapalooza preserves its nearly two-decade-long tenancy in the Windy City with a legendary lineup of performers.
The genre-bending event lasts four days and features headlining acts ranging from K-pop to Latin to punk-rock.
Headlining act Billie Eilish will kick off night one at the T-Mobile stage. The alt-pop artist has seen an exciting 2023, embracing her acting talents in Amazon Prime Video's psychological thriller series "Swarm," which released March 17.
Also on night one, Latin reggaeton singer KAROL G will perform on Lollapalooza's Bud Light stage. The Colombian superstar was a competitor on Colombia's version of "The X Factor" in 2006 and has since released four albums.
Most recently, her February album "MAÑANA SERÁ BONITO" explored the artist's recent breakup.
Kendrick Lamar will close out night two, likely performing tracks from his 2022 album "Mr. Morale & The Big Steppers," which won Best Rap Album at the 2023 Grammy Awards for its clever dissection of trauma and emotional relief. Lamar also secured the Grammy awards for Best Rap Song and Best Rap Performance with his single "The Heart Part 5."
British alternative-rock group The 1975 will also headline Friday, after releasing their fifth album "Being Funny In A Foreign Language" in October. With electric, unpredictable performances of hits like "About You" and "I'm In Love With You," the group is likely to be an intriguing addition to Friday's lineup.
Saturday features a headlining performance from K-POP group TOMORROW X TOGETHER, returning to Lollapalooza after also headlining in 2022. The group delivered sultry upbeat bops in their January EP "The Name Chapter: TEMPTATION."
Additionally, electro pop duo ODESZA, who released their third album "The Last Goodbye" in July, will also be taking the stage on Saturday.
Indie-pop icon Lana Del Rey is one of the festival's final acts on Sunday. Hopeful fans may expect tracks from her March album "Did you know that there's a tunnel under Ocean Blvd," which showcased the singer in a torturously introspective light. Nonetheless, with tracks like "Peppers" and "A&W," the album offers anthems fit for festival fun.
Finally, Red Hot Chili Peppers will perform on the T-Mobile Stage on Sunday, giving festivalgoers a taste of their classic rock sound. Their October album "Return of the Dream Canteen" is a continuation of the group's lighthearted edginess.
One-day general admission tickets cost $135, while four-day passes cost $385 and can be purchased at Lollapalooza's website.
Riot Fest (September 15-17)
Known for being one of the largest independent music festivals to date, Riot Fest is ideal for metal-heads and punk-lovers, according to Billboard. The festival takes place in Chicago's Douglass Park, offering countless musical acts for those preferring an alternative sound.
Friday headliners include Foo Fighters and Turnstile, who are likely to deliver their classic rock dynamism to local audiences. With the June 2 release of their album "But Here We Are," Foo Fighters maintain their legacy in metal and rock in their 11th, chart-topping album.
On Saturday, headliners The Postal Service will perform a combined set with Death Cab For Cutie. The two bands have recently embarked on a 20th Anniversary Tour, celebrating each of their 2003 albums "Give Up" and "Transatlanticism."
Queens of the Stone Age released their first album in six years June 16 and are also set to perform Saturday night. Riot Fest falls in the middle of their tour, which was also recently announced out of their musical hiatus.
New-wave English rock band The Cure will conclude the festivities on Sunday. The band released the 30th Anniversary Deluxe Edition of their 1992 album "Wish" in April 2022, with the original release birthing alternative hits like "Friday I'm in Love" and "A Letter to Elise."
The Mars Volta will also headline Sunday, possibly performing songs from their April album "Que Dios Te Maldiga Mi Corazón." The album packs political punch alongside groovy folk acoustics fit for the festival's electric vibe.
Single day presale tickets to Riot Fest cost $89.98, two-day passes $189.99 are and passes for all three days are $289.98 and can be purchased on Riot Fest's website.
Featured image courtesy of Austin Hojdar | The Phoenix.