For Barbie, Life Is Plastic but Un-fantastic: Greta Gerwig's 'Barbie' Exceeds Expectations
This "Barbie" comes with emotional whiplash and an existential crisis.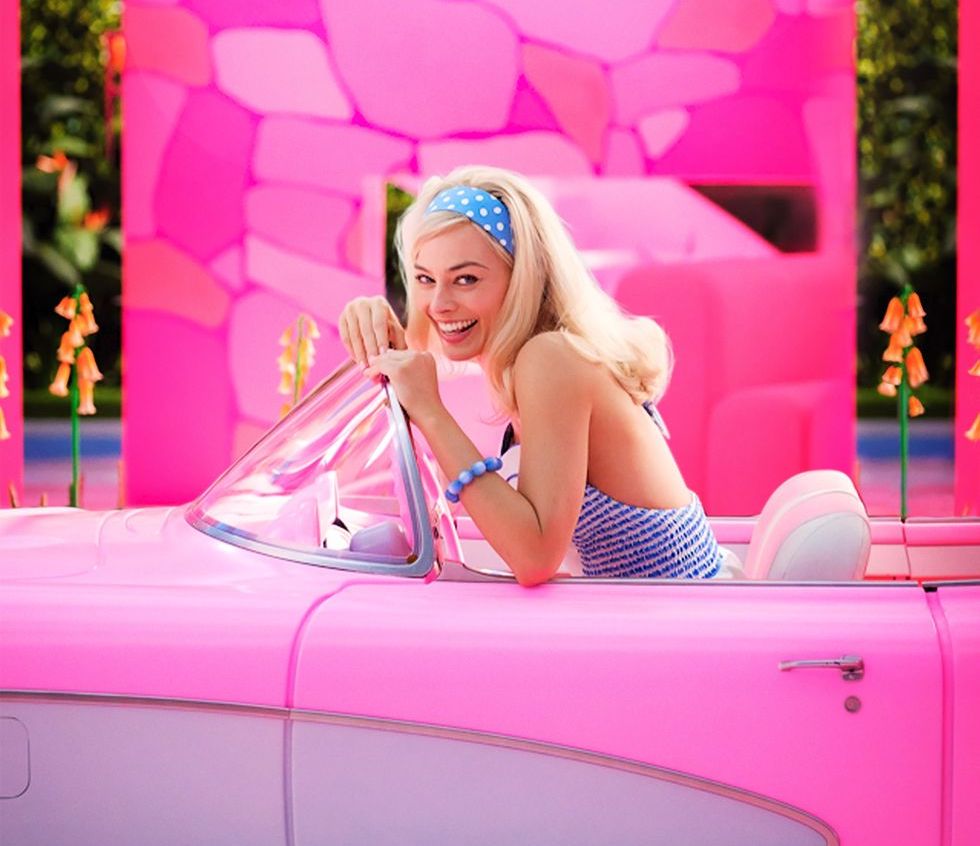 This article contains spoilers for "Barbie."
Greta Gerwig's "Barbie" ushers in a summer of pink outfits, catchy pop anthems and an existential crisis.
The film released on July 21, but Barbie's story begins in 1956 when Ruth Handler first invented the doll after watching her daughter, Barbara, use paper dolls to emulate the woman she wanted to be, according to Smithsonian Magazine.
The film's two trailers revealed minimal plot-related information prior to the release, but its theatrical marketing left audiences with plenty of surprising "Barbie" brand deals, including Xbox, Chevrolet and Progressive Insurance.
The movie begins with a nod to Stanley Kubrick's "2001: A Space Odyssey," with No. 1 Barbie — or Stereotypical Barbie — played by Margot Robbie. The doll stands in place of the monolith, with girls replacing primitive monkeys in their turn towards intellectual evolution. As the girls crush baby dolls in favor of Barbie, the scene reflects a turn from female domesticity to female autonomy.
Oscar-winning actor Helen Mirren offers insightful narration and witty commentary while the movie plays, but using the voice of Ruth, played by Rhea Perlman, would have emphasized her role as the creator in Barbie's story.
Each Barbie's occupation is reliant on the roles assigned to them by Mattel, such as Lawyer Barbie, Justice Barbie, Doctor Barbie and Stereotypical Barbie. And then there's Ken — just Ken, better known as Barbie's buyable boyfriend.
The movie's attention to detail includes discontinued toys like Mattel's pregnant doll Midge (Emerald Fennell) where Mirren's narrative commentary drives Midge to the sidelines because "a pregnant doll is just too weird."
Ken's friend Allan (Michael Cera) is neither connected to the Kens nor Barbies and exists in his own world. Allan's witty one-liners and refined diction explore a desire for inclusion and escapism for people who don't fit into patriarchal standards.
Gerwig's ("Lady Bird," "Little Women") attention to detail extends past any expectations set. Each character, line and set design have layers of meaningful attributes rather than being just a movie about toys.
The choice to include discontinued characters memorializes regretted human mistakes made throughout Barbie's tenure, adding to the theme of humanity and creation.
The album's soundtrack, produced by Mark Ronson, features a star-studded artist lineup. While each song slots perfectly into the movie, the custom soundtrack began to overpower scenes that may have benefited from lyricless tracks.
In the matriarchal society of Barbie Land, everything is perfect — and pink. In her Dreamhouse, Barbie's clothes are flawlessly pressed, the waterless shower is always the right temperature and breakfast lands right on her plate. As Lizzo's song "Pink" guided Barbie's morning routine scene, the lyrics felt too on-the-nose with unnecessarily meta commentary.
The opening dance sequence, set to Dua Lipa's "Dance The Night," introduces viewers to the diverse cast. Gerwig focuses the camera on these Barbies, giving them each their own choreography while embracing diversity in an authentic, unforceful way.
Yet, amid the dance-sequence, Barbie's perfectly-pink facade begins to unravel.
With thoughts of mortality coursing through her, the doll's tip-toed, upright feet become flat, signaling conflict between the human world and Barbie Land. As a result, Stereotypical Barbie visits the all-knowing Weird Barbie, played by Kate McKinnon. The character directs Stereotypical Barbie to the real world to find the person playing with her and correct her emerging humanity.
McKinnon's comedic acting ability allows her to flow from informative to funny within seconds, filling the Birkenstock of Weird Barbie flawlessly. The costume design within "Barbie" reaches its peak with McKinnon's character, whose poorly-cut hair and marker stains reflect signs of overuse.
Following Barbie to the real world, Ryan Gosling's Ken becomes enraptured by patriarchy. Contrastingly, Barbie becomes objectified and devalued in a world that views her as backward.
Flowing from blissful ignorance to anxious self-realization, Margot Robbie ("Once Upon a Time…In Hollywood," "I, Tonya") showcases her multifaceted performing abilities with elegance and ease. Robbie never lets her doll-like expressions fade as she experiences the emotional turmoil of regular life.
Robbie's tenderness as Barbie excels when the character meets an elderly woman, played by costume designer Ann Roth, for the first time. The tear-jerking and thought provoking scene was almost cut by Warner Bros. until Gerwig stood her ground.
"If I cut the scene, I don't know what this movie is about," Gerwig said to Variety. "That's how I saw it. To me, this is the heart of the movie."
When Barbie suspects she has found the person playing with her, the irritated tweenager Sasha (Ariana Greenblatt) blames Barbie for burdening girls with unrealistic body types, standards of perfection and an obsession with over-consumption, leaving Barbie to question her existence further.
In one of the film's more memorable scenes, Barbie is almost forced into a toy box. Robbie's acting skills shine as Barbie's fears of entrapment suggest her growing consciousness.
Fleeing from potential bondage, Barbie encounters Ruth, her creator, in Mattel's office building. In a blink-and-you-miss-it moment, Barbie and Ruth reach for each other's hands trading off a cup of tea, visually mimicking Michalangelo's "The Creation Of Adam."
The intimate moment between creator and creation deepens the film, sanctifying Barbie as one of Gerwig's greatest characters and a monolith of societal analysis.
Witnessing Barbie's abduction, Sasha's mother Gloria, played by America Ferrera, follows her to the Mattel building to help her escape. While her time on screen could have been longer, projecting Gloria's fears of adulthood and maturing daughter onto Barbie was an unsuspecting but flawless choice that appeals to audiences of all ages.
Wrapping up the film with a monologue, a staple in Gerwig's writing style, Gloria delivers a speech regarding society's unrealistic expectations of women. Ferrera's ("Superstore," "Ugly Betty") address came with both individual and generational pain.
The final dramatic sequence fulfills the movie's message through thoughtful dialogue and open conversations about what it means to be an individual rather than an extension of someone else.
As the film concludes, a montage of mothers, daughter, aunts and sisters flash across the screen as Billie Eilish's "What Was I Made For?" plays soberly through the theater. The appreciation of humanity and personality in the ending scene of "Barbie" tugs deeply on sentimental memories held with women.
"Barbie" ends as a sensational film about creation, gender stereotypes and human nuances.
Toeing the line between comedy and think-piece, Gerwig's directorial attention to detail shines throughout the almost two-hour movie. "Barbie" cements Gerwig as an influential director worthy of award-winning recognition.
"Barbie" is in theaters now.
Featured image courtesy of Warner Bros. Pictures