From Basements to the Big Stage: Artists Come 'Full Circle' at Lollapalooza
With its diverse array of artists, Lollapalooza is a delightfully surreal experience for performers with modest beginnings.

This year's Lollapalooza brought renowned headlining acts and dynamic productions, but it also featured lively sets from emerging names with humble roots.
For Gurnee-based rock group Ax and the Hatchetmen, climbing the musical ladder meant forfeiting the life of the average young adult for tour vans and late-night shows.
At just 21-years-old, the seven-piece group went from sneakily watching Post Malone's 2018 Lollapalooza set on the lakefront trail to rocking their biggest crowd ever at the BACARDÍ Stage — all while juggling the demands of being full-time students.
The longtime group of friends have known each other since they were teenagers, when lead singer Axel Ellis, a student at Columbia College Chicago, messaged guitarist Sal Defilippis asking if he wanted to "jam."
"I didn't know who the heck this kid was," Defilippis said. "I go to his house without knowing anything about him or who he is, and we just hit it off, and it was a good time."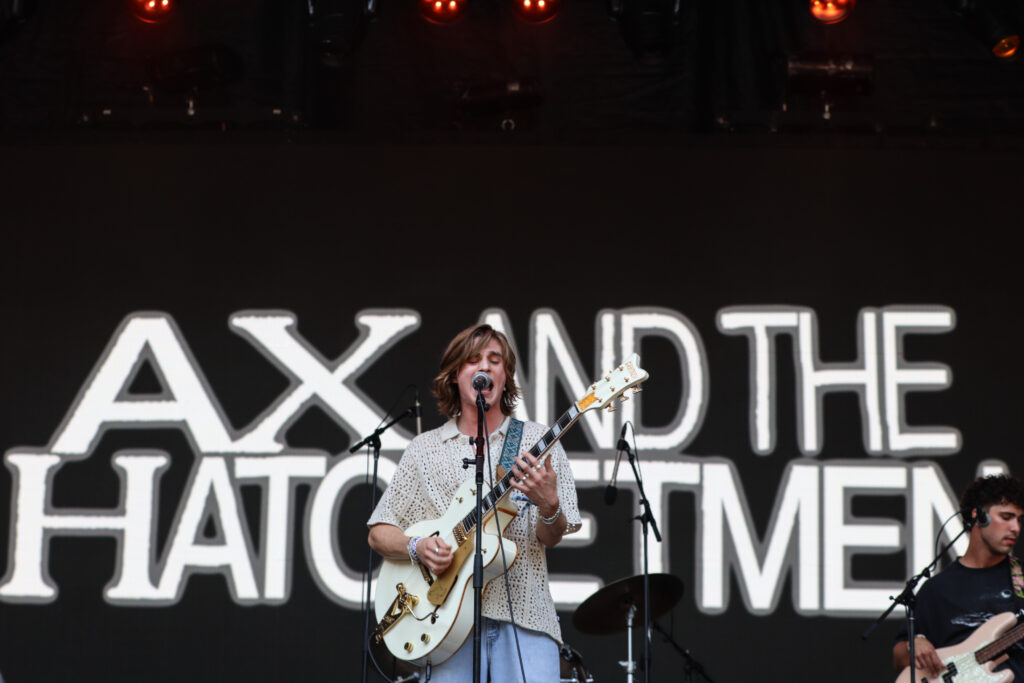 Defilippis had been performing in a jazz band with the group's bassist Hunter Olshefke, as well as guitarist and background vocalist Kenny Olzewski, drummer Nick Deputy and saxophonist Quinn Dolan. Soon after, he introduced them to Axel.
Later on, the group would bring in their final member, trumpet player Phil Pistone, who met Ellis at a jazz conservatory in the suburbs.
After moving downtown for school, Ellis had to make accommodations to navigate regular life with the growing success of his band by taking online classes. Defilippis and Olshefke, a student at SAE Institute Chicago, noted the difficulties in maintaining school attendance with music.
"Balance is a funny word," Defilippis said.
"You have a really fun summer, but the school year is tough," Olshefke added.
Others like New Jersey rock band The Happy Fits found unenrolling from school to be the best way to keep up with their budding music careers. After their EP "Awfully Apeelin'" got on Spotify's Fresh Finds playlist, the group's drummer Luke Davis and cellist/lead vocalist Calvin Langman decided to pursue music full time.
"Me and Cal were like, 'Should we drop out of school?'" Davis said. "I was like, 'Yes,' instantly."
Since forming in 2016, the band has released three studio albums which include hits "So Alright, Cool, Whatever" and "She Wants Me (To Be Loved)" and a world tour in support of their August 2022 album "Under The Shade of Green."
Preserving their bond while on tour was critical for the quartet, who make time to "hang" between shows by playing pickleball or sightseeing.
"The hang is critical," guitarist Graham Orbe said.
"You really grow as friends and almost a family as time goes on," Davis added.
Also performing before their largest festival audience, the group felt supported seeing friends and family who had flown in amongst the crowd. Davis said the set being streamed on Hulu was a "magical" way for their hometown community to be able to watch their show.
"It's any musician's dream to play this festival, so to actually get to do it and have the crowd that we had — we couldn't have asked for a better day," Davis said.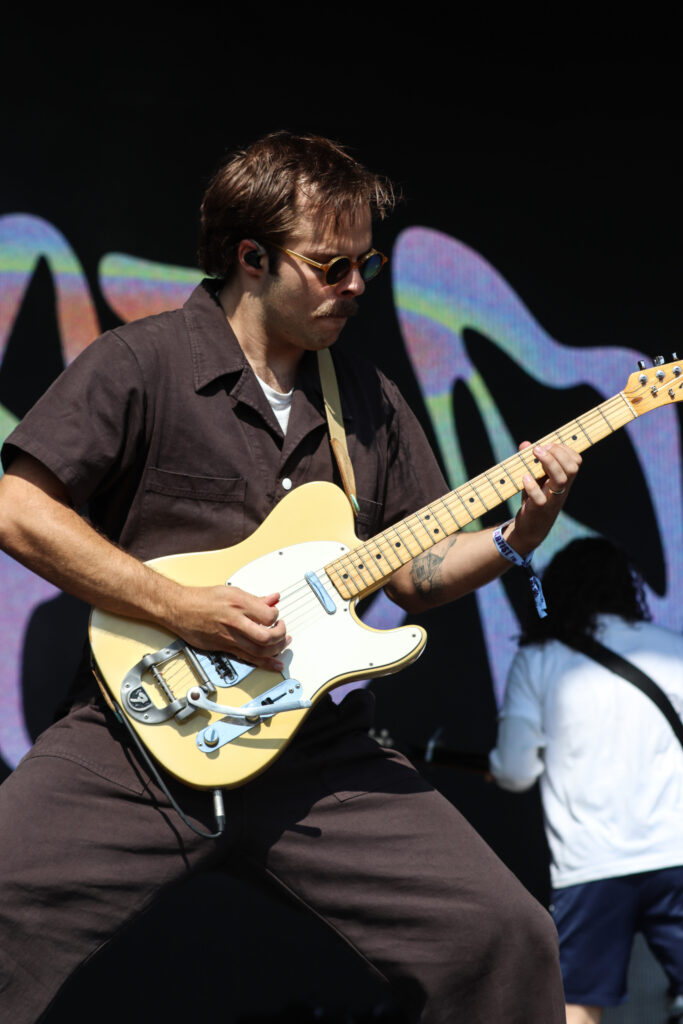 Making the leap from best friends to bandmates, Peach Pit, a Vancouver-based indie rock group, said their on stage camaraderie is entirely authentic.
"We used to just be buddies and now we're also business partners and creative partners," guitarist Neil Smith said. "For us, it's just important that we do hang out and have fun together, so we remember that's really the reason we're here, because we like each other, and we're friends."
The four-piece Vancouver group consists of Smith, Chris Vanderkooy on vocals, Peter Wilton on bass and Mike Pascuzzi on drums. With a decades-long friendship, Wilton and Vanderkooy reflected on their humble beginnings, covering Weezer songs at age 11 in their parents' basements.
"When we have moments together on stage it's not like a gimmick," Vanderkooy said. "We're just having a good time together."
The group of high school friends first began collaborating in 2014, playing in "ratty jeans and flannels." Eventually, they released their first album in 2018 which featured their indie hit "Alrighty Aphrodite." Regardless of their cult classics, they said they most enjoyed performing new tunes like "Give Up Baby Go" from their March 2022 album "From 2 to 3," which Smith said was written in isolation during the pandemic.
Each member said performing live was the best part of their job.
"The show is so instantly gratifying — you play a song, you get a reaction," Vanderkooy said. "Working in a studio is really fun, but the gratification is a year and a half later once you finally release the music, so it's so fun having this instant relationship with doing it and people enjoying it."
Pop singer UPSAHL got her start opening for small bands across the Phoenix music scene. She said she remembered watching her dad perform in punk bands, and by 13 she was following in his musical footsteps.
Unlike her set at Lollapalooza, the singer said her early performances were quaint and homey, compiled mostly of family members showing support. She released two volumes of "THE PHX TAPES " in August — albums commemorating her upbringing just outside of Phoenix.
Rising in success with viral hits like her 2019 single "Drugs," the singer went on to perform at Lollapalooza in 2019 to a much smaller crowd.
"It felt very full circle," UPSAHL said. "I played the BMI Stage in 2019 and thought no one was going to show up. I was so nervous, it was my first festival. I had thought it was the best day of my life, but this topped that for sure."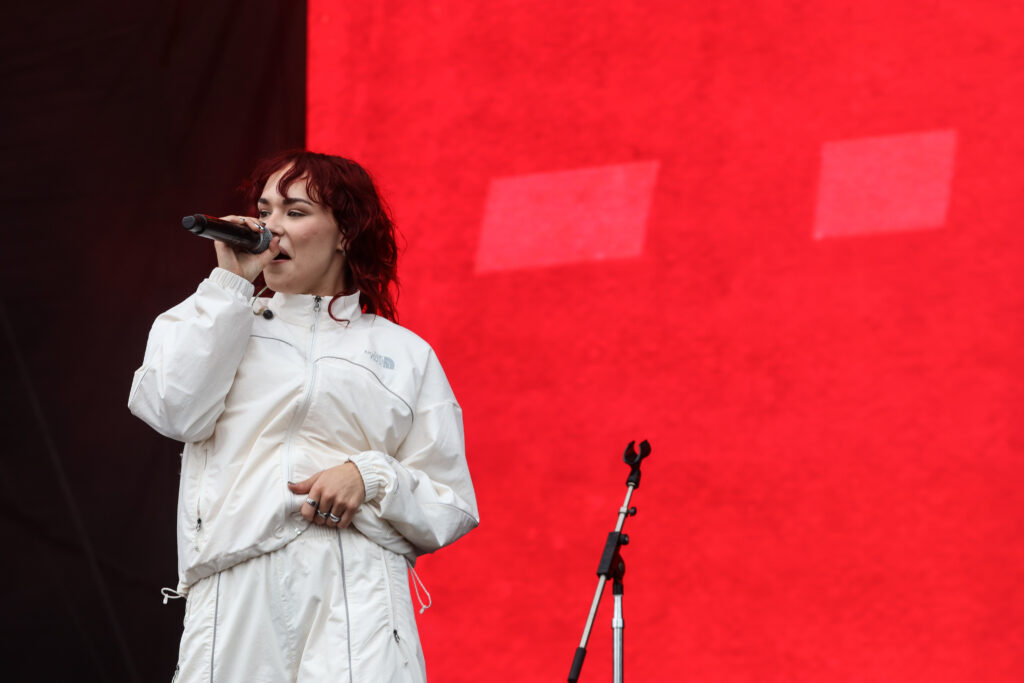 Chicago group Sinceer Engineer's lead singer Deanna Belos also draws inspiration from her home city in her music. The alternative rock singer attended Sandburg High School in Orland Park, taking inspiration from local punk bands.
"I grew up listening to Chicago punk and it was very influential," Belos said. "You can hear it in the way I sing. It's a big part of my life and it comes out in the songs."
With a growing fanbase, the singer was delighted to see a "corn dog circle pit" form during her set. Belos said the idea came from a fan who suggested the crowd run in a circle holding corn dogs while the group performed their tune "Corn Dog Sonnet No. 7."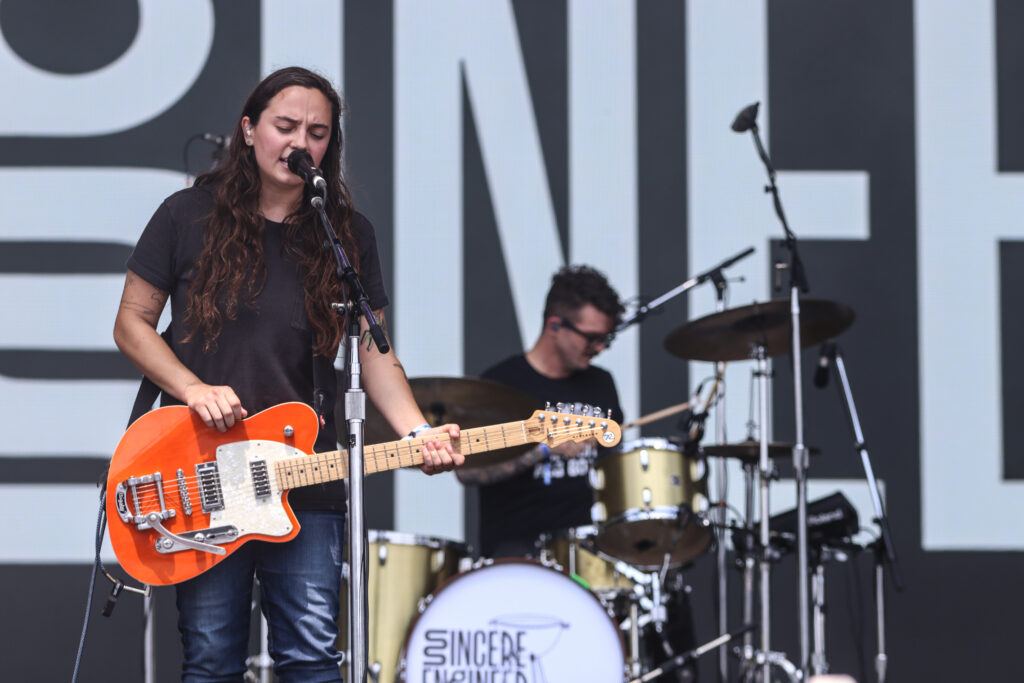 With its diverse array of artists, Lollapalooza is a delightfully surreal experience for performers with humble roots.
"We did a lot of DIY tours, played in a lot of basements, stayed in a lot of questionable Airbnb's," Davis of The Happy Fits said. "As time went on, it just got better and bigger. More people started coming out, and now we're here — at Lollapalooza."
Featured image taken by Austin Hojdar | The Loyola Phoenix.