Fifth-Year Amanda Cassidy Brings Veteran Leadership to Loyola Women's Soccer
Amanda Cassidy has been a devoted and consistent presence as a leader of the women's soccer team.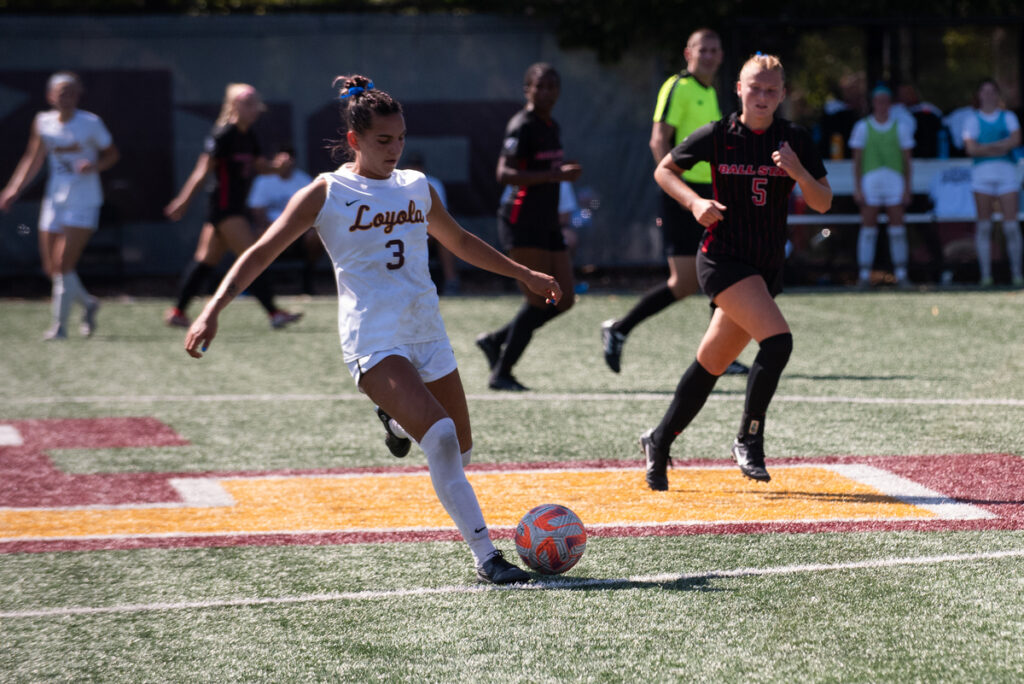 For the past five years, graduate midfielder and forward Amanda Cassidy has been a devoted and consistent presence as a leader of the Loyola women's soccer team.
Cassidy said she started playing soccer at five years old and decided to stick with it long-term after joining an Elite Clubs National League team in Maple Grove, Minnesota in 8th grade, where the idea of playing at the collegiate level was first introduced and became a goal for her.
Throughout her time as a high school student playing at Benilde-St. Margaret in St. Louis Park, Minnesota, Cassidy racked up two state titles and made appearances at soccer club Minnesota Thunder Academy — all while being scouted by the Ramblers. Head coach Barry Bimbi saw her play and knew he wanted her to be a part of the team.
"She's just so competitive, and it's contagious within the group," Bimbi said. "Throughout the recruiting process you could see that, and that was the main reason we wanted her."
Cassidy reflected on the years before she became a Rambler and how the caring outreach from the team drove her to call Loyola home.
"They recruited me as a person over a player," Cassidy said. "A lot of the time in the recruitment process a lot of schools don't do that — they recruit the player first. I really liked how they cared about me as a person and a player."
After her four years were up and according to NCAA eligibility rules, Bimbi reached out to Cassidy about playing for another year, based on the NCAA's COVID-19 policy. Cassidy finished her undergraduate degree in political science last spring and had to continue her education by starting Loyola's year-and-a-half-long master's program in international affairs which was a huge draw for her.
On the pitch, Cassidy's competitive side shines and feeds into her teammates to motivate them to give everything until the last whistle, according to Bimbi. He said she also instills confidence in the coaching staff, creating dependability and taking control of the whole field.
In her fifth year with the Ramblers, Cassidy remains as unstoppable as she was when she first stepped onto the field wearing maroon and gold. She has started in 56 of the 75 games she's played and is close to reaching her 5,000th collegiate minute.
So far this season, Cassidy has one goal, two points, five shots and two shots on goal. Last season, she played over 1,000 minutes for the Ramblers and achieved many career-best statistics, such as reaching 17 total shots on goal and seven points.
Off the pitch, Cassidy commands attention by being a key communicator between the coaching staff and the newer members of the team while showing her growth and telling her story to the first-years.
"I always tell her, 'You need to tell your story to the younger players,'" said Bimbi. "Everyone wants to come in and play and start, and now you see her as one of our top players as a fifth-year, and she didn't start as a freshman, so there's a journey to your career, where a lot of the players come in and want to start right away and want all these minutes, but there is a process to it."
As Cassidy's time as a Rambler makes its final run, she said she can't help but be grateful for everything this team and her family gave her to make her the person and player she is today.
"It means a lot to me to be on this team," Cassidy said. "The culture and the family we've built at Loyola is pretty incredible. It's something that I'll carry with me forever."
Catch Cassidy and the Ramblers at their next home match on Sept. 7 where they take on the Badgers of the University of Wisconsin. The game is set to start at 7 p.m. at Loyola Soccer Park.
Featured image by Aidan Cahill | The Phoenix