A dead bird lays on the floor of a one room artist studio. The white stork is belly-up with limp wings folded across its body. It looks almost serene in its resting place on the wooden floor, lit by golden mid-afternoon light streaming through nearby windows.
It's not a real stork, though. The large bird is a sculpture by Betsy Odom, a senior lecturer of fine arts in sculpture and 3D design at Loyola. Referencing the stork laying on the floor, Odom described their unique visual language to create their own queer symbology.
"In my imagination, it makes total sense for the stork to become a queer icon," Odom said. "Like asexual reproduction, the idea that you could call a stork to bring you a baby, like there's something kind of queer about that."
Much of Odom's artwork deals with queerness and lesbian identity, like their 2019 gallery show at the DePaul Art Museum titled "Butchcraft." The show featured sculptures lined up as if on display in a shop and included a neon pink softball helmet made from leather and a Birkenstock sandal made of cork with bright purple rabbit feet attached to it.
Odom, 43, is originally from rural Amory, Mississippi, a place they said it was difficult to grow up as a young queer and gender nonconforming person in the 1990s. A hint of their southern heritage is evidenced by the gleaming banjo leaning against their studio wall, an instrument Odom said they have played for about 20 years.
Third-year Elena Clim began learning to play the instrument after Odom lent him a banjo named "Red Fox." Clim, a psychology and women and gender studies double major, said he felt connected to Odom as someone who has a similar queer identity.
"Seeing people who share those same identities be able to be successful and hold places in academic settings, it's so heartwarming," said Clim, 20.
Odom said that now conversations about sexual identity are much more open and many of the young queer students they meet seem less stigmatized, which makes them hopeful.
"I had zero queer influence when I was a young person," Odom said. "It was just all foreign and alien and no way to get information at all. So I feel this real stewardship of queer identity when I'm teaching or when I'm working with students."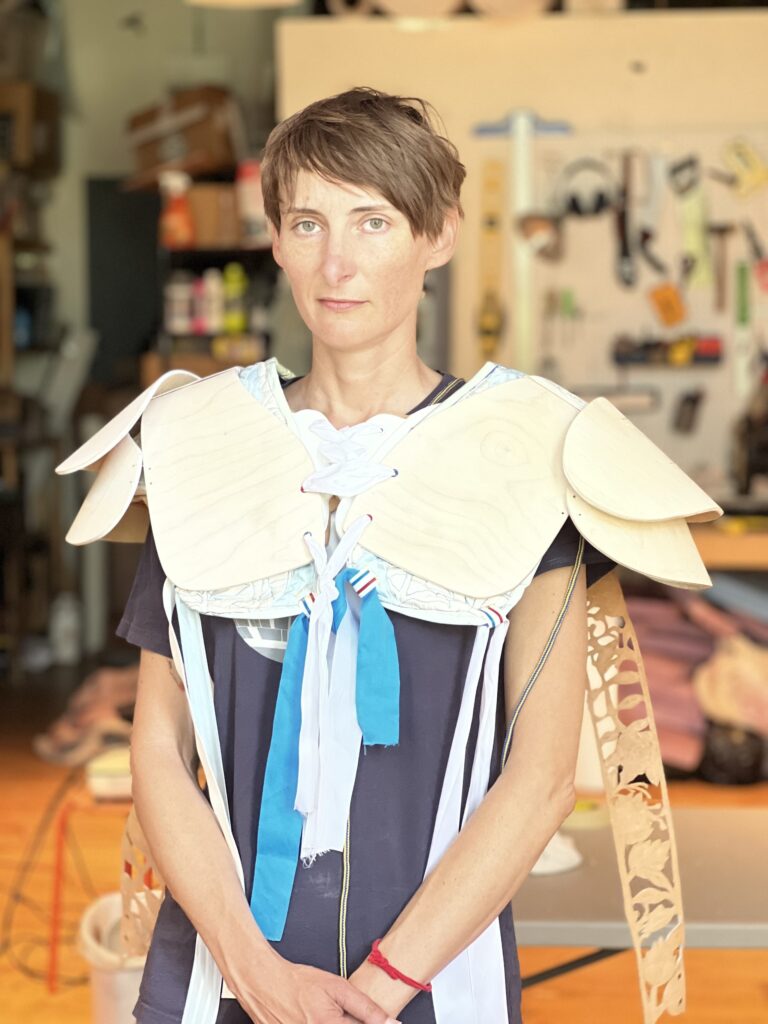 Mattie Wilde, a third-year majoring in art history and drawing, painting & printmaking, is a former student of Odom's who also felt the impact of having a professor who shares their nonbinary identity.
"I didn't really even know that nonbinary was an option until college, and it was a big journey for me to get there," said Wilde, 20. "Meeting Betsy was so emotional for me, because it made me feel like I did belong and I had a place."
In 2018, Odom was diagnosed with multiple sclerosis, a progressive neurodegenerative disorder that often takes an unpredictable course. Odom's practice is highly physical and relies on handcrafting techniques like leather tooling which are tied to their body's ability. They said their diagnosis gives their work a layer of vulnerability that was never there before.
They recounted an experience seeing a 2019 exhibition of Frida Kahlo's work. Kahlo suffered from severe spinal injuries and chronic pain after a streetcar accident at the age of 18, as documented by the National Library of Medicine. 
"She laid with a broken spine and looked at a mirror and painted this painting on it," Odom said. "And I'm sitting there with this new diagnosis of a disability that may or may not hinder my ability to even make art again. There is a kind of bravery, or even necessity of her art practice in the face of adversity that was really important and valuable for me to see."
Marina Ross, 33, is a fellow professor at Loyola who shares a studio space with Odom.
"Sometimes when professors start teaching and really get into it, they tend to stop making art, whereas Betsy is someone who will never stop making art," Ross said.
Much of Odom's work relates to the human body and the way it interacts with objects. They have a skill for sculpting rigid materials like cork and wood as to appear soft and fleshy. Their particular brand of humor is evident in the piece "Bird in Space," which is a mold of a kitschy turkey baster with a cartoonish turkey at the base. The end of the baster bends to one side in a phallic manner.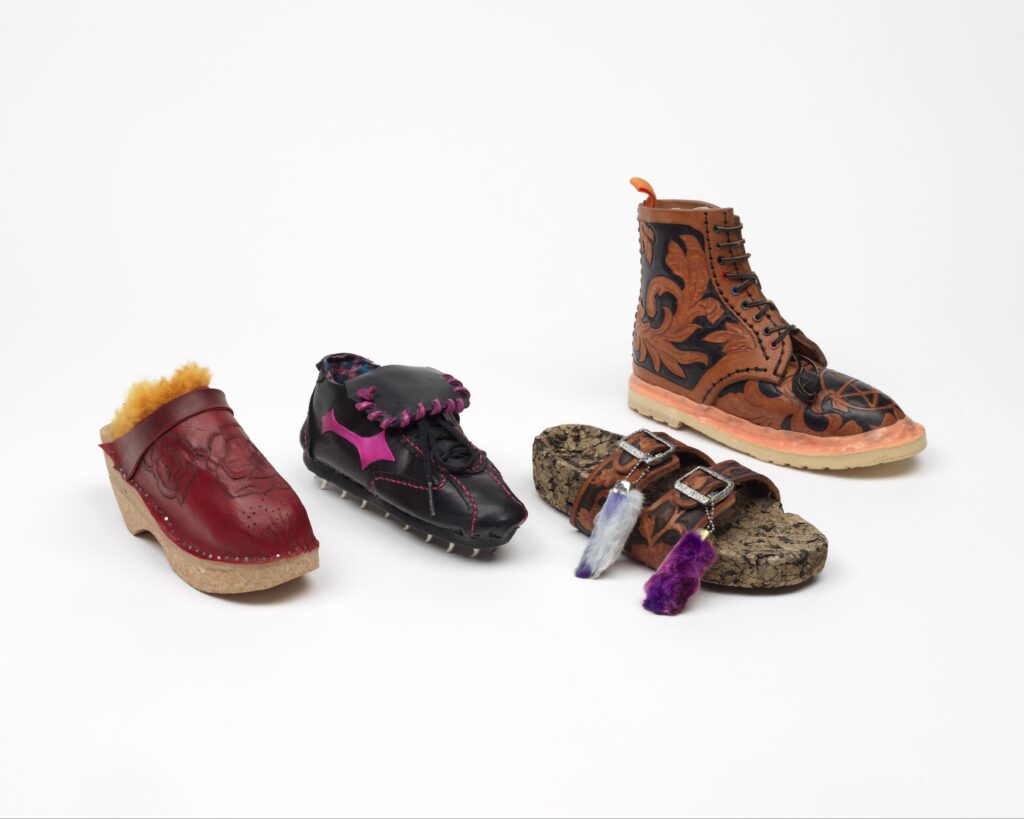 On the wall of Odom's studio is a series of colorful tennis rackets which are twisted and warped, almost as if they're melting.
"When we look at a tennis racket, we imagine a sunny spring day," Odom said. "We imagine Andre Agassi or Serena Williams. We imagine ourselves in cute tennis skirts. We don't get a factory in Taiwan with children wrapping leather around pieces of plastic. We don't get vats and vats of urethane being pumped into molds."
Odom's work is infused with a disarming kind of humor as well as queer references and commentaries on consumerism. They often utilize everyday objects in unexpected ways to tap into their larger cultural associations.
"I think all materials have meaning," Odom said. "When you look at a piece of leather, you think of cowboys, you think of sex, you think of fine upholstery, you think dirty shoes. All of this meaning is embedded in the surface of a thing when you look at it."
Odom's next exhibition will be in the fall 2024 at the San Francisco Museum of Modern Art, entitled "Get in the Game." The theme of the show contends with the history of sports and the way gender, race and politics have historically affected the discourse around it.
Featured image courtesy of Betsy Odom