John Mayer's Solo Show Brings Intimacy to the United Center
The singer-songwriter played songs from his over 20 years of music.

John Mayer captivated the United Center Oct. 18 during his solo tour with a handful of guitars, his crooning voice and 20 years of music.
The singer-songwriter said he saw this concert as a 20-something year extension of playing at Schubas Tavern — a show he played in February 2001. With the stage's simplicity and his personable tone, Mayer made the 20,000-person United Center feel like the 400-person Lakeview bar.
Opener JP Saxe set the tone for the night, matching Mayer's singer-songwriter sensibilities. Despite being a Raptors fan, the Toronto native said he went to a Chicago Bulls game as a kid and was honored to be back at the United Center.
He opened the John Mayer Solo tour's night with "Tension" — a piano ballad off his 2021 album "Dangerous Levels of Introspection," a fitting name for his soft music.
Lights still dim, Mayer strode out and took a seat on stage, opening his set with "Heartbreak Warfare" from his 2009 album "Battle Studies."
By the third song "Emoji of a Wave," he had already used three different guitars and would continue to grab different ones all night, reinforcing his role as one of the most renowned guitarists of all time.
Mayer has steadily been releasing music since the late '90s — his last album "Sob Rock" released in July 2021. The crowd reflected Mayer's demographic as a shepherd of the modern era of "dad rock" and a prominent feature on many teen drama soundtracks in the early aughts.
He said he wanted to play the most interesting and complicated chords when he was younger but now sees the value in more straightforward, honest songs.
"It turns out all the simple ones are the ones I wanna play for the rest of my life," Mayer said.
This led directly into the pensive, folksy "Waitin' on the Day."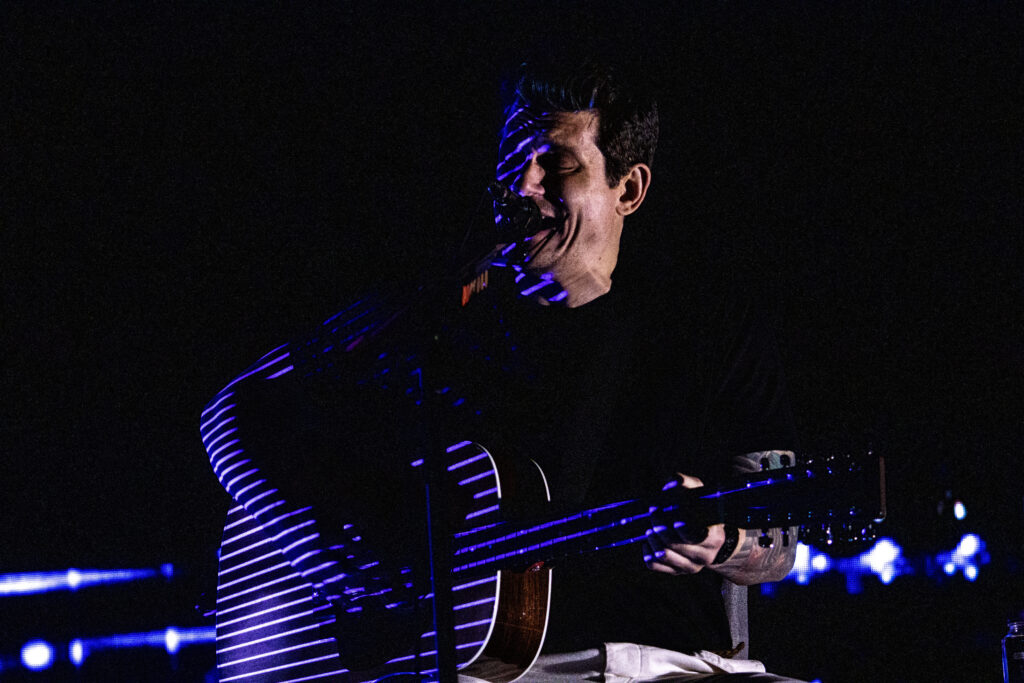 Even though he'd been speaking to the audience all night, Mayer broke the United Center's fourth wall when he asked the crowd to help "mess this setlist up."
He took someone's suggestion from the front rows, performing "Badge and Gun." Mayer said this was his dear friend Bob Saget's favorite song and dedicated it to the actor and comedian, who died in January 2022.
This sincere moment was followed with the rage-filled "In the Blood," where Mayer questions how his parents have impacted how he loves.
"How much of my father am I destined to become? / Will I dim the lights inside me just to satisfy someone?" Mayer asks.
Mayer walked to a piano on stage right and played "You're Gonna Live Forever in Me," providing the most tender moment of his show. The song's opening featured a whistling Mayer followed by his high falsetto.
The next song broke the acoustic theme of the night. On "Changing," Mayer used a loop pedal with his notes on the piano and pulled out an electric guitar, riffing over his own strokes on the ivory.
The arena went black and the backing screen played a series of interviews from 2005 when Mayer was promoting his album "Continuum."
"Hopefully I can do a set that's hit, hit, hit, hit, hit," a 28-year-old Mayer said in the video. "I'm not there yet, but hopefully one day."
The lights went up and Mayer leapt into "Stop This Train," a fitting reflection on aging following his aspirations from nearly two decades ago.
"So scared of getting older / I'm only good at being young / So I play the numbers game / To find a way to say that life has just begun," Mayer laments.
Mayer, who played guitar during Dead & Company's The Final Tour, took another suggestion from someone's poster and played Grateful Dead's "Bertha."
Without break, he strummed directly into "The Age of Worry" which includes what he called "the most important couple lines" he's ever written:
"Give your heart and change your mind / You're allowed to do it / Because God knows it's been done to you and / Somehow you got through it," he sang passionately.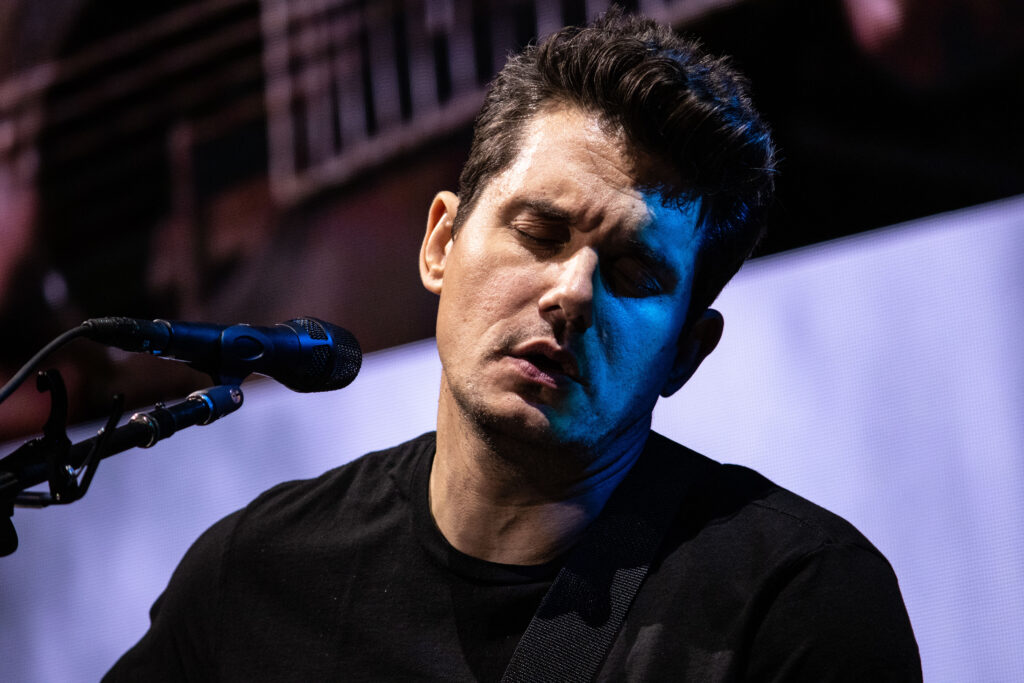 Mayer then pondered before deciding to do "the most blasphemous thing I've ever done in my time in music."
He then sandwiched his hit "Your Body is a Wonderland" — matched with long shots of the crowd projected behind him — with an intro and outro from "Dark Star" by Grateful Dead.
As with nearly every song that night, the crowd could predict Mayer was playing "Slow Dancing in a Burning Room" with only one guitar strum.
The final instrument switch of the night put a double-necked guitar in Mayer's hands and a harmonica around his neck.
As the night ended, Mayer thanked the crowd but then apologized profusely if fans were disappointed he didn't play songs they expected — likely referring to his radio hits like "Waiting on the World to Change" and "New Light."
"Tonight I got to play every song from the deepest, sweetest place of my heart," Mayer said. "You've allowed me to be the truest version of an artist playing for a crowd."
He ended his set with an explosive reverberation effect on his guitar during "Edge of Desire" as Mayer vocalized over lights flashing back and forth and up and down.
"Don't say a word, just come over and lie here with me / Because I'm just about to set fire to everything I see," Mayer sang.
He then stood up, thanked the crowd, thanked the city, bowed and left.
Mayer hopped back on stage a minute later for his encore and played "Comfortable" from his 1999 EP "Inside Wants Out." He followed that with a cover of "Free Fallin'" by Tom Petty — a tribute to one of Mayer's biggest inspirations.