Rogers Park artist Nicholas Barron is painting an extraordinary outlook on life through art, music, activism and creative expression. His art studio Barron Mind, located at 7765 N. Sheridan Road, and his gallery next door have nurtured his love of art, while connecting him with unique, local personalities.
Barron's studio is situated on the northern border of Rogers Park. Pops of colorful art against the gray-toned alley wall grab the attention of pedestrians and passersby.
Besides the soulful and interpretive art on the sidewalk outside, Barron's amiable personality is what distinguishes his studio. Having moved to Illinois from Massachusetts in 1986, Barron said choosing Rogers Park for Barron Mind was an easy decision.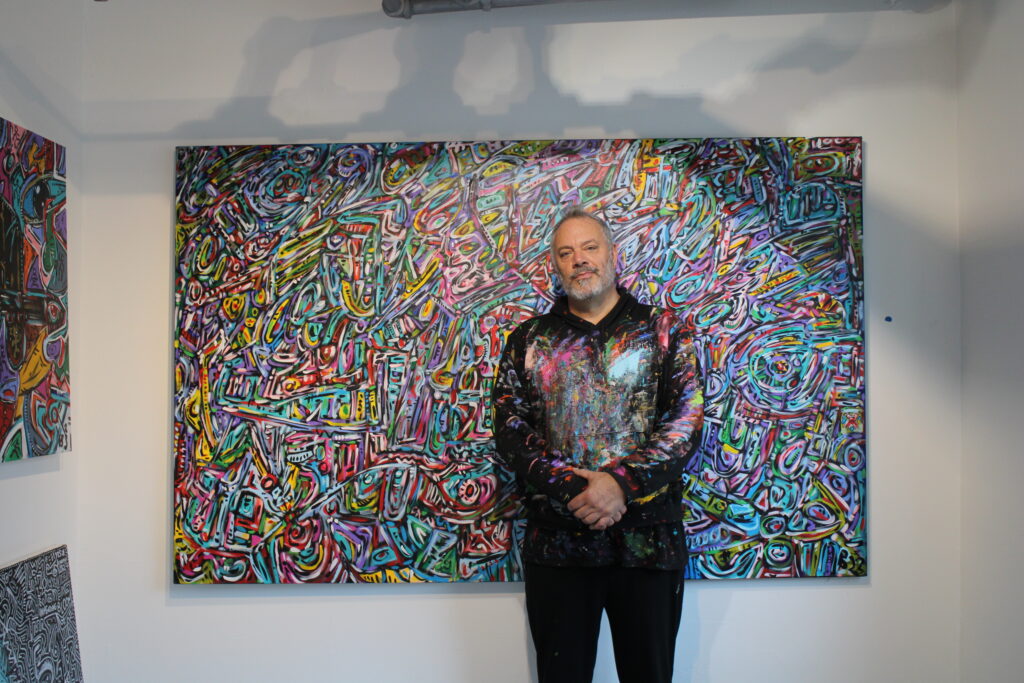 "Literally, metaphorically and physically I keep my door open," Barron said. "So Rogers Park, I call it Rogers Spark because it's very urban. It's funny because Evanston is very suburban, and I kind of love that and all that entails."
Barron doesn't confine his work to a canvas. From the couch in his atelier to the shoes on his feet, one can find expression in the ad-libbed wording and shapes painted on them. Whether it be his personal initials or a symbol he likes, Barron practices a production mantra called "Draw on Everything."
"It's literally drawing on everything, but that also is a metaphor for drawing on all your feelings and history and all that," Barron said. "I'm a philosophical person. I would say that's — if you're an artist — that's kind of the base of it."
Barron holds a wide creative range of talents. He began his career as a street performer in London and after multiple arrests and shut down attempts from the police, Barron moved back to Chicago. In 1988, he then founded the Coalition for the Advancement of Street Art, propelling the rights of street performers in Chicago.
Barron said he uses his love for the community to push him forward artistically, drawing inspiration from nearby sculptures and the lively people he meets. Barron's unique, chaotically abstract art style in paintings at his gallery can allow friends and customers to interpret it however they choose.
Barron's art now is layered by history, family and experimental voice. Alongside his art, he performs as a blues musician, applying his experimental style to improvise lyrics or notes. The same goes for his paintings, where he blends words to convey a fluid message. He said his inventive language is a key facet of his identity and artwork.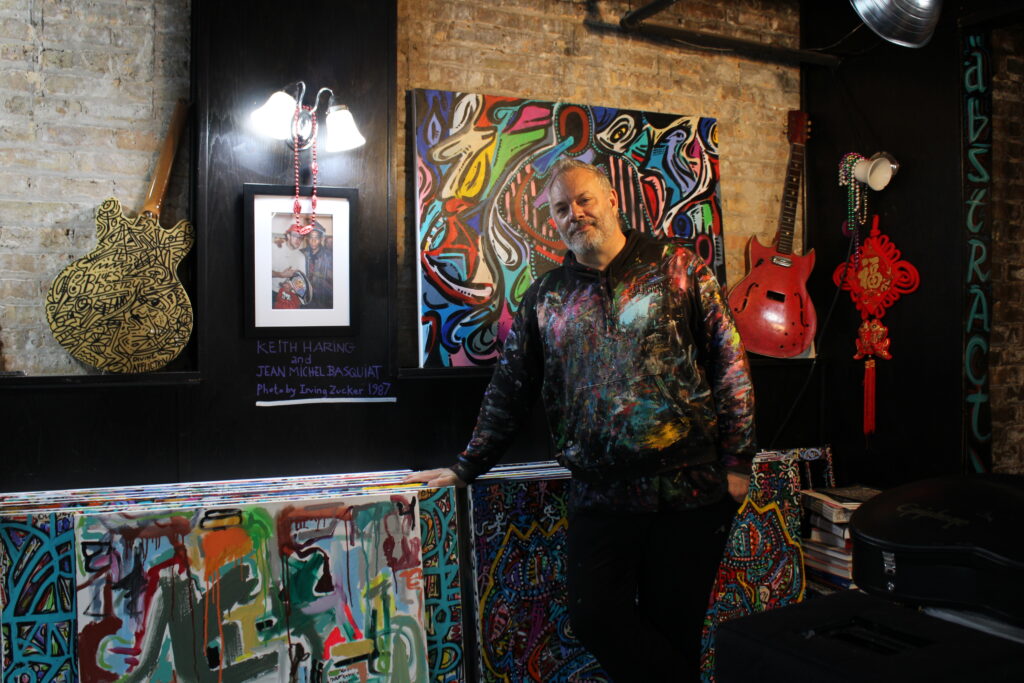 "Integrate and gracious — out in the alley I wrote this big thing that says, 'Are you integracious?'" Barron said. "It's basically about integrating in ourselves but learning to integrate in the world, which is clearly not easy for anyone to do and almost impossible as we're seeing. But it starts with us, so I'm a philosopher in that way."
Barron said intertwining music and art is an instinctive aspect of his creative process. Along with imagery of guitars and lyrics, his art also incorporates musical themes and rhythmic patterns.
"I think as artists, our humanity comes through." Barron said. "And I'm a musician, I'm very kinetic, you know. There's just this energy happening. I've been told there's a flow in my paintings that's very musical, without telling people that I'm a musician."
Another crucial factor in his inspiration is his father, William. As a fellow artist, Barron said his father was a sculptor and painter with a collection of 600 paintings. Acquiring his father's collection and proudly displaying some in his own studio, Barron's art style parallels his fathers, as both use vibrant colors and bold strokes to convey their message.
After the death of his father seven years ago, Barron said his art has fusions of his father's bold and bodacious style. While living in Marblehead, Massachusetts, Barron said he saw his father go against the grain in a conservative town by displaying his art at his home. Most of his contemporary art styles may have clashed with the town's usual aesthetic.
"My parents are cool and different, and even though we lived in this town and I always felt different, I knew that I was an artist from a very young age," Barron said.
Barron Mind is open to the public Wednesday through Sunday from 12 to 5 p.m., or by appointment. You can find Barron on Instagram @birdiebarron.
Featured image by Rachael Wexler/The Phoenix.