A forgotten baby doll's cracked head. A sprawling mosquito with blue and red scales. A handful of flowers potted in an empty soda bottle. These aren't elements of an antique store or the setting of a Wes Anderson film — they are pieces in the art gallery that sophomore Eve Owens wears upon their skin.
Owens is one of many students at Loyola who has made the decision to get inked. As campus eases restrictions and resumes in-person classes, students are showing off their individuality through creative ensembles, many of which are completed with permanent accessories — eye-catching tattoos. A myriad of unique pieces can be seen on students across campus, whether it's just one tattoo or a gallery of curated designs.
Senior political science major Rigo Diaz, who describes himself as "really family-oriented," has multiple tattoos that reflect his strong family values.
"My left side is more about cultural stuff," Diaz said. He revealed the underside of his forearm which dons the flag of Jalisco, Mexico, where his family is rooted. "[This one] is the coat of arms of my family's state in Mexico."
The message "Family First" stretches across Diaz's chest like a banner of pride. His other tattoos are "just for fun," Diaz said.
"I have some ugly tattoos, like [one] I got was $25. It says 'Royalty,' because I liked the way 'Loyalty' looked but my name starts with 'R'," Diaz said. "And [another], I traded an Xbox to get," Diaz, who has seven tattoos in total, said with a laugh.
Whether to evoke a bemused grin or inspire contemplation, tattoos allow their wearer to tell a story without opening their mouth.
Similarly, junior economics major Christian Voelker's tattoos recount a deep family history.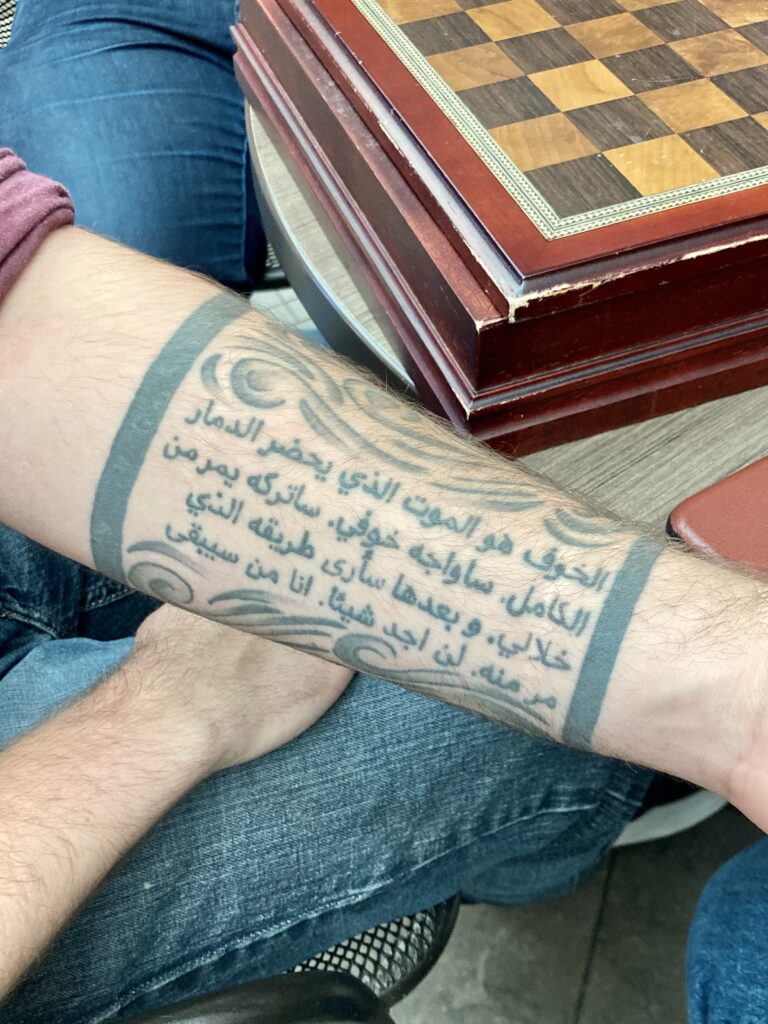 Alongside his stepfather, who's from Lebanon, Voelker composed a poem in Arabic specifically suited for his skin.
"[It] is a really long poem dealing with facing fear and accepting it and realizing that fear is just a part of you," Voelker said of the tattoo on his forearm.
The rest of Voelker's family is from Poland and his other tattoos tell the stories of his grandparents' courage during times of war.
"My grandpa on my mom's side was partisan and fought as a freedom fighter in Poland," Voelker said, "so I got his unit's tattoo."
A wire-wrapped symbol on his arm furthers the narration of his family's notable legacy.
As a Holocaust survivor and then bricklayer, Voelker's 89-year-old grandfather's legacy is recognized in a tattoo on one of Voelker's shoulders. His grandfather's bricklaying union wrapped in barbed wire is a symbol of his grandfather's oppression.
For other students, the act of receiving a tattoo is just as important as the design itself. Sarah Nuñez, a fifth-year biochemistry student, receives the majority of her tattoos from Chicago DIY artists.
"I don't pick my tattoos designs, I just take whatever art they make," Nuñez said of the multiple pieces on her arms. "They decide placement a lot of the time… I'm just their canvas."
The DIY tattoo subculture employs the stick-and-poke technique, in which tattooing is done by hand with a single needle, rather than tattoo guns. According to Nuñez, these artists mainly operate out of private residences rather than studios.
"[Tattoos] are really personal, so I want to know who is doing them," Nuñez said. "I don't think I'll ever go back to a tattoo studio."
Nuñez embraces an innovative tattoo culture, but conventional shops such as Tattoo Factory still dominate. Tucked off the Red Line in Uptown, 40 years of history keeps tradition alive in this retro studio with walls that appear tattooed themselves.
Though Tattoo Factory boasts an extensive catalog of traditional designs, pop culture and social media creep through the cracks and penetrate this age-old industry.
"Instead of having something more beautiful, now it's ironic, stupid, hilarious tattoos," said resident piercer Chris Von Zeleny, who has worked in the tattoo and piercing industry for 10 years and has numerous pieces covering his chest, shoulders, and arms.
New waves of ink-seeking adolescents have contributed to the growing popularity of tattoos inspired by pop culture. Sophomore Natalie Suwinski's arms pay tribute to singers Phoebe Bridgers, Mitski and even a popular geography trivia app.
"[I have] a little globe that I have matching with another friend because we used to play GeoGuessr all the time in class," Suwinski said.
Social media and pop culture appear to be inching their way into tattoo studios, especially as Generation Z approaches the legal tattoo age. Despite his commentary in favor of tradition, Von Zeleny agrees that 18-years-old is an appropriate minimum to get inked. If a student can make a decision about their career at that age, they are old enough to get a tattoo, in Von Zeleny's opinion.
However, that doesn't mean he doesn't grow frustrated with the first-year students that stream in like moths to a flame.
"The second that Loyola or DePaul students get out of their f—ing parents' house, they're like 'Oh my God! Let's do something crazy… let's get a piercing, let's get a tattoo,' Von Zeleny said.
Featured photo by Annelise Richardson | The Phoenix