'What was the point of any of this?': Three Women Come Forward In Lawsuit Against Loyola For 'Mishandling' Sexual Assault Cases
Three ex-Loyola students recently filed a lawsuit against Loyola for allegedly mishandling their sexual assault cases.

Content warning: Sexual misconduct, assault, rape, vulgar language
Marissa Sepulveda cried and physically shook while she sat in the back of Loyola University Chicago's admissions office, where she worked to recruit new students, at the end of September 2021. In a report to the university, she wrote up the details of the night she said she was raped during her sophomore year in 2019.
She was living in a dorm on Loyola's Lake Shore Campus (LSC). It was a Saturday night and Sepulveda said she invited some friends from a club sports team over for a party, including a friend she had recently started casually dating. As the night progressed, Sepulveda said she became increasingly more intoxicated, causing her to dip in and out of consciousness.
The following morning she said she found herself unable to recall the majority of events that occurred the night before.
"I don't really remember a ton of that night, but essentially, I do remember what happened, which was that I was raped by that guy," Sepulveda told The Phoenix.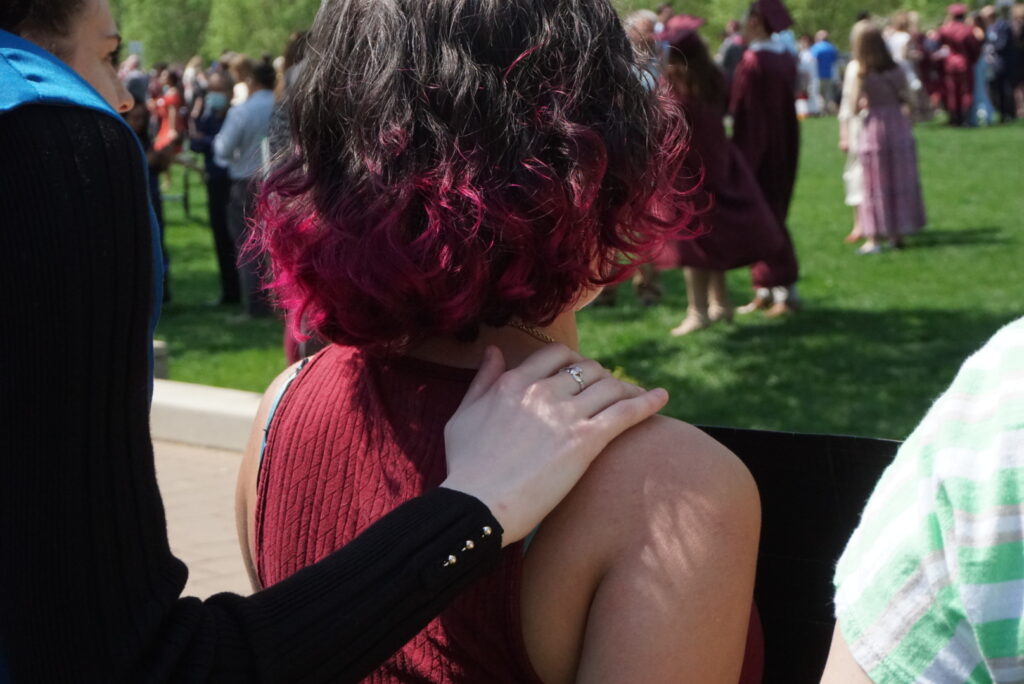 Now, three years later, Sepulveda, along with two other women — Madeline Kane and Catherine Ann Cappello — recently filed a lawsuit against Loyola for allegedly mishandling their sexual assault cases.
The lawsuit claims the plaintiffs were either forced to attend their classes in hostile environments or abandon their education. Furthermore, the lawsuit said Loyola students are routinely injured due to the widespread nature of sexual assault around campus and the failures of the administration to protect its students.
"Loyola has systemically mishandled and underreported student complaints of sexual misconduct, contrary to federal and state regulations in addition to its own internal policies and procedures, dating back to at least 2011," according to the civil action lawsuit filed Sept. 21 in Cook County Circuit Court.
It continues, "The university has failed, and continues to fail, to take effective preventative measures and has allowed this dangerous situation to persist and cause harm to students, including plaintiffs, creating a campus culture of deliberate indifference and tacit acceptance of sexual misconduct."
Ashley Pileika, a lawyer from the Law Office of Darren Wolf, is representing the three women alongside Darren Wolf and Beth Fegan of Fegan Scott LLC. Pileika said their legal team is seeking "meaningful change" and monetary compensation.
The monetary compensation will be given for "past, present and future pain and suffering" such as emotional distress and lost opportunities in the aftermath of their sexual assault investigations as well as lost tuition money due to the plaintiffs leaving the university prior to finishing their degrees, Pileika said.
Pileika said the university has yet to respond to the lawsuit.
The university's communications department and Office of Equity and Compliance (OEC) — which oversees reports of discrimination, sexual misconduct and retaliation under Title IX, a federal law that prohibits sex-based discrimination in education — declined to comment on the pending litigation.
However, Loyola President Mark C. Reed spoke to The Phoenix about his previous experience at Fairfield University as Dean of Students and Vice President for Student Affairs, which involved meeting with students on both sides of sexual assault cases. He said the current lawsuit against Loyola is about a "topic very important to me" and he had "a lot of empathy and experience" with "the complex situations" he's seen in these types of cases.
"We absolutely do and will make sure that we review all reports of sexual assault, 100% consistent with federal and state laws but also consistent with our institutional values and mission," Reed said. "That's not negotiable as far as I'm concerned."
He continued, "This particular matter will resolve itself through the process that it's in right now and we'll go from there."
The Phoenix has reported on a number of Title IX investigations which have called into question the university's handling of instances of sexual misconduct. In 2019, three Loyola students told The Phoenix Loyola's OEC allowed a "serial predator," accused of raping all three of them, to remain on campus for five months while looking into the investigation.
The following year, a different student walked the stage at graduation after being expelled and banned from campus for rape, according to The Phoenix.
Carrie Ward, the chief executive officer of the Illinois Coalition Against Sexual Assault (ICASA), an organization that supports survivors of sexual violence, said seeing lawsuits filed against universities in regard to Title IX is commonplace.
"We live in a litigious society," Ward said. "There are opportunities and reasons why people need to or choose to file lawsuits of all different kinds of things and non-compliance with federal regulations are among those."
Ward said what she thinks the best thing Title IX offices can do is to make sure students are aware of their rights.
"What we see, unfortunately, is we see students that drop out," Ward said. "You know, students who can't find their footing anymore after being sexually assaulted, because it's too disruptive to their lives."
Ward said it's important to ICASA students are believed, supported, responded to and assisted in those situations in a way that allows them to continue their education.
'I realized she was really, really unwell'
Throughout her time at Loyola, Sepulveda filed reports with the OEC twice for two separate incidents committed by two different male students.
Sepulveda first went to Loyola's OEC at the end of March 2019 after she said she was sexually assaulted Feb. 27 on campus in Simpson Hall as a first-year student. The investigation process lasted approximately three months and resulted in the student being suspended, according to Sepulveda.
The student found responsible by Loyola for sexual assault did not respond to The Phoenix's requests for comment. The Phoenix is not naming the student since he was not charged with a crime.
In September 2019, seven months after the alleged sexual assault, Sepulveda said she was raped in the bathroom of her sophomore year dorm by a member of a club sports team she was on.
Sepulveda recorded multiple videos throughout the night in which she slurred her words while she said, "I'm very fucking drunk," according to videos obtained by The Phoenix.
During the incident, Sepulveda's roommate at the time, Anastazja Machl, said she was lying in bed next to a thin wall separating her from an adjoining bathroom. She said she heard people enter the bathroom, clothes being taken off and then heard someone being thrown against the wall.
Machl, the only sober witness at the party, texted Sepulveda at 12:30 a.m., "I really don't enjoy hearing people fucking when I need to be up in six hours," according to screenshots obtained by The Phoenix.
In response, Sepulveda apologized and said, "real talk idk if I should be alarmed but I don't remember fucking him."
Around 2 a.m., Machl, also a sophomore at the time, said she got up for a glass of water and saw the state that Sepulveda was in.
"I realized she was really, really unwell," Machl said. "She was no longer consciously aware what was going on."
Since the incident, Sepulveda said she can recall dipping "in and out of consciousness" during the alleged sexual assault.
"I got into consciousness at some point when my roommate was banging on the wall and telling us to shut up and I didn't know what was happening," Sepulveda said. "I just remember seeing my rape occur and blacking out again."
Sepulveda said next time she "blacked in" he was ordering her to put her pants back on. The male student accused of the rape declined to comment.
'Surely they've learned their ways?'
In February 2020, Madeline Kane, another plaintiff in the lawsuit, said she was sexually assaulted at a party hosted by one of Loyola's recognized fraternities, The Phoenix previously reported in March.
The accused student did not respond to The Phoenix's request for comment.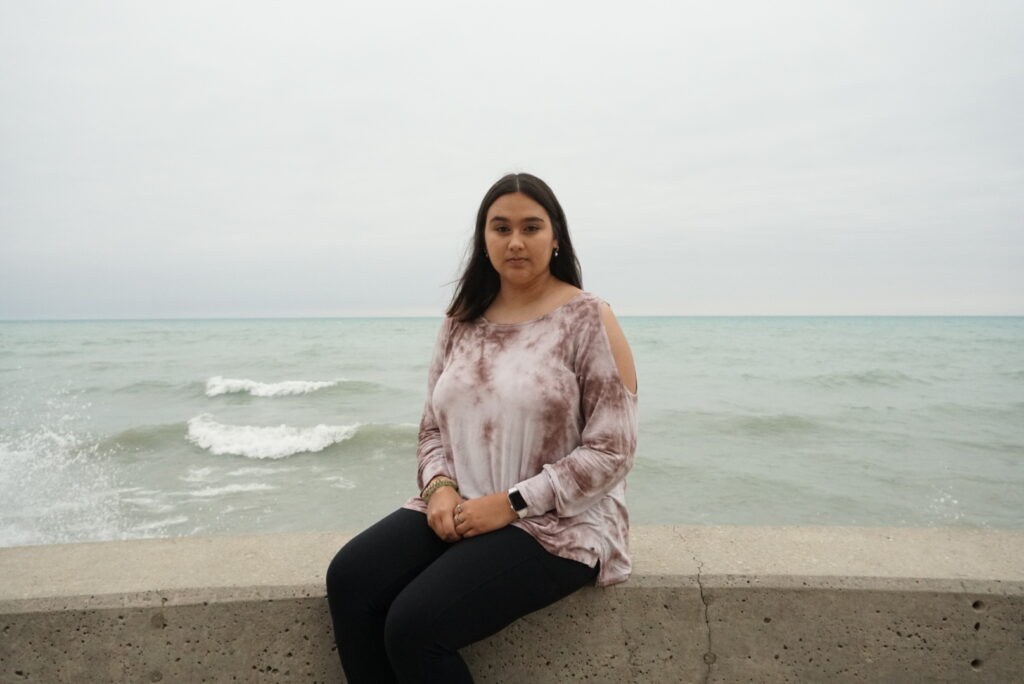 She filed a report with Loyola's OEC in February 2020. During her investigation, which began in June, Kane was encouraged by her investigator to submit images of her injuries from the alleged assault, The Phoenix reported. In addition to images, Kane submitted Uber receipts, text
messages and photos from the party and provided multiple witnesses, according to The Phoenix and the lawsuit.
After four months, the OEC found the accused student not responsible due to "insufficient evidence," according to documents obtained by The Phoenix.
Throughout the process, Kane had to conduct parts of the investigation herself. She said she received a lack of support from the OEC and the only witness called by the accused student was able to skip multiple interviews with no consequences, which lengthened the investigation, according to the lawsuit. The accused student was also advised by a lawyer — something Kane was told by the university she could not do, according to the lawsuit.
In April 2021, Kane was drugged at a different fraternity party but decided not to report due to her first investigation being "flawed" and "humiliating," the lawsuit said.
"I honestly just thought nothing would ever come of it if I were to report again," Kane told The Phoenix.
Five months later on Sept. 17, a protest with hundreds of participants was held on LSC in response to sexual assault, rape and harassment stories like Kane's being shared over social media, The Phoenix reported. One anonymous social media account, that gained over 2,000 followers, shared images of Loyola students accused of sexual assault, The Phoenix reported.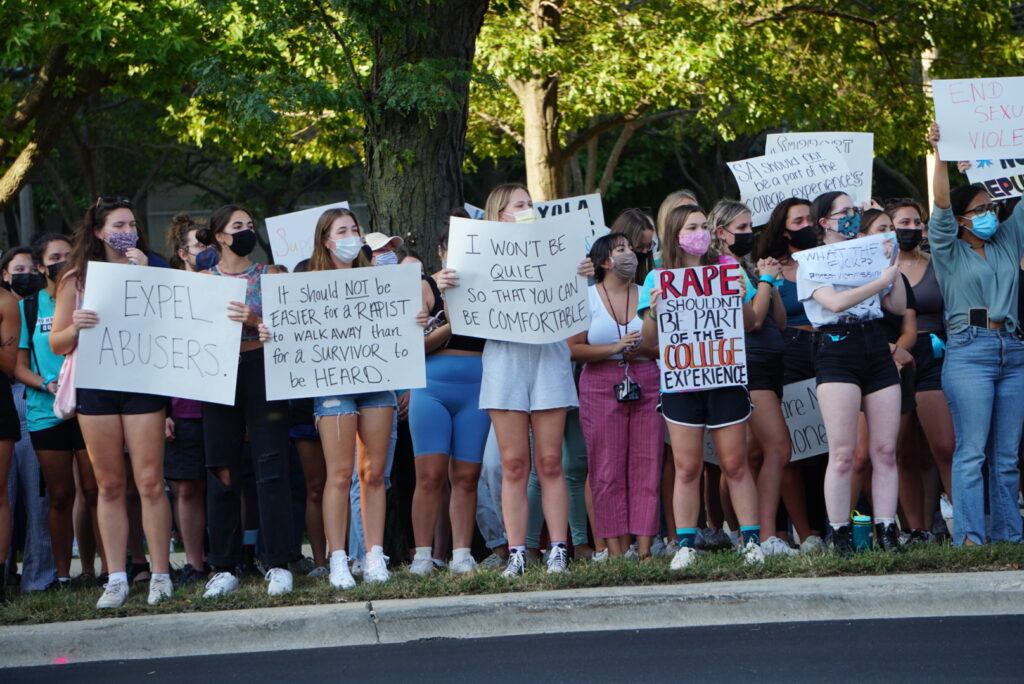 Following the protest, Sepulveda said she no longer felt alone as a Loyola survivor but still was unsure what the correct next step to take was.
"Do I report to the school that is apparently really, really bad at handling this?" Sepulveda said. "Do I quit the team? Do I just keep holding this in? What do I do?"
Sepulveda said she didn't consider going to the police immediately after the alleged assault but didn't understand at the time if what she experienced was rape.
Ward said the Illinois Preventing Sexual Violence in Higher Education Act — a law the university is required to follow — is necessary for informing students they have resources available to them as well as the opportunity to go to law enforcement.
"It is much more common for folks to reach out to an advocacy group or social service agency than it is for them to reach out to local law enforcement," Ward said. "But what we know is, it's a small percentage of folks who report sexual assault at all. It's an even smaller percentage of folks who choose to report specifically to law enforcement."
After Sepulveda told a friend who went against her wishes and alerted the club sports team's student leaders, including a close friend of the accused, Sepulveda said she felt forced to report on her own.
One student leader from the club sport declined to comment. Sepulveda's friend at the time and other student leaders from the club sport did not respond to The Phoenix's requests for comment.
Following the virality of Kane's story on social media — that received nearly 25,000 likes and over 40,000 shares — and the protest partially catalyzed by her sharing her experience, Sepulveda said she believed the OEC must have changed.
"Surely they've learned their ways?" Sepulveda said while recounting how she felt when she decided to report to Loyola's OEC.
She filed a report with Loyola's OEC at the end of September 2021 and didn't receive a decision from the university until May 6 of this year, despite being told by Tim Love, the executive director of equity and compliance and Title IX coordinator, the goal was to have the case closed by December.
The university strives to resolve investigations of sexual misconduct within six months with an additional two months for appeals, according to the comprehensive policy. This time frame may be extended for "good cause," Love told The Phoenix.
"Good cause may include various considerations, including but not limited to, the absence of a party, or a witness; extraordinary complexity or scope of the case; concurrent law enforcement activity; the need for language/translation assistance; or accommodations for disabilities or health conditions," according to the comprehensive policy.
Sepulveda said interviews, one of the initial parts of the investigative process, began in mid-October but did not end until early February. Sepulveda said the investigation was halted for a month due to OEC staff not working over winter break.
In addition, a witness lied to an investigator supposedly in fear of retaliation from the accused student, prolonging the length of the investigation due to the need for re-interviewing the witness, according to documents obtained by The Phoenix. The witness did not face consequences for their inconsistent statements, according to documents obtained by The Phoenix.
Sepulveda said she had the option to file for retaliation against the witness but didn't, because she "didn't want another thing on her plate."
The witness did not respond to The Phoenix's requests for comment.
During the investigation, Sepulveda requested a no contact directive (NCD) — a measure where two or more parties have mutually applicable restrictions that prevent them from making contact of any kind — according to the comprehensive policy.
Love made a weekly schedule in which Sepulveda and the accused student would not come into contact at club sport practices, Sepulveda told The Phoenix. Sepulveda said it made her feel "protected" by the university.
But the male student contacted Sepulveda through a third person and asked a question about the club sports team that Sepulveda later told The Phoenix anyone on the e-board could have answered.
Then, on March 17, the accused student attended a club meeting that Sepulveda was invited to as a board member. Sepulveda said he sat closely behind her, which made her so uncomfortable she left the meeting and cried in the bathroom.
The university found both instances were not in violation of the NCD since the accused student was still allowed to participate in club activities, according to documents obtained by The Phoenix.
"So that was actually gut-wrenching because as bad as what happened to me March 17 was about being stalked, the silver lining was like, 'Oh my God, they'll finally see that he's a stalker, a manipulator, he's awful, he's raped me,'" Sepulveda said. "Something I wanted to tell them, but didn't really have the guts to say was, 'If I die it's on your head. If I become harmed physically, because you keep allowing him to do all these other things to me, that's on Loyola."
Sepulveda said, out of fear of her own safety, she stopped attending the club sport's events and meetings for the remainder of the year.
'What was the point of any of this?'
Sepulveda said everything was "wrapped up" by the end of February but a hearing date wasn't announced until the end of March. The date was set for April 13 — a day she later detailed as "one of the worst days of my life" due to being asked to recount traumatic memories and interact with the accused student over a video call. In her previous experience with the OEC, Sepulveda didn't have a live hearing as it occurred prior to the Trump administration's Title IX changes, The Phoenix previously reported.
The Trump administration established specific procedures, like live hearings, for colleges when investigating formal complaints as well as narrowed the definition of sexual harassment and allowed universities to choose between two standards of evidence, The Phoenix reported.
Sepulveda said Love told her the office would send a decision letter to her on April 27, two weeks after the hearing date. However, on April 27, Sepulveda received no letter. After contacting Love, she was told the date was instead an "intended day" and that he would reach out to the hearing board.
Two days later on April 29, Sepulveda said she was yet to hear from Love about the letter and reached out again, to which he responded that it was of his "highest regard" and would have it sent to her as soon as possible.
A week later on May 6, Sepulveda said she received a decision letter that found the accused student responsible for all four counts of sexual misconduct, non-consensual sexual contact, non-consensual sexual penetration and dating and domestic violence.
With both Sepulveda and the accused student set to graduate in May, the numerous delays in the investigation allowed the university to claim he had completed his undergraduate degree by the time the decision letter was released, according to documents obtained by The Phoenix.
The letter also outlined the sanctions he would face, which included no longer being allowed on Loyola property after May 15 and no longer being allowed to re-enroll at Loyola.
The accused student was set to graduate on May 12, meaning he wouldn't face sanctions until after receiving his undergraduate degree. The final exam date of the 2022 spring semester was May 7, according to Loyola spokesperson Matt McDermott — meaning the decision letter was released one day prior to the end of exams.
"Why are you finding him responsible of everything and then being completely fine with him graduating with a degree?" Sepulveda said.
Sepulveda said she was in shock as she reviewed the decision letter.
"What the hell was the point of any of this?" Sepulveda said. "What was the point of almost failing my classes, of wanting to drop out several times even though it was my last year? What was the point of any of this? It was such a hard year and I was like, 'Why did any of this happen if he's not going to be expelled?'"
The ability to revoke a degree after graduation is a possible sanction outlined by the university in the comprehensive policy.
Sepulveda said she appealed the decision immediately and over the following days planned a protest on campus during the business school's graduation as well as an online petition demanding Loyola "stop protecting rapists" that has since gained 2,732 signatures.
In her appeal, Sepulveda requested the accused student not receive a degree from the university, according to documents obtained by The Phoenix. The university told Sepulveda her appeal was "granted" but still allowed him to receive the degree, according to documents obtained by The Phoenix.
In the decision letter of the appeal, Loyola said the new sanctions included a requirement for the accused student to complete the Values, Identity, Relationships and Accountability (VIRA) program — a discussion-based program that focuses on "values, relationships and goals" — as well as a follow-up interview with the vice president of student development.
In a May 9 social media post that received over 4,000 likes, Sepulveda shared her experience with the OEC's lengthy process and their reasoning for granting the accused student a degree.
On graduation day, Sepulveda stood outside of the Norville Center by the West Quad with friends for three hours. Following the end of the ceremony, Sepulveda explained to passerby the accused student was receiving a degree from the university. Some were sympathetic to her and gave her hugs as she cried. Others questioned her and complained about her interference with the ceremony.
Sepulveda said she was on track to complete Loyola's five-year bachelor's to master's program, but decided to graduate in just four years with her undergraduate degree due to her "inhumane" experience with her Title IX case. Sepulveda is now a graduate student in California.
"One thing I really want and would look like justice to me is him being held accountable, him being actually reprimanded for what he did, him losing his degree and him wasting four years, the same way he ruined mine," Sepulveda told The Phoenix.
Despite being allowed by the hearing board, the accused student did not walk at graduation due to an amendment made by Love.
'They don't appear to care about the welfare of the students and primarily of women'
While Kane and Sepulveda's experiences with Loyola's Title IX process overlapped, Cappello's case reveals the longevity of the alleged institutional mishandlings of sexual assault, harassment and rape investigations on campus.
Due to the events of Cappello's case occurring 10 years ago, she said she was unable to recall the names of those involved in the OEC investigation and was able to only provide limited supporting evidence to The Phoenix.
Cappello attended Loyola from 2011 to 2012 as a master's student majoring in pastoral counseling. In one of her classes, she was paired with a partner to do an assignment outside of class. Cappello said she met up with her partner, a priest from Uganda studying at Loyola, at his rectory for the assignment, and he allegedly proceeded to sexually assault her in the form of both verbal and physical abuse.
The student who was accused of sexually assaulting Cappello did not respond to request for comment.
When Cappello reported the assault to the school, she recalled getting a response that she should "stay away from him" and there was nothing the school could do, as he was visiting from Uganda.
Cappello was later paired up with him again for a class project to which she approached her professors and told them she did not feel comfortable working with him due to him previously sexually assaulting her, according to the lawsuit. In return, Cappello said her professors told her they did not need "troublemakers" in the class and she could either do the assignment or drop the class, putting an incomplete on her class transcript, according to the lawsuit.
A couple months later, Cappello said she left the university.
"What made things worse was being in a pastoral counseling program," Cappello said. "As a counselor you are really trained to listen to and believe what the person in front of you is saying."
Both professors passed away prior to the publication of this article and therefore were unable to comment.
Cappello said, prior to leaving, she spoke with a pastoral counselor assigned to her on campus who told her to "get over it" and "it's not a big deal."
She said she had spent approximately $7,000 on her year of schooling which did not result in her obtaining her master's degree.
Cappello said the university did not offer her any financial or emotional support, nor did they direct her to external resources during her time at the university or after she left.
Approximately 10 years later, Cappello said the sexual assault has led to her being estranged from family members and an inability to establish close relationships, especially with men.
Cappello said hearing stories like Kane's and knowing women are experiencing similar situations to what she experienced makes her "sick to her stomach."
"I think it's an absolutely horrendous institution and they don't deserve to be in business because they don't appear to care about the welfare of the students and primarily of women," Cappello said.
'There's a difference between what you say about the school and what it's actually like to be at the school'
Back in February, Loyola joined the Culture of Respect Initiative, the primary goal of which is to end sexual violence on college campuses, The Phoenix previously reported. The two-year program involves a self-assessment, collaborative strategic planning and targeted organizational change, according to the Community Coalition on Gender-Based Violence.
The OEC announced in a campus-wide email on Oct. 17 a new harassment prevention training program for employees and supervisors that is mandated by the City of Chicago.
Kane said in terms of the Culture of Respect Initiative, she believes there's a disconnect between the administration and students.
"What they say is all true on paper, but there's a difference between what you say about the school and what it's actually like to be at the school," Kane said.
Kane said she sees a lack of accountability and transparency by the school's administration as well.
"Just being a Jesuit Catholic school and having a reputation as a private school and being very for social justice and honestly a very liberal school, I think that they don't want to acknowledge that things like [sexual assault] happen," Kane said. "They pride themselves on having students that wouldn't do that and having policies that wouldn't let that happen."
Anyone in need of sexual assault resources can call the Loyola Sexual Assault Advocacy line at 773-494-3810. The National Sexual Assault Hotline is also available 24/7 at 800-656-4673.
Featured image by Nicky Andrews | The Phoenix