Open Jazz Jam at Archie's Café Connects Loyola Students and Rogers Park Residents
In honor of their five year anniversary, Archie's cafe hosted local musicians in a community jazz night.

Tucked behind the Loyola Red Line stop, string lights and the sweet sounds of jazz invite Loyola students and Rogers Park residents to Archie's Café (1228 W. Loyola Ave.) for Friday night pizza and an open jazz jam.
Connor Sullivan, a 19-year-old bassist from DePaul University, said he appreciates the energy and attentiveness of audience members on jazz nights.
"It's really inspiring to see people my age that aren't musicians enjoying jazz music," Sullivan said.
Sullivan began playing at Archie's in 2021 before becoming more involved in the summer of 2022. Now, Archie's is consistently a weekly gig for him.
"What's significant about Archie's is that it has a very laid-back energy, but at the same time people are still there to listen to the music, where that's not common at other restaurant gigs," Sullivan said.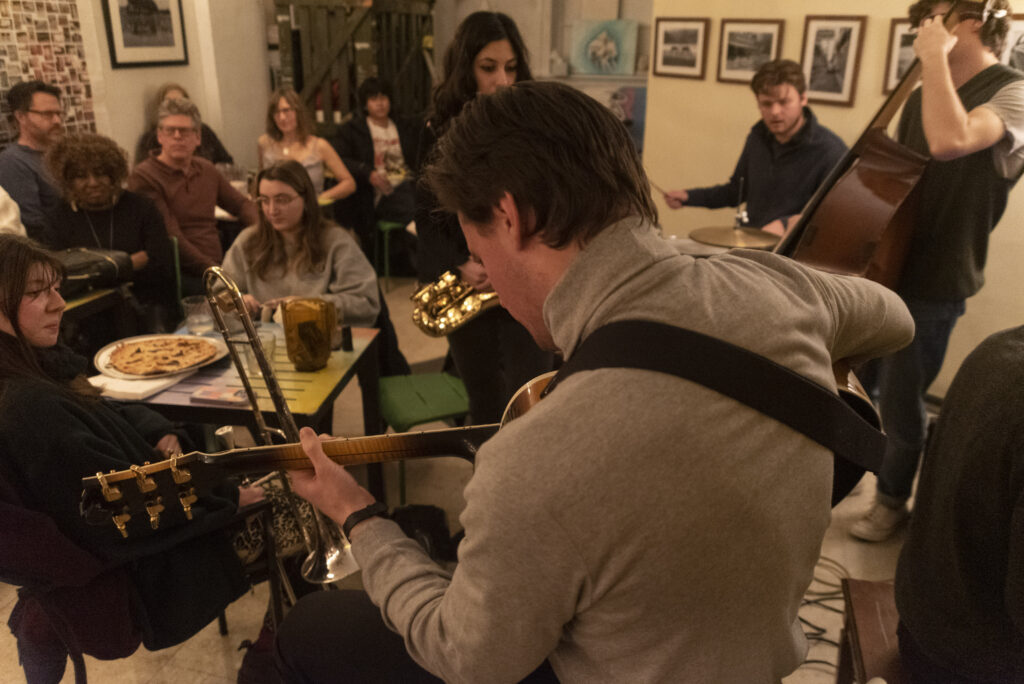 On Feb. 10, the weekend of Archie's five-year anniversary, Sullivan was joined by local musicians Aleko Lionkis on piano, Derek Duleba on guitar and Mason Lampa on drums. Starting promptly at 7 p.m., they played a few tunes to kick off the night. Vocalist Holly McGuire then joined the group, charming the room with her voice.
"Don't you love Archie's Café?" McGuire said to the crowd, receiving a round of applause in response.
She followed with an alluring performance of "The Way You Look Tonight" by Frank Sinatra as guests sat at colorful tables, relaxed on cozy couches and stood in the remaining space.
After she sang a couple of songs, McGuire and the band mingled with the crowd. The stage then opened to any other musicians wanting to join in on the jam session which, on a normal Friday, lasts until 9:30 p.m. or 10 p.m.
"None of what we did last night was planned," Sullivan said, referencing the Feb. 10 jam session. "That's the beauty of the music that we play too, is that it's very spontaneous."
Sullivan and Lampa met at Westmont High School and always play together at Archie's on Fridays, but being an open jazz session, the other musicians typically vary from week to week.
The Friday night crowd at Archie's also varies from individuals enjoying the music, families and friends sitting at tables and Loyola students packed together on the couches. The scene is welcome to all ages.
Sullivan said jam sessions are crowded but also casual and relaxed.
"It's not like being in a jazz club where you're not allowed to talk," he said.
During the summer, he said it's even more laid-back when the music is taken to the patio. "We have musicians lining down the sidewalk to play," Sullivan added.
In addition to a number of drinks, Friday's menu includes salad and a selection of pizzas. Everything is made in-house and ingredients are sourced locally as much as possible, according to their Facebook page.
The owner of Archie's, Roberta — who prefers to be known by her first name to customers — said it feels remarkable to be celebrating the café's five year anniversary.
"Coming on the five year anniversary surprised me," Roberta said. "I'm happy to be here and excited for the future."
After the Friday night jazz session on Feb. 10, Roberta and the staff immediately began preparations for Saturday's homecoming dance, a creative way to honor the café's anniversary. The dance took place at Archie's on Feb. 11 with music by DJ Shon Dervis.
When Archie's doors first opened, Roberta said she wanted a place that was community-centered. She said her customers are a mix of Loyola students and other Rogers Park residents.
"There wasn't a place like this where locals mingled with college kids, and I love that part of it," Roberta said reflecting on her college experience.
Although the COVID-19 pandemic threatened the survival of many businesses, Roberta said Archie's adapted to the circumstances.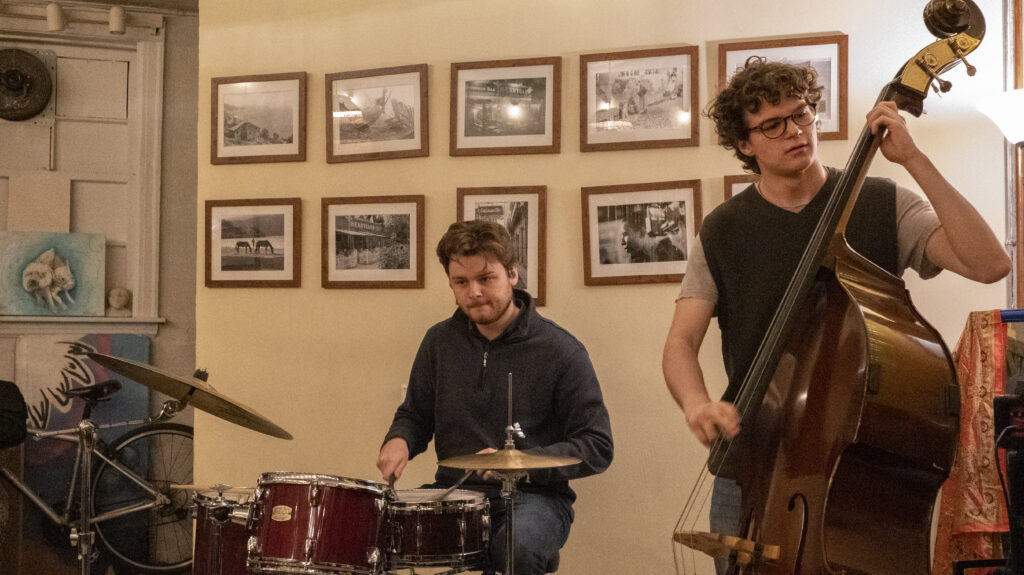 "All the students left, all the commuters were gone, but people were still in the neighborhood," Roberta said.
She said this caused a transition from being open all day to being open primarily in the evenings.
"That's where the music started," Roberta said.
Archie's began hosting jazz musicians in 2020 and the Friday night jazz jam sessions followed shortly after in 2021.
Hopeful that Archie's will grow as a venue, Roberta said she believes the café will keep seeing success, so long as performers and jazz-enthusiasts keep returning.
On Wednesdays, Archie's hosts karaoke and open mic sessions and Thursdays are pasta nights with a guest band typically scheduled to join the scene. There are other musical and nonmusical events throughout the week, including poetry readings and book signings. The full schedule can be found on their Instagram or Facebook page.
While jazz nights provide customers with a taste of Chicago's nightlife, Archie's is more than a destination for an evening out.
"It's a great place to study," Roberta said, referencing the café's daytime operations. "I'd be happy to have kids here with their computers."
Archie's offers soups, sandwiches, bagels and a variety of treats throughout the week along with a drink menu.
While Archie's is closed on Mondays and Tuesdays, doors open at 10 a.m. Wednesday through Sunday. Depending on the atmosphere, the café closes between 11 p.m. and 12 a.m. Wednesday through Saturday and closes at 4 p.m. on Sunday.
Featured image by Aidan Cahill | The Phoenix