Valentine's Day Desserts That Have Cupid's Stamp Of Approval
These foolproof recipes were created with amateur bakers in mind and are packed with love each step of the way.

Heart-shaped candies have lined shelves for weeks, classic rom-coms are trending again and window displays are framed in pink and red. When Valentine's Day rolls around, it can be hard to ignore the stresses of gift-giving — funds may run low, personal tastes vary and a store-bought item can't commemorate an entire relationship.
When gifting something made with love this Feb. 14, the sweetest way is to make it from the kitchen. These five treats are simple to replicate yet exude love, proving that giving a homemade gift really does make all the difference.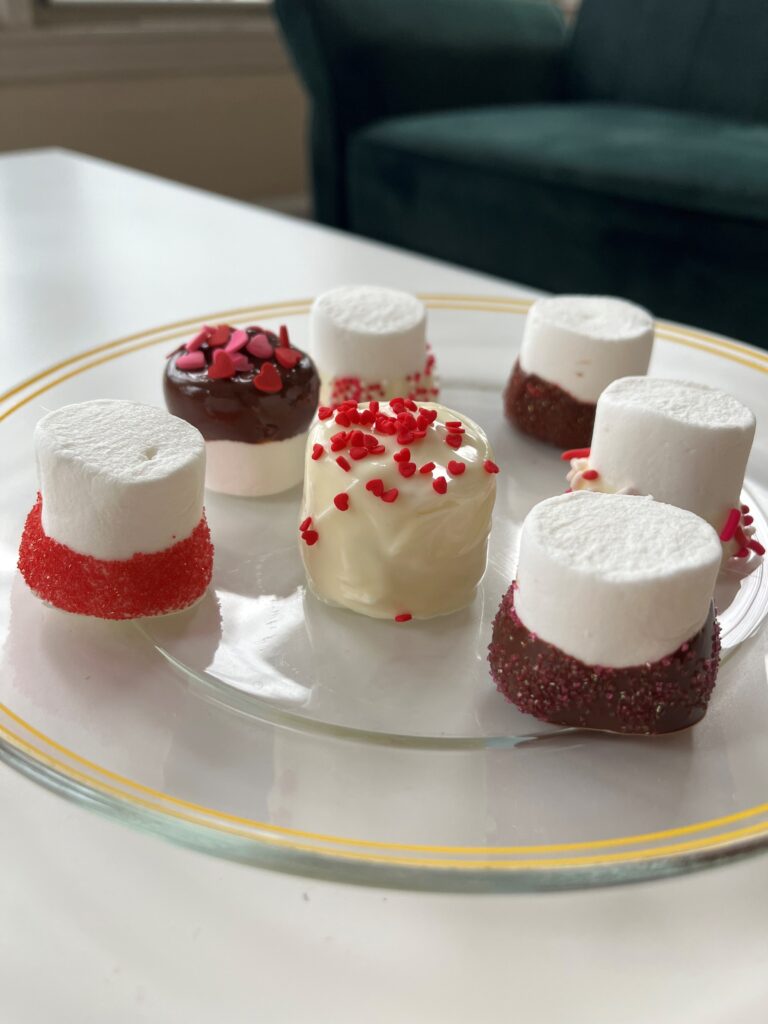 1 package of large marshmallows
1/2 cup white chocolate chips
1/2 cup milk chocolate chips
Toppings such as sprinkles
Candy pop sticks
This recipe makes 25 marshmallow pops.
These simple ingredients can be deceiving — one bite packs an elaborate punch, bringing back the nostalgia of chocolate-covered marshmallow Santas or Easter Bunnies of holidays past. Thanks to their chocolate shell, they're crunchy on the outside and soft on the inside, maintaining a satisfying textural balance.
To make this recipe, microwave the chocolate chips in 30 second increments until melted. Insert the candy pop sticks into 25 marshmallows, then dip them in the melted chocolate and decorate with toppings. Let them sit until the chocolate hardens.
If using candy sticks, these marshmallow pops are the simpler, dorm-friendly version of cake pops. But, candy pop sticks aren't a must. These chocolate-dipped marshmallows double as additions to hot chocolate or as quick snacks — just remember to make a big batch.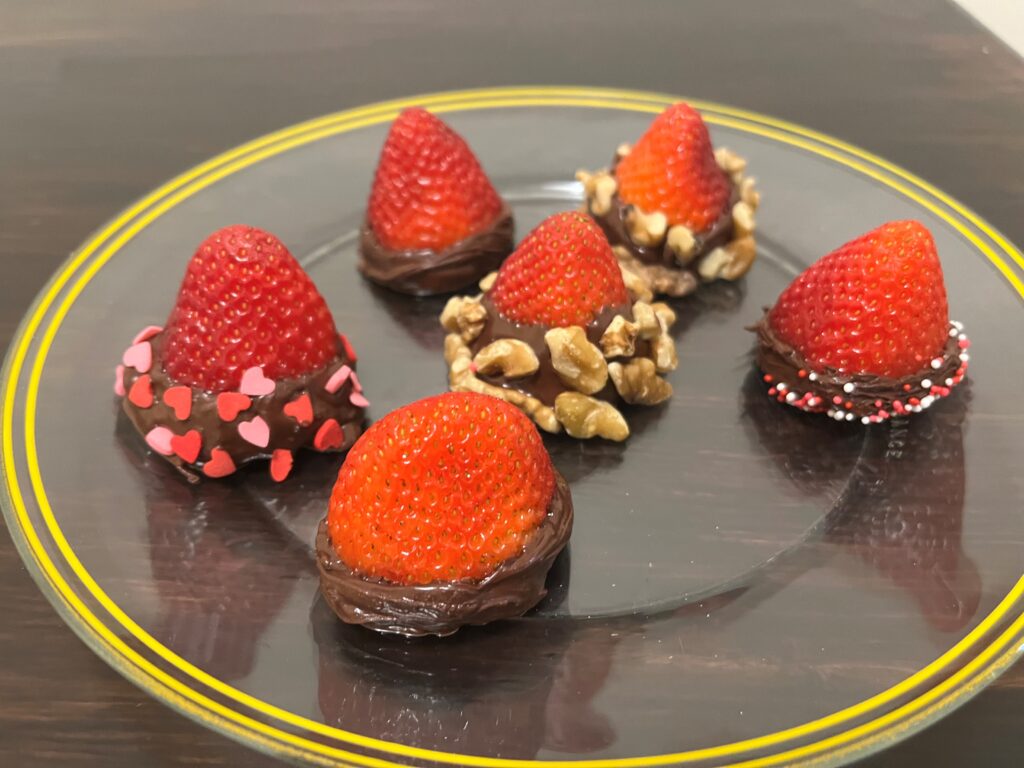 12 strawberries
1/4 cup Nutella
1 cup milk chocolate chips
1/4 cup chopped nuts of choice
Toppings such as sprinkles or mini chocolate chips
This recipe makes 12 strawberries.
Chocolate-covered strawberries are a classic Valentine's treat and although they often appear masterfully decorated in fancy boxes, they are simple to make. This take on chocolate-covered strawberries requires only a few ingredients, and the chocolate flavor is doubled by adding Nutella inside the strawberry.
Cut the tops off 12 strawberries and carve out the insides, filling them with about half a spoonful of Nutella. Microwave the chocolate chips in 30 second increments until melted, then dip the cut side of the strawberries in the chocolate.
Half the fun of chocolate-covered strawberries is decorating and, luckily, just about anything tastes good on a strawberry. Walnuts? Delicious. Mini M&Ms? Go for it. Coconut flakes? Of course. Just don't forget Valentine's Day themed sprinkles.
Set any finished strawberries on a sheet of parchment paper and place them in the refrigerator or freezer for about 20 minutes until the chocolate hardens.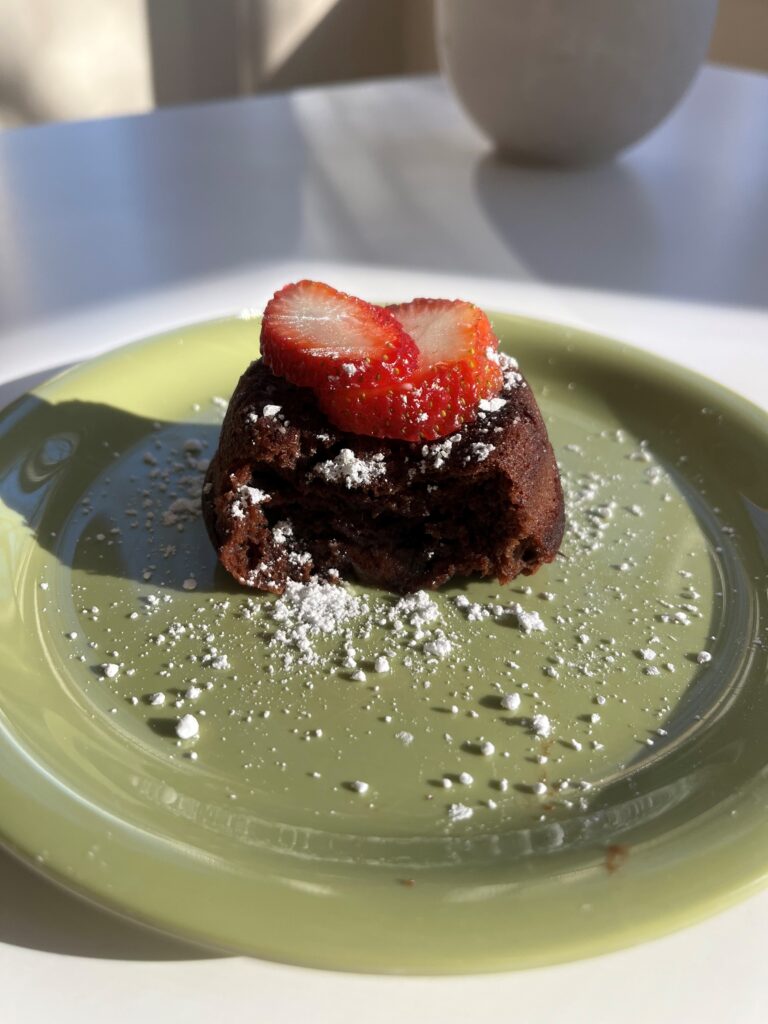 6 ounces semi-sweet chocolate (or about half a bag of chocolate chips)
1/2 cup (1 stick) butter, melted
1/4 cup all-purpose flour
1/2 cup powdered sugar
1/8 teaspoon salt
2 eggs
2 egg yolks
Toppings such as powdered sugar or vanilla ice cream
This recipe makes four lava cakes if using ramekins or six if using a muffin pan.
These lava cakes require a few more ingredients than the other recipes and basic baking knowledge but are still easy to make. This recipe gives the baker the option to forgo ramekins — individual dishes typically used to bake lava cakes — and use a muffin pan instead. For anyone baking for two, the recipe can be halved to make only three lava cakes, instead of six, if using a muffin pan.
To make this recipe, combine the chocolate and melted butter, microwaving in 10 second increments until the chocolate melts. Combine the dry ingredients in one bowl and the eggs in another, and then add them to the chocolate mixture. Stir everything together and spread the batter between either four ramekins or half of a muffin pan.
Bake at 425 F for 12 to 14 minutes if using ramekins, or eight to 10 minutes if using a muffin pan.
Lava cakes can be decorated any number of ways: with a small scoop of vanilla ice cream, a dusting of powdered sugar or a seasonal fruit topping. They're best eaten straight out of the oven so be sure to wait until the last minute before baking — yes, procrastination is acceptable in this case.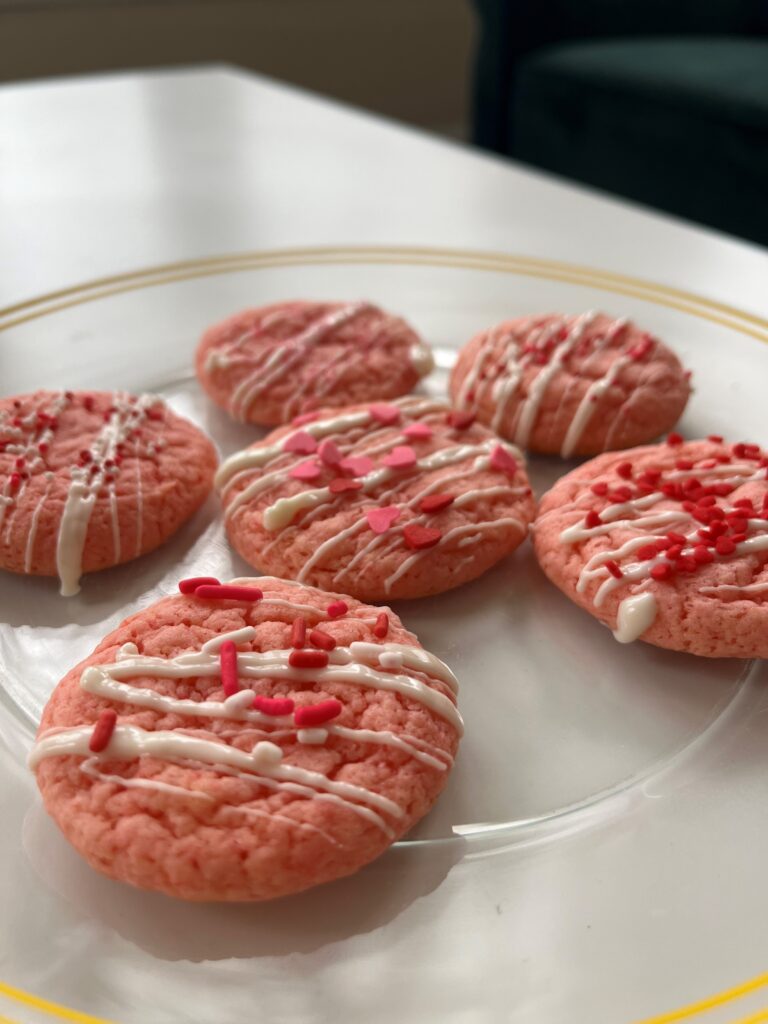 1 box strawberry cake mix
1/2 cup vegetable oil or 7 tablespoons butter, melted
2 eggs
Toppings such as white chocolate or sprinkles
This recipe makes 24 cookies.
These cookies offer tastes of childhood memories in just a few bites. Since they're made from cake mix, they're thicker and chewier than cookies made from scratch and the strawberry flavoring in the cake mix automatically turns the batter a light, cheerful pink.
To make this recipe, combine all ingredients and scoop the dough evenly onto a parchment paper-lined pan. Bake at 350 F for nine to 11 minutes.
White chocolate pairs well with these cookies so add as many white chocolate chips to the batter as your heart desires. Bakers can also drizzle a little melted chocolate over cooled cookies — just be sure not to bake them for too long, or these pink cookies will turn golden brown.
3 tablespoons butter, melted
1 package of large marshmallows
6 cups Rice Krispies cereal
Toppings such as sprinkles or M&Ms
This recipe makes 12 Rice Krispies treats.
Rice Krispies treats may be a tried-and-true Valentine's staple, but their simplicity and timelessness doesn't take away from how delicious they are. They're soft, chewy and sweet, and only require three ingredients and two pans. Loved ones are sure to enjoy this classic treat, which makes for a great on-the-go breakfast or late-night snack.
To make this recipe, melt the butter in a saucepan at low heat, add the marshmallows and stir until they've melted into the butter. Remove the mixture from heat and add the Rice Krispies, stirring until combined.
Don't be afraid to explore with toppings and add-ins. Chocolate chips, peanut butter and M&Ms are just a few additions sure to make an already tasty treat even tastier. For an even funkier option, swap Rice Krispies out for other cereals like Froot Loops or Lucky Charms.
Featured image courtesy of Caroline Bell