Eight Construction Projects Scheduled For Loyola's Campus Over the Summer
Eight projects are scheduled to go forward on the LSC starting May 15, and expected to be completed Aug. 23.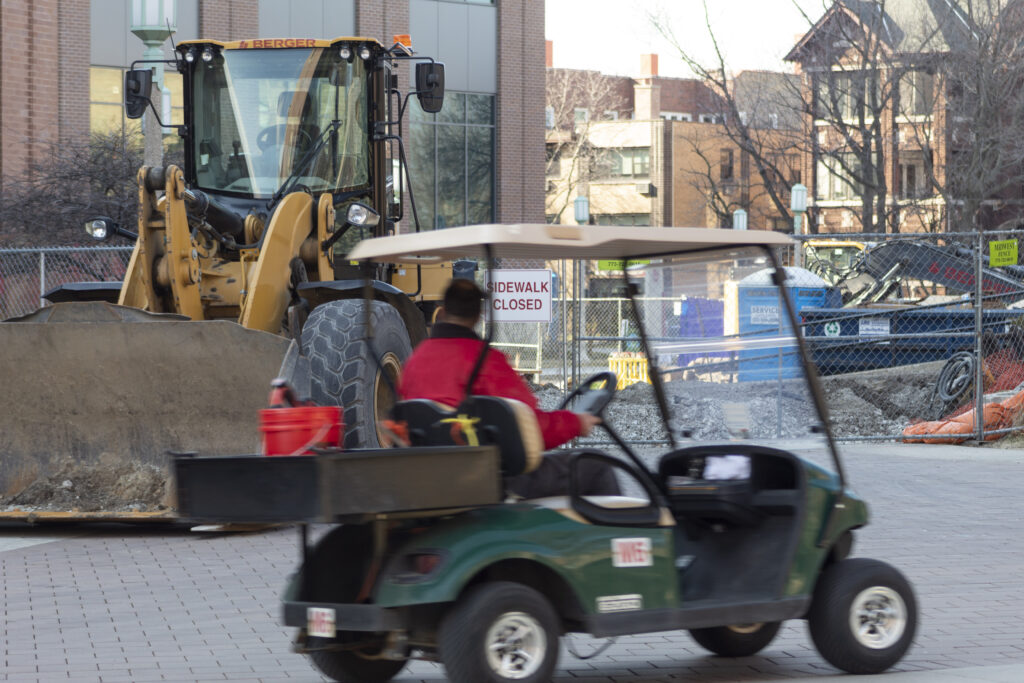 As Loyola's students spread out across the country during the summer months, Loyola will undertake several campus construction projects, including stormwater management upgrades and building improvements.
Eight projects are scheduled to go forward on the Lake Shore Campus (LSC) starting May 15, and expected to be completed Aug. 23. Kana Henning, senior associate vice president for facilities, said the projects were intentionally scheduled for the summer.
"It's our least disruptive time of year, you know we certainly would not be able to do any of this work during the school year whenever students are around and campuses are so busy with activities," Henning said. "It would be very disruptive to students and to the class schedule."
The Information Commons (IC) will be receiving a major overhaul with the installation of new carpeting throughout and the addition of new furniture in the building, according to Henning. She said, here will be 20 new study pods put in throughout the building as well as new group study tables and modular lounge tables.
The IC will be closed from May 13 through mid-August, according to the Loyola Libraries Instagram. These new amenities were financed by a federal library improvement grant Loyola received in August, The Phoenix reported.
Cudahy Library, Coffey Hall and Piper Hall — which are all nearby the shoreline of Lake Michigan — will undergo perimeter work on each building's foundation to build resistance to flooding, Henning said. The buildings have all been prone to flooding in their lower levels during instances of heavy rainfall, according to Henning.
Flooding following heavy storms has been a persistent issue at Loyola in recent years. In September, 34 LSC buildings flooded as a result of a heavy rainstorm, The Phoenix reported.
In addition to the waterproofing efforts to the buildings themselves, the university is upping the ability of its stormwater systems to take in rain and drainage water in areas around the building. Henning said new storm vaults will be installed in the lawn outside Dumbach Hall and in the plaza between Piper Hall and the Mundelein Center.
"We have storm vaults throughout campus and we store rainwater so that it can then be slowly released into the city's storm lines and into our lake outfalls," Henning said. "The rainfall gets separated and treated and removed of debris before it goes out into the lake."
These projects will mean these spaces will be closed to students and pedestrians while the projects are completed. Henning said there will be additional projects in the future which aim at building resilience in Loyola's stormwater management infrastructure.
"We continue to make progress on a stormwater master plan that identifies areas of vulnerability for us to address and this is one of our areas of vulnerability," she said.
Henning said Dumbach Hall and Mundelein Center will both undergo facade repairs to the exteriors of the buildings. As two of Loyola's oldest buildings, she said repairs are needed to prolong their life and continued use.
Repairs on Mundelein have been ongoing over the past two summers and are set to be completed this year, The Phoenix previously reported. Henning said the size of the building has been the main factor contributing to the length of the project.
Repairs on Dumbach Hall will focus on ensuring the soundness of window structures and repairing any cracks in any of the masonry which may have shifted over the years, according to Henning. She said the repairs will improve the energy efficiency of both Dumbach and Mundelein by making the windows less susceptible to letting out warm air from the building.
The Crown Center for the Humanities will undergo improvements which Henning said seek to modernize different aspects of the building. The building's elevators will be replaced and upgraded as well as its fire alarm and fire sprinkler system, according to Henning. The interiors of the bathrooms in the building will also be renovated and two new gender neutral bathrooms will be added.
New data cabling will be installed throughout the system as well as an upgraded heating, ventilation and air conditioning (HVAC) system. Henning said these improvements will improve the building's energy efficiency.
"With our HVAC renovations, anytime we upgrade or modernize HVAC with that comes upgraded controls packages that will optimize heating and cooling to continue with our energy efficiency goals," she said.
Arrupe House, a Jesuit residence on campus, will also be receiving an overhaul. The building's interior will be updated and new social and learning spaces will be added, Henning said. Upgrades to the building's lighting, mechanical and heating systems will be completed to improve energy efficiency, according to Henning.
Over the next two summers every shower basin and drain in Regis Hall is set to be replaced to combat regular leaks in shower drains. Henning said the areas around showers in bathrooms won't be replaced.
Gentile Arena will be closed from July 17 to Aug. 14 as annual maintenance will be performed on the flooring in the arena, Henning said.
Henning said Facilities will keep the Loyola community up to date as these projects begin and are completed.
"As we update our project plans or if there is anything new that we need to alert the community to, we will continue to update our website and make people aware of any changes or additions," she said.
Featured image by Hunter Minne | The Phoenix