Blondshell Brings My Home Is Your Playground Tour to Schubas Tavern
Indie-rock singer Blondshell brought her debut album to life during her Chicago tour stop at Schubas Tavern.

While severe weather and tornado warnings loomed over Chicago, Blondshell turned Schubas Tavern at 3159 N. Southport Ave. into her playground during her July 12 My Home Is Your Playground Tour stop. 
The indie-rock singer — known offstage as Sabrina Teitelbaum — offered refuge from the storms, providing an evening of childlike nonchalance and mature introspection for the sold-out crowd.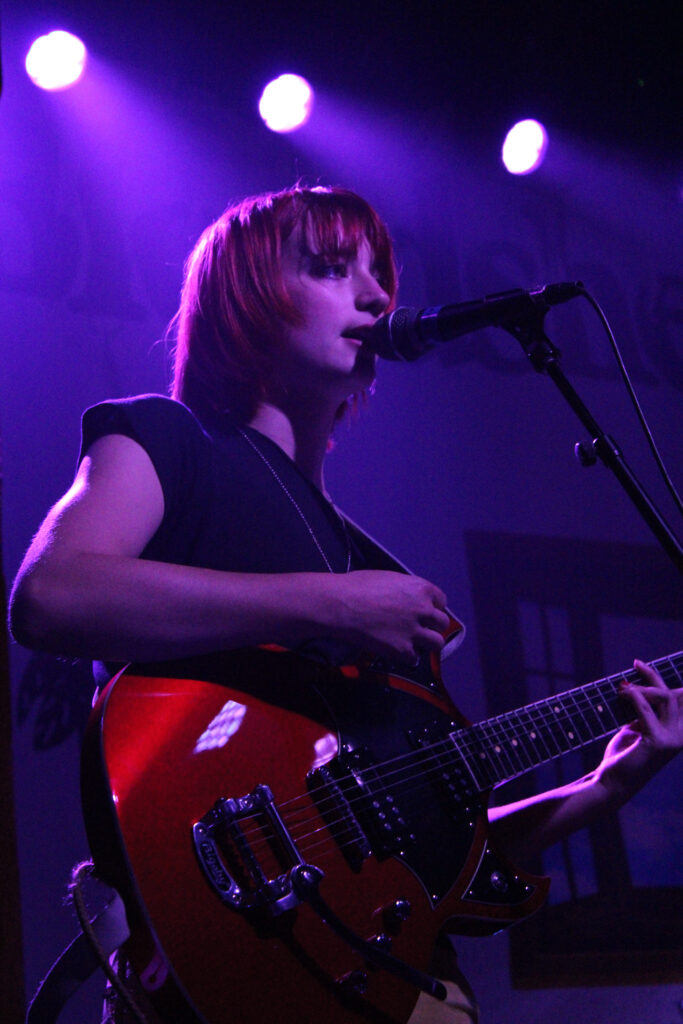 Opening for Blondshell was the trio Hello Mary whose 8 p.m. rock performance set the tone for the night.
Guitarist Helena Straight riffed on a red electric guitar while delivering unfaltering vocal melodies. Harmonies from drummer Stella Wave echoed through her microphone, adding dimension to otherwise airy vocals. Completing the trio's punk-rock sound was bassist Mikaela Oppenheimer, whose hefty bass lines enhanced the trio's haunting aesthetic.
Hello Mary's set, which included songs "Looking Right into the Sun" and "Sink In" from their self-titled March album, prioritized intense instrumentals. Delicate vocals juxtaposed complex guitar riffs, drum kicks and bass lines.
"Thanks for being here early," Wave said to the crowd.
"Early?" an audience member responded playfully. "We're right on time."
After a brief intermission, anticipation built as the house lights dimmed. Pink hues cast over the stage as a music box tune played through speakers and three instrumentalists walked onstage.
Following them was Blondshell, who promptly began her set with "Veronica Mars" — the lead-off track on her April 7 debut album. Shred guitar and crescendoing vocals defined the opening song, immediately showing off the singer's aptitude for creating an authentic '90s rock sound.
Contrasting the steady vocals of "Veronica Mars," Blondshell displayed bubbly singing throughout "Cartoon Earthquake." Subdued but still upbeat instrumentals kept the crowd engaged while catching their breath after the show's intense opening.
The small venue was unparalleled to Blondshell's vast talent, though the space's intimacy lended well to her intimate songwriting.
Detailing dissonance between Blondshell's feelings and actions within a relationship, the live performance of "Sepsis" offered comedic relief and jarring self-reflection.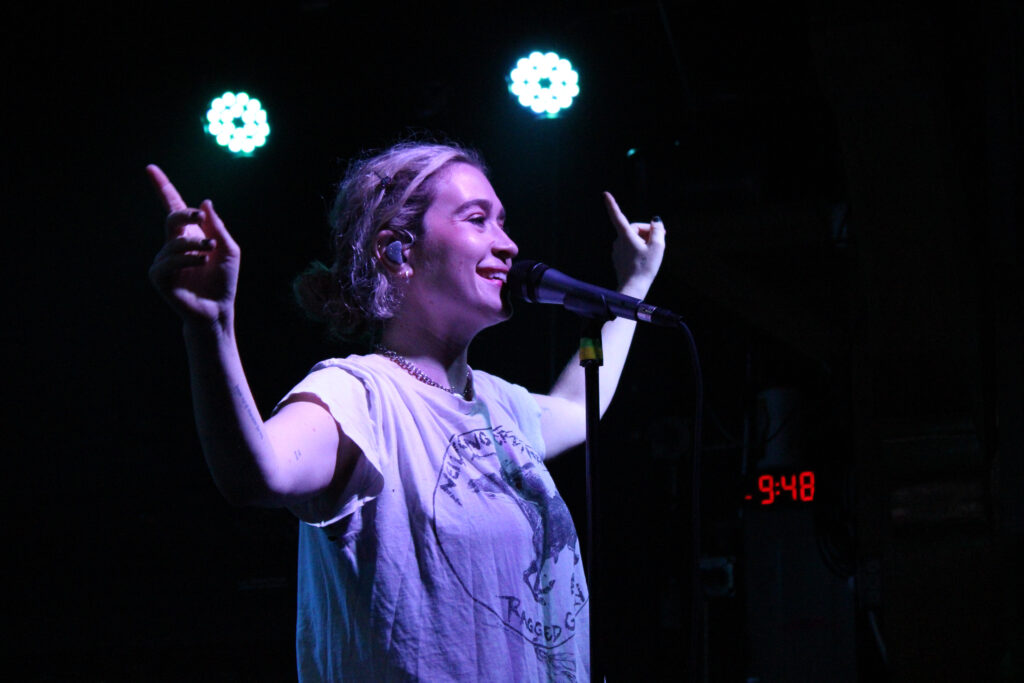 "What am I projecting? / He's gonna start infecting my life / It'll hit all at once / Like sepsis," Blondshell talk-sang, pointing the microphone at a fan to sing along.
"Sober Together" was one of the evening's few mild songs, drawing on emotionally intense writing rather than Blondshell's commanding rock sound. Building her credibility as a sincere writer, the song explores themes of substance use from both first person and third person perspectives. The audience swayed while absorbing the vulnerable lyrics.
Blondshell made a return to her quintessential carefree stage presence, dancing around while singing a cover of Samia's "Charm You." Fresh off the release of her own studio recording of the track, Blondshell's rendition consisted of more resonant vocals and punchy instrumentals.
Red lights shone over the stage as the singer belted "Joiner," whose lyrics inspired the tour name.
"On the internet, always on the internet / Laughing with your head down / When I asked you what a simp meant / You know it's your playground / My home is your playground," she sang casually.
Blondshell's cover of "Deceptacon" by electro-rock group Le Tigre, which she said was a new addition to the setlist, offered a rawer and less rigid interpretation of the 1999 hit. Waves of bright, colorful lighting washed over the band as the singer continued with a performance of an unreleased tune.
Moving on to another track from her self-titled album, eerie, drum-heavy instrumentals complemented intentionally whiny vocalizations — which Blondshell has seemingly perfected — during "Olympus." A belted bridge contrasted uniform verses and choruses.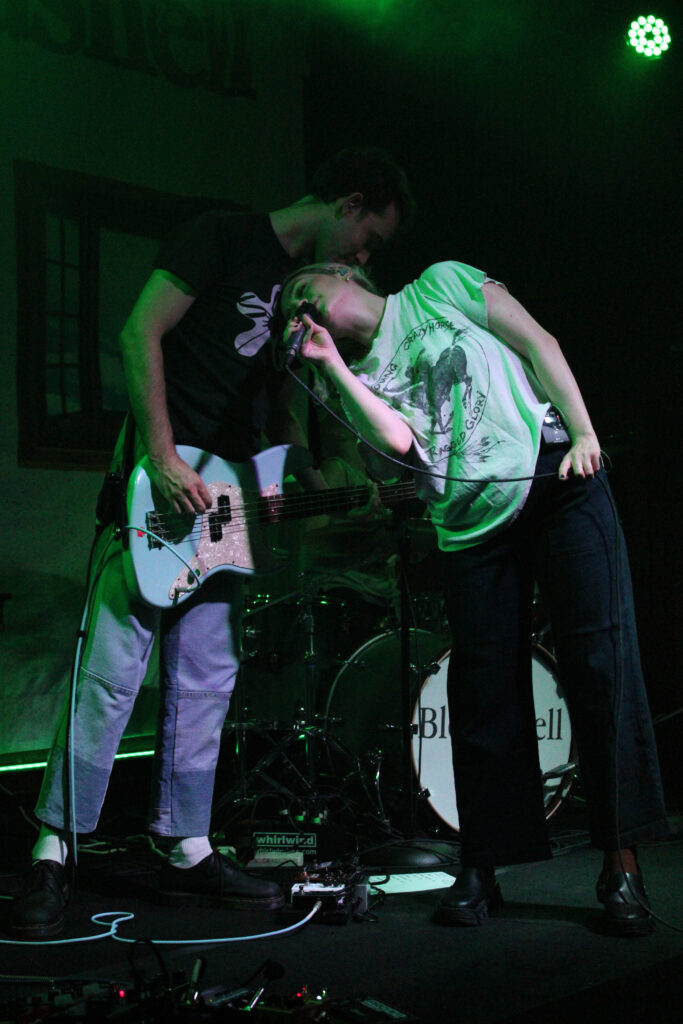 Gentle guitar plucking and floaty vocals communicate the song's earnestness, as she uncovers fears of attachment and abandonment. Challenging her typical bold artistry, Blondshell fostered a unique fragility through the song, blanketing the crowd in palpable emotion.
"It's so dangerous / Forming an attachment to something / Know that every time I love it might pull the rug out / And I know / When I leave the house / Anything can take me down," she crooned.
While Blondshell noted that her songs are "all about kissing," she said the second single from her self-titled album is "particularly about kissing." Aptly named "Kiss City," the song featured a stable start before launching into the singer's most impressive belting of the entire show.
"Okay, this song is for people with anxiety," the singer announced as the band played the opening notes of "Dangerous."
Blondshell wrapped up her set with "Tarmac." A catchy guitar riff strengthened growling vocals and high notes as she jumped and waved her arms harmoniously with the music.
The band appeared to disguise their planned encore by walking offstage and through the exit to the left of the stage, only to find themselves on a sidewalk puddled with rain water — with the door still cracked open for the audience to see.
Almost immediately, the band made their way back inside and onto the stage for a two-song set, kicking off the encore with another unreleased song. The unknown nature of the song prevented fans from singing along, allowing the poignant lyrics to be at the forefront of the performance.
The show concluded with a rage-infused performance of "Salad," the fourth track on "Blondshell." Dramatic instrumentals emulated a sense of intimidation as Blondshell communicated sentiments about revenge and anger.
Thematic and musical complexity paired with Blondshell's casual, honest disposition created a jungle gym of energy, intimacy and introspection during her My Home Is Your Playground Tour.
Featured image by Ella Govrik / The Phoenix