Gray Skies, Vibrant Performances: Lollapalooza Days Three and Four
ODESZA, TOMORROW X TOGETHER, Lana Del Rey and the Red Hot Chili Peppers dominated days three and four.
The final two days of Lollapalooza featured an animated production from K-pop group TOMORROW X TOGETHER and a dynamic, pyrotechnic wonderwork from ODESZA on Saturday. On Sunday, Lana Del Rey offered sprightly enchantment while the Red Hot Chili Peppers served an eruption of zesty rock.
Saturday, Aug. 5
As dreary clouds welcomed festivalgoers to Lollapalooza's third day, Kosine opened at 11:50 a.m., rapping over his hit productions like Nicki Minaj's "Anaconda" and "Eenie Meenie" by Sean Kingston and Justin Bieber — where he has a writing credit.
Just over halfway through the set, Kosine brought out Loyola alum Frayne Vibez, making the sparse crowd's rainy trip to the BACARDÍ Stage worthwhile.
Bringing life through drizzles of rain, rock group The Linda Lindas showcased their playful camaraderie on the Tito's Handmade Vodka Stage. The quartet, all between the ages of 12 and 18, exemplified a stellar stage presence as they performed songs from their April 2022 album "Growing Up."
Amassing what may have been the BACARDÍ Stage's biggest crowd, Suki Waterhouse sported a sheer, swanky one piece with an exposed bra and Wellington boots. The retro-pop singer surprised what she said was her largest crowd ever by meshing Mazzy Star's indie hit "Fade Into You" with a slowed version of Taylor Swift's "Lover."
Dreamy, serene performances continued with pop artist NIKI, whose set was imbued with calming vocals. Mid-performance, the 23-year-old spoke about going to high school in Jakarta, Indonesia before playing her 2022 song aptly titled "High School in Jakarta."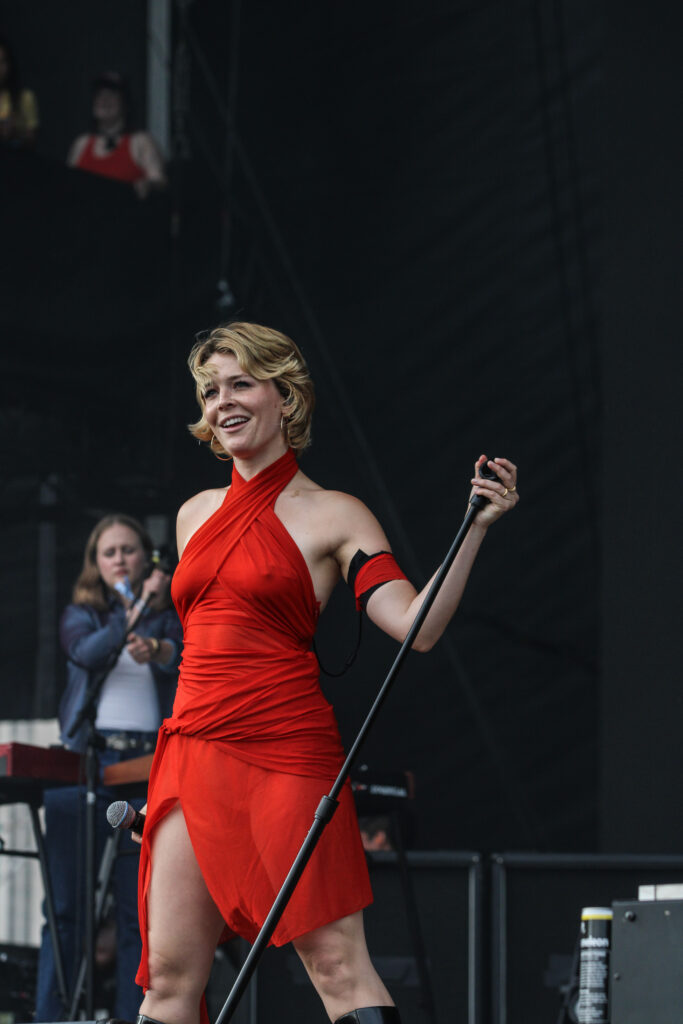 Maggie Rogers presented unmatched authenticity while showing off her relaxed, impassioned dance moves across the Bud Light Stage. Effortless belting and unwavering vocal control proved Rogers to be one of the weekend's vocal standouts.
"I never loved you fully in the way I could / I fought the current running just the way you would / And now I'm stuck upstream / And it's getting harder / I'm like falling water, falling water, falling water," Rogers sang as rain sprinkled onto fans with a double rainbow stretching over Grant Park during "Fallingwater."
As the sky opened up, the "Gravy Train" made a stop at the Coinbase Stage. Minnesota-born Yung Gravy sang praise of the Midwest while rapping with witty lyricism and sampling oldies in songs "Betty (Get Money)" and "Mr. Clean."
Along with the two Saturday headliners, Pusha T garnered a massive crowd at the western Perry's Stage. While shouting at the moshing crowd with accompanying chest-vibrating bass, the 46-year-old rapper and record executive beamed with decades worth of experience.
"The company I keep is not corporate enough / Child Rebel Soldier, you ain't orphan enough / A rapper turned trapper can't morph into us," he boomed in "If You Know You Know."
A 10-minute countdown displayed on the screens of the Bud Light Stage as glowing light sticks illuminated the crowd, showing the palpable anticipation for TOMORROW X TOGETHER.
Soobin, Taehyun, Yeonjun, Beomgyu and HueningKai make up the K-pop boy band, performing at Lollapalooza for the second year in a row. Upgrading from the comparatively small Perry's Stage last year, the idols are the first South Korean group to headline the festival.
From an intimate rendition of "Anti-Romantic" to the extended version of "Blue Hour" — complete with a dance break for choreography in matching hats — TXT executed a full range of their extensive discography, proving themselves worthy of the premier stage.
Performing the dancey tune "Happy Fools," surprise guest and featured artist Coi Leray sang her verse as fans erupted in cheers, chanting along to the chorus.
The show was enhanced by fierce flames, an engaging live band and dazzling stage lighting. Despite a majority of their discography being in Korean, the group delivered a captivating 90-minute set fit for loyal fans and new listeners alike.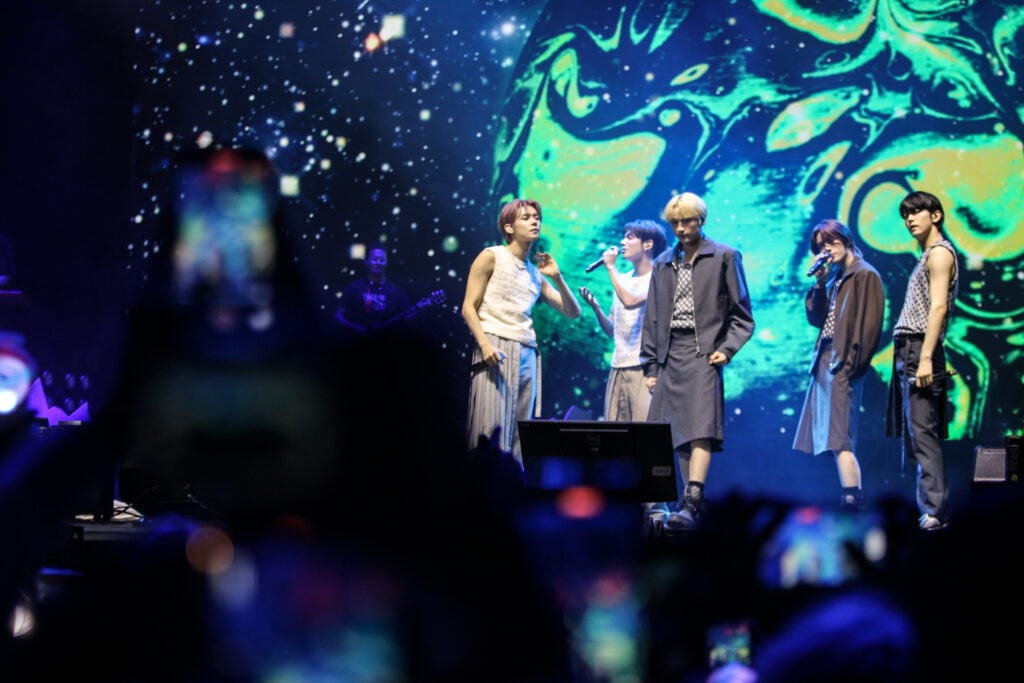 Across the park, acclaimed electronic duo Odesza revved a dedicated crowd of fans with deafening beats and piercing pyrotechnics at the T-Mobile Stage, cementing their performance as one of the weekend's most vigorous.
As flames and a striking light display erupted before the audience, the group's two members — Harrison Mills and Clayton Knight — bobbed on stage with aggressive enthusiasm.
The set was a sharp pivot from the weekend's headlining predecessors at the T-Mobile Stage — Kendrick Lamar and Billie Eilish. Intense lasers complemented penetrating build-ups to the Grammy-nominated duo's signature but repetitive beat drops. Songs like "A Moment Apart" and "Heavier" were an overwhelming sensory eruption.
Sunday, Aug 6
Day four's unparalleled lineup began with a tireless performance from pop-rock singer UPSAHL at the Bud Light Stage. Professing a desire to make history, the bad girl was a vision in white as she performed her song "Monica Lewinsky."
British indie-pop artist Bakar maintained stable vocals and audience engagement throughout his set at the Tito's Handmade Vodka Stage. Bakar inched as close to his fans as he could without leaving the stage as he played his final song "Hell N Back."
At 4:30 p.m., the indie-rock and folk vocalizations of Mt. Joy complemented the day's overcast skies, offering coziness in the midst of a second light drizzle. A resonant piano added to the depth to the LA-based band's performance.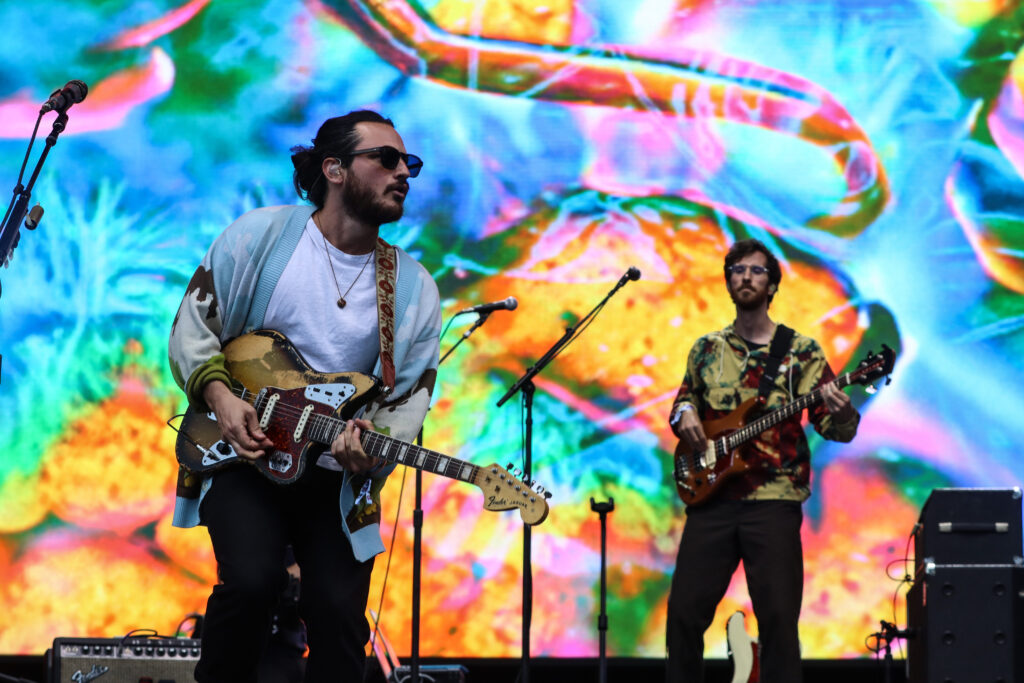 In his bass-boosted glory, Lil Yachty emerged from the fog to his 2020 single "Coffin." His second performance in Chicago this year — following his Summer Smash set on June 23 — the Atlanta rapper continued the momentum with well-known trap classics and his newer alt-rock sound explored on his January release "Let's Start Here."
Joey Bada$$ erupted on stage to the intro of his 2017 "TEMPTATION" in sunglasses and a headscarf. Dancing to his own beats, Joey "Fucking" Bada$$ forced the crowd to match his energy.
As if the audience needed more reasons to cheer, Joey Bada$$ brought out Chicago legend Chance the Rapper, performing the 2017 Lollapalooza headliner's "No Problem" to one of the largest mid-day crowds of the weekend.
The T-Mobile Stage was hidden by a black sheet until A Boogie Wit da Hoodie was ready to reveal the most elaborate set of the weekend: a two-story bridge with construction signs at the base. Starting his performance above, he lowered himself to meet the audience after his opening "Look Back at It."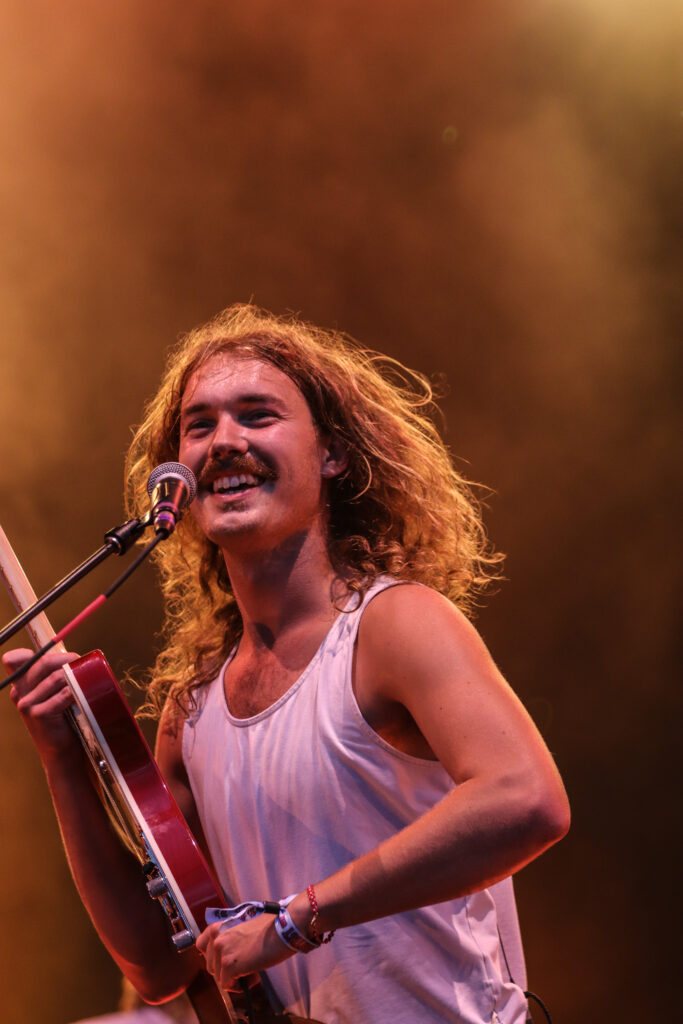 Special guest and fellow New York native Lola Brooke briefly joined A Boogie on stage to perform her track "Don't Play With It."
The tranquil sound of birds chirping playing over the Bud Light Stage loudspeakers invited fans to Rina Sawayama's performance, which quickly exploded into a lesson in pop-rock. While her flawless belting stands alone, emotive dancers, quick outfit changes and dynamic lighting completed the elaborate set. The singer showed off artistic duality, seamlessly transitioning between songs about boundless confidence and raw vulnerability.
The muddied, puddled ground of the Coinbase Stage did not deter the crowd from uniting for The Backseat Lovers' heavy alt-rock set. Instrumentally confident, the band performed an array of tunes from their October album "Waiting to Spill."
With an audience of devout believers, a saintly white dress and gospel-like hymns, Lana Del Rey was the priestess of pop on Sunday — her holy ground being the Bud Light Stage.
Beguiling the crowd with her sultry "A&W," meaning American Whore, the singer followed her entrancing opener with an angelic performance of her 2013 classic "Young and Beautiful." As she prophesied the expiration of youth, her caped dress extended along the stage, flowing in the cool summer breeze.
"I've seen the world, lit it up as my stage now / Channeling angels in the new age now," Del Rey sang to the airtight crowd.
Her stage setup was one of the weekend's most intricate, with props including makeup vanities, full-length mirrors and a flowery swing set, which Del Rey used during her 2012 song "Ride." As a posse of dancers decorated her Priscilla Presley-esque hairdo with butterflies, it seemed no artist had ever been so aesthetically in-tune with themself.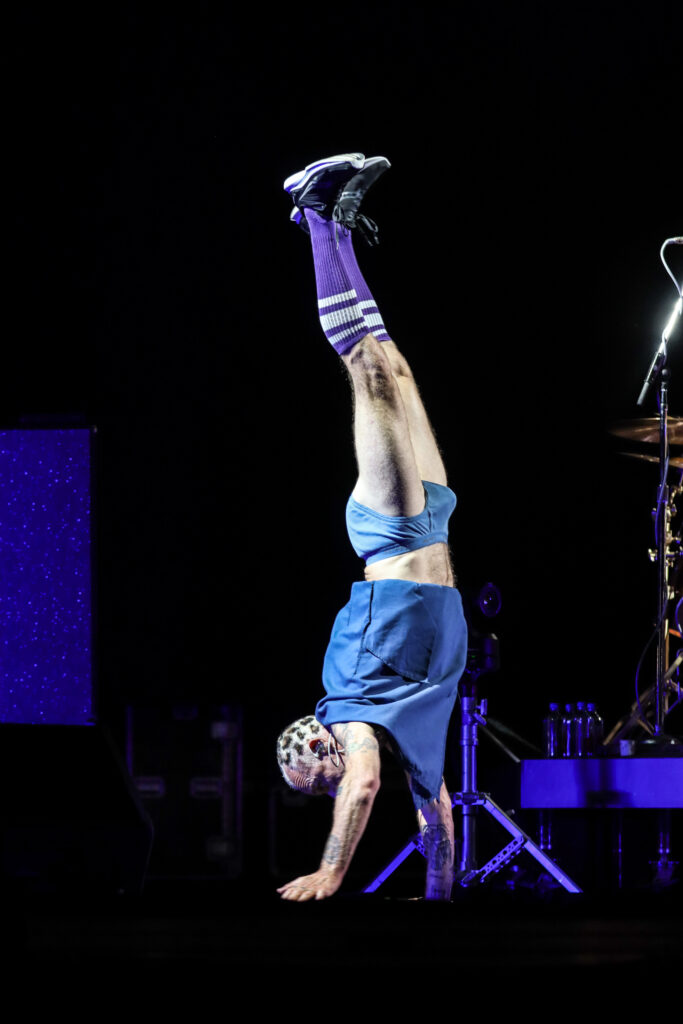 With her set in overtime, Del Rey unexpectedly closed on a somber note, serenading the audience with "hope is a dangerous thing for a woman like me to have – but I have it," while being dragged offstage by two dancers in white and one in a uniform labeled "CIA." The perplexing end preserved Del Rey's enigmatic artistic vision, leaving festivalgoers in disbelief.
For the fifth time in just over 30 years, the Red Hot Chili Peppers took the Lollapalooza stage as a premier headlining act. Their set opened with an extended instrumental performance with John Frusciante on guitar, Chad Smith on drums and the iconic Flea on bass.
Between their hits like "Californication" and "Scar Tissue," these instrumental moments persisted and continued to demand the crowd's attention in a way only 40 years of experience can.
After shots of the endless, awed crowd displayed on the big screens, the band capitalized on the silence and played their set's penultimate "I Could Have Lied" — a song chronicling the end of lead singer Anthony Kiedis and Irish singer Sinéad O'Connor's relationship. O'Connor died 11 days before.
"That song was about Sinéad," Kiedis said after the ballad. "Always was and always will be."
Off the same 1991 album, the Red Hot Chili Peppers closed out their set with "Give It Away," one of their most spirited and recognizable songs, closing the day and the weekend by thanking their fans and the city of Chicago.
This story was written by Ella Govrik, Hanna Houser, Austin Hojdar and Angela Ramírez. All photos by Austin Hojdar / The Phoenix