'An Actual Phenomenon': Lollapalooza Days One and Two
Billie Eilish, Karol G, Kendrick Lamar and The 1975 took the stage for the first two days of the festival.
Lollapalooza opened in Grant Park on Aug. 3, featuring an inflatable sun arched above KAROL G and a solar-powered stage for Billie Eilish. The next day, the massive crowd was split between The 1975's alternative-pop set and Kendrick Lamar's masterclass in rap.
Thursday, Aug. 3
Emerging Latin pop singer Lesly Reynaga dazzled the weekend's first arrivals at the BACARDÍ Stage. Performing tracks from her 2023 album "Valerosa," Reynaga's set exuded sultry charm, accompanied by four folklórico dancers and Northwestern University's mariachi band, Mariachi Northwestern.
At the Bud Light Stage, pop-rock Toronto band The Beaches energized the crowd with their May single "Blame Brett" — a viral, unapologetic breakup tune.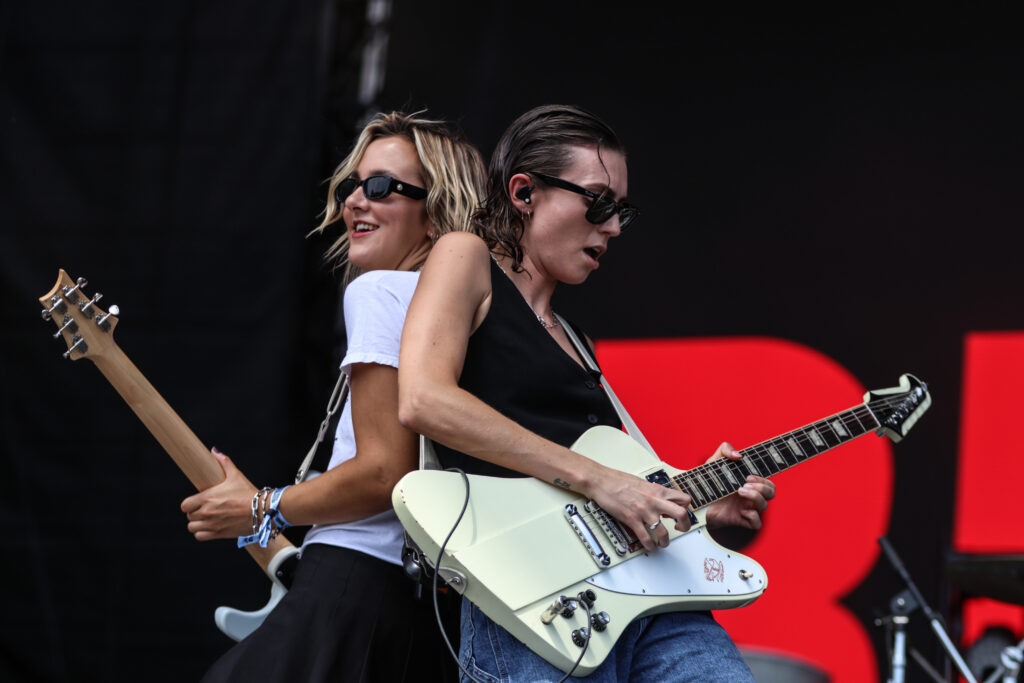 Back at the BACARDÍ Stage, Chicago indie-rock group Ax and the Hatchetmen channeled youthful triviality with songs like "Where TF Did I Park My Car" and "Existential Crisis, Pt. 1."
"We're so excited to be here," Ellis said to the audience. "This was always the festival to be at when we were growing up."
At the T-Mobile Stage, any sense of movement garnered screams from the crowd as anticipation built ahead of NewJeans' first U.S. performance. But nothing compared to the roar heard throughout the park when the five members walked on stage.
NewJeans entranced the audience, who were appropriately wearing bunny ears to distinguish the girls' fanbase — the "bunnies."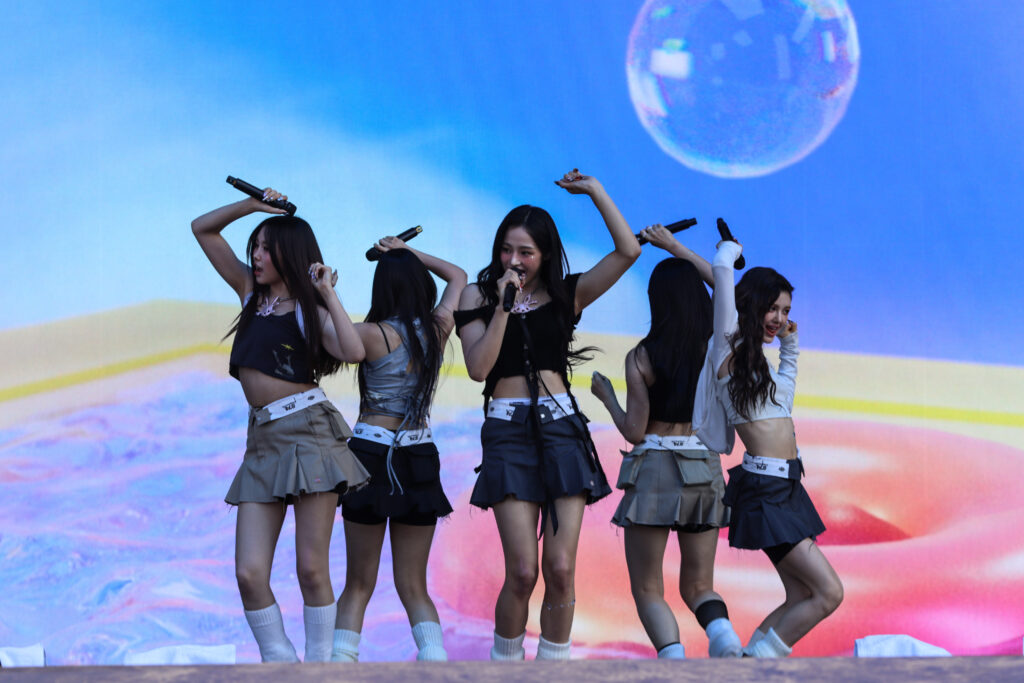 The bustling crowd testified to the quintet's skyrocketing success, having just secured the number one spot on the Billboard 200 albums chart for their second EP "Get Up." Their set included instantly viral hits like "Super Shy" and "OMG."
Noah Kahan performed to an immovable force of a crowd at the Tito's Handmade Vodka Stage — a setting too small for the massive following he has amassed since the release of his latest album "Stick Season" in October.
"Things have changed in my life because of this song," Kahan said, introducing the album's title track. "I'm so grateful because of it."
Men I Trust matched the peaceful BACARDÍ Stage, shaded by the trees and tucked away from festival chaos. Opening with their 2018 single "Show Me How," lead singer Emmanuelle Proulx's stunned with soft, wistful vocals and airy instrumentation.
Pop veteran Carly Rae Jepsen floated around the Bud Light Stage during her 7 p.m. performance. The singer offered tracks from her July 28 album "The Loveliest Time." Despite her characteristic feel-good sound, cliché lyricism and overdone pop beats made for a monotonous performance.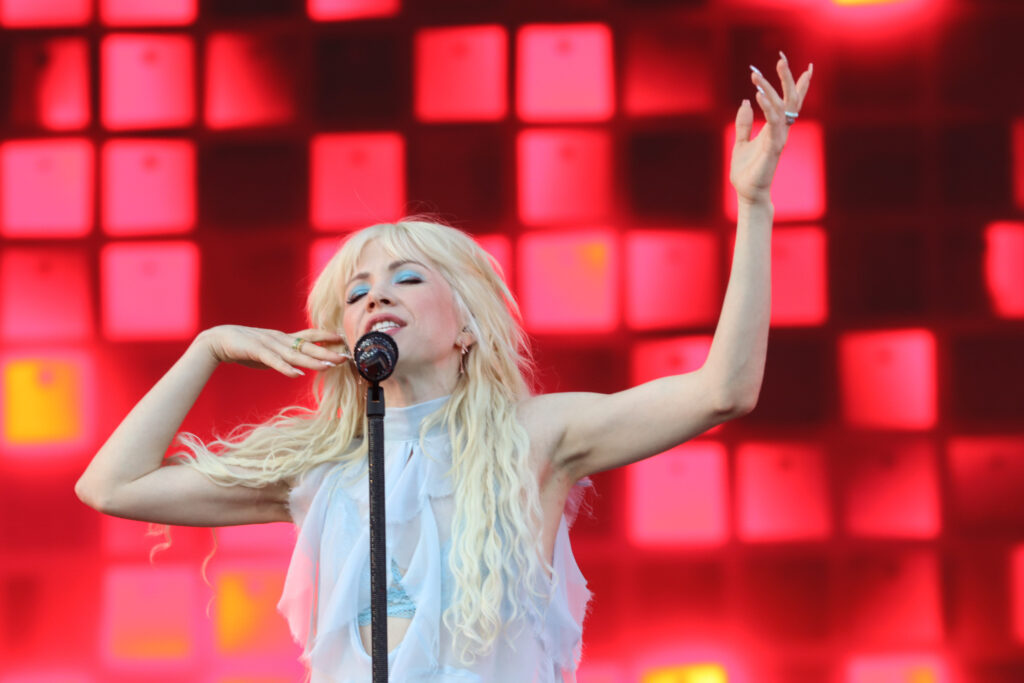 The moon rose atop the horizon, but KAROL G warmed onlookers with a joyous, cartoon-like sun. The Colombian artist made history as the first Latina to ever headline the festival.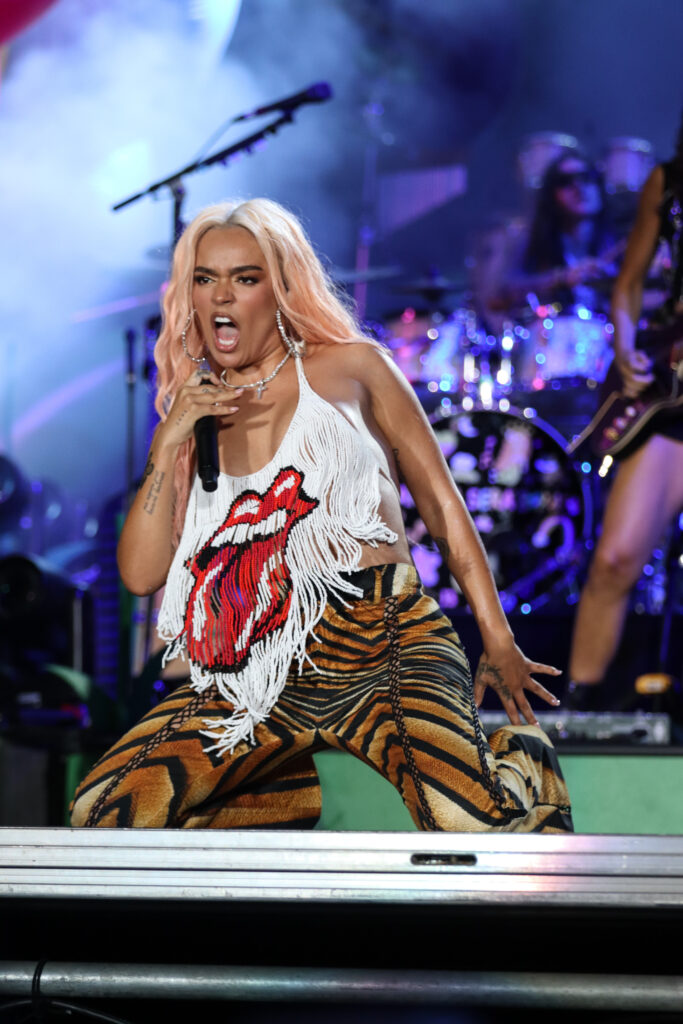 The reggaeton-pop artist took total control of the stage as she began with "TQG" — the chart-topping single from her February album "MAÑANA SERÁ BONITO."
"Y dónde están mis besties?" she asked with a smile before her performance of "BESTIES." Festivalgoers sang along in Spanish as KAROL G danced onstage, charming the audience with every sensual move.
After acknowledging the crowd's array of Latin American flags, KAROL G returned to her classics, performing her and Nicki Minaj's verses from their 2019 hit "Tusa."
Despite a heavenly light display and visually captivating stage props, KAROL G's effortless vocals and undeniable star quality outshined all else — a typical feat for La Bichota.
After an introduction from Mayor Brandon Johnson, alt-pop singer Billie Eilish ran onto the T-Mobile Stage while singing "bury a friend" from her 2019 album "WHEN WE ALL FALL ASLEEP, WHERE DO WE GO?" Her characteristically mysterious stage presence was evident, alternating between creeping down the stage's catwalk and jumping around the platform.
Along with her Michael Jordan jersey and intense red lighting, the singer performed on a partially solar-powered stage, collaborating with environmental non-profit Reverb in an effort to eliminate carbon emissions.
Finneas — Eilish's brother, co-writer and producer — played acoustic guitar on her somber songs and piano for others, including "What Was I Made For?" The Lollapalooza stage was the first-ever live performance of her emotionally powerful track from the July 21 motion picture "Barbie."
"When did it end? All the enjoyment / I'm sad again, don't tell my boyfriend / It's not what he's made for / What was I made for?" Eilish crooned.
With her recognizable sound and well-defined aesthetic, Eilish's headline performance closed the festival's first day with youthful personability and energized vocalization. She concluded the night with rage and introspection during an explosive rendition of her hit "Happier Than Ever."
Friday, Aug. 4
Sincere Engineer ushered in the second day of performances on the Bud Light Stage with growling vocals and a grunge-punk sound.
"I would be crying, but all the sweat's coming out," lead singer Deanna Belos said. "I don't have more moisture to waste."
The Chicago band sang "Corn Dog Sonnet No. 7" and "California King" — a track about wanting to leave their home city.
Emo Nite hosted an early-afternoon party at the Perry's Stage, rowdying the crowd with iconic 2000s alt-rock hits. The duo, made up of Morgan Freed and T.J. Petracca, brought out special guest 3OH!3 for a performance of the 2008 hit "DONTTRUSTME."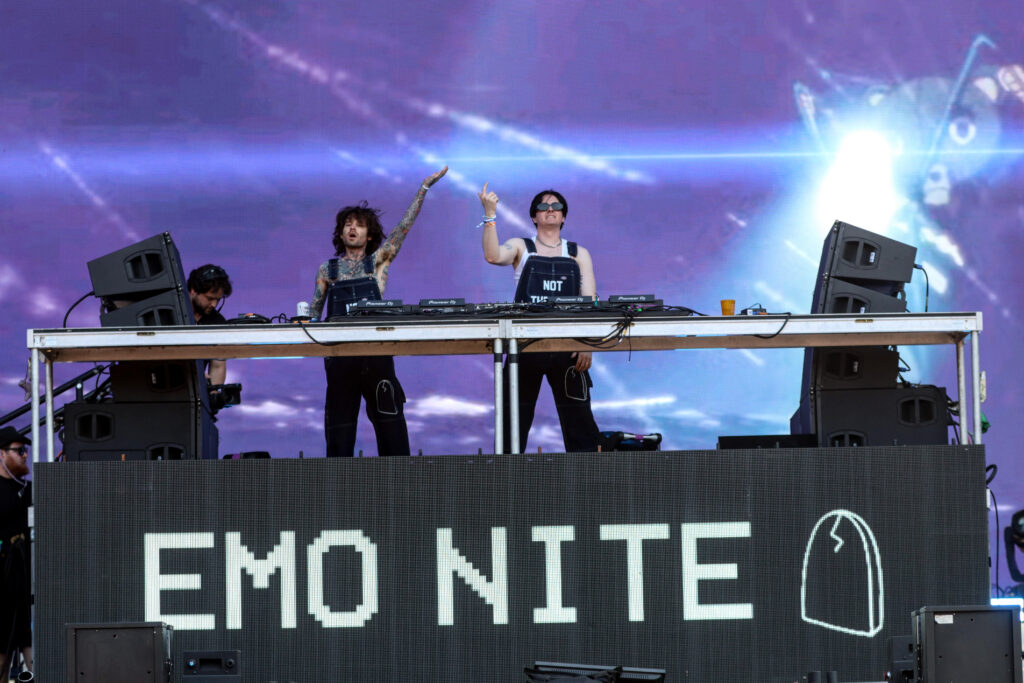 Taking to the Coinbase Stage, Peach Pit showcased their decades-long camaraderie over frisky guitar strums and playful dancing. The Canadian group's seamlessly casual transition between rock and indie-pop made the swelling crowd feel like an intimate hangout.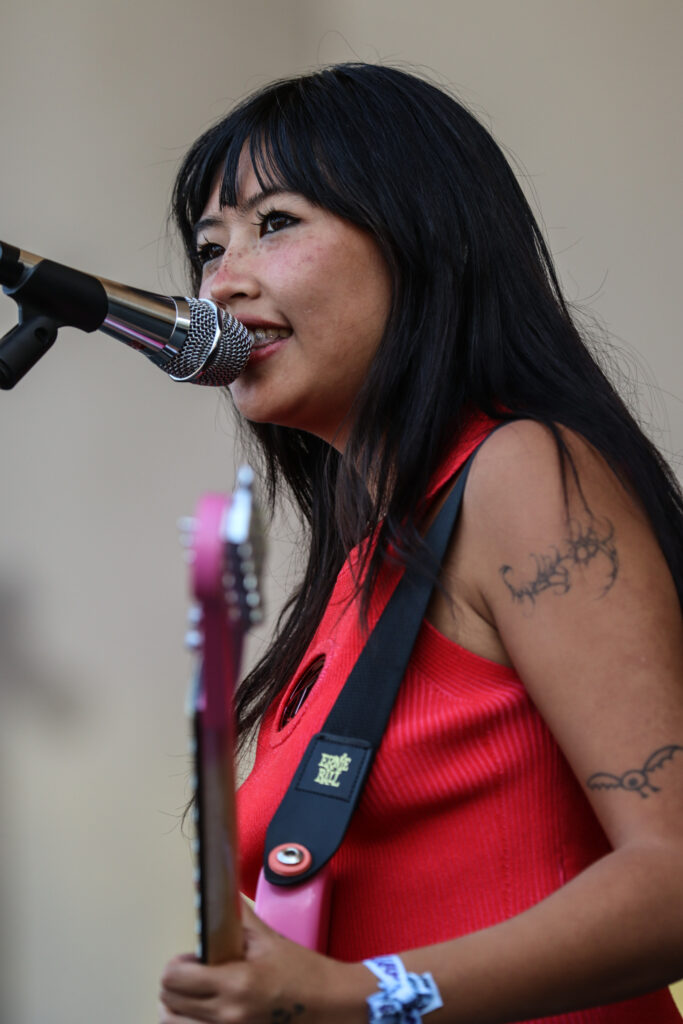 beabadoobee's smile captivated the Tito's Handmade Vodka Stage as she shredded her hot pink guitar, opening with "Talk" off her 2022 album "Beatopia." Her charm and intense instrumentation affirmed the rising star's recent success.
"'Cause I'm not sure if I've seen you before / You looked familiar when I saw you," she belted.
Things got a little "slutty" at 5:45 p.m. on the Coinbase Stage as Sabrina Carpenter dazzled in fitted, knee-high platform boots and a pink two-piece set. Between sultry dancing and a personalized Lollapalooza outro to her 2023 hit "Nonsense," the pop singer's performance was irresistibly commanding and unapologetically provocative.
"Turn that dick to stone, call me Medusa / Choking on it, need Heimlich maneuver / Sorry I don't date Lollapaloo-zers," Carpenter talk-sang with a grin.
DIESEL amassed a massive crowd at the Perry's Stage for two reasons: his lively set and the fact the man behind the DJ booth is Shaquille O'Neal.
O'Neal has played for six NBA teams and while none of which were the Chicago Bulls, that didn't deter their mascot Benny the Bull from hopping around on stage as DIESEL entertained an unrelenting, moshing crowd.
While most DJ sets took place over at the Perry's Stage, English producer Fred again.. turned the T-Mobile Stage into a daytime nightclub. A keyboard, soundboard and microphone were all the artist needed to send the crowd into a dancing frenzy.
A mile away, a choir donning red robes entered the Bud Light Stage as the crowd awaited Thirty Seconds To Mars' appearance. Opening with their song "Walk On Water," lead singer Jared Leto stunned the crowd as he leapt from atop the stage in a harness.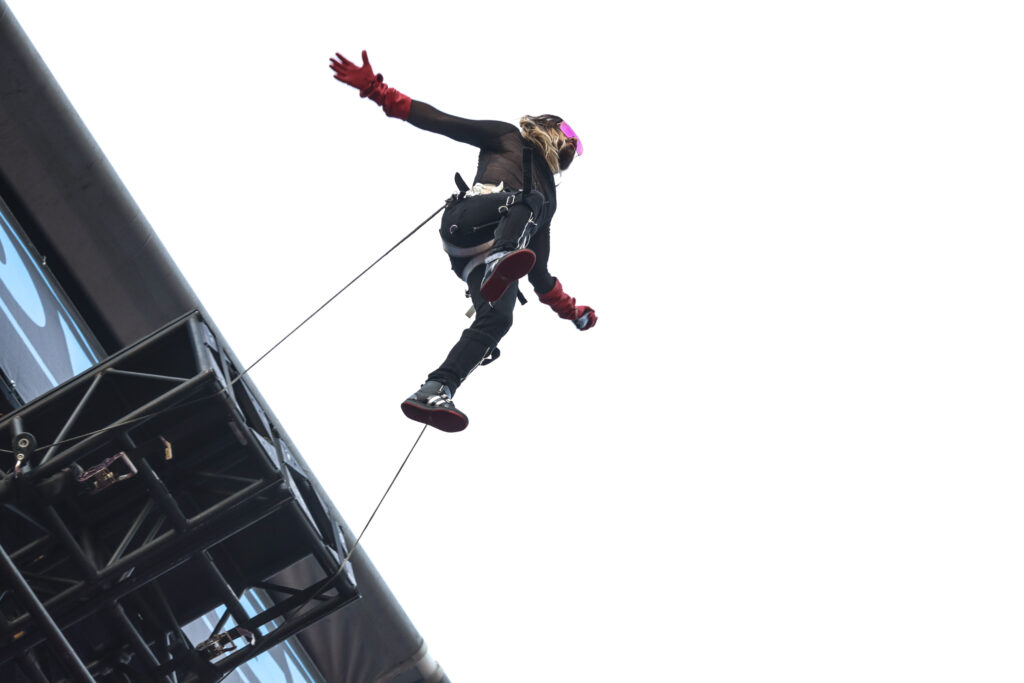 "I just almost killed myself for you guys," Leto told the crowd. "Let's have a great time."
The shaded BACARDÍ Stage hosted Atlanta rapper Ken Carson's flat set, complete with brief crowd-surfing from festivalgoers. While he shook the ground with bass-boosted 808 drums and endless adlibs from his October album "XTENDED," the artist's performance lacked nearly any actual rapping from Carson himself.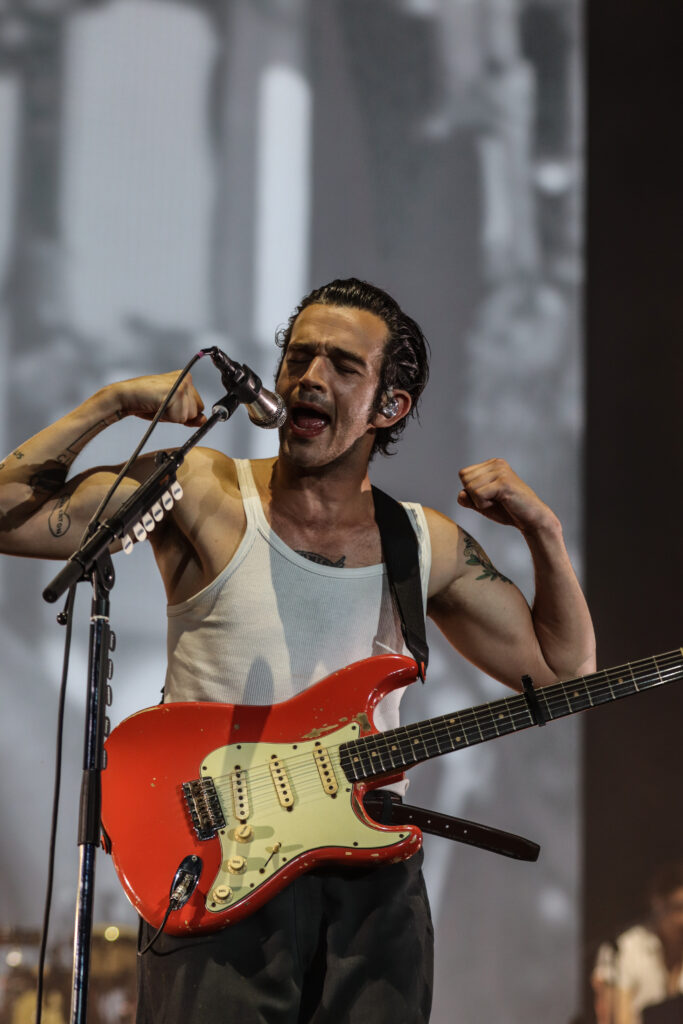 As the evening air cooled, The 1975 closed out the Bud Light Stage by opening with "Looking For Somebody (To Love)" from their October album "Being Funny In A Foreign Language." The song is a danceable tune shrouding a striking social commentary — a common theme across their discography and performances.
"We're always on the internet, constantly unified by things that we don't like," lead singer Matty Healy said. "And look — there's hundreds of thousands of people unified for something they do like. That's an actual phenomenon."
Healy, cigarette and flask in hand, proved The 1975 worthy of the headline slot with his contagious demeanor and playfulness. Their production's camerawork masterfully matched the band's wide range of songs, with slow zooms and fades for ballads like "Somebody Else" and non-stop camera cuts during anthems like "LOVE IT IF WE MADE IT."
Nearly 15 minutes after his scheduled time, Kendrick Lamar bashfully approached a distending crowd, shielding his face in sunglasses and a hat as his 2022 Grammy-winning hit "The Heart Part 5" staggeringly echoed through the speakers.
"I can't stress how I love y'all / I don't need to be in flesh just to hug y'all / The memories recollect just because y'all / Celebrate me with respect / The unity we protect is above all," Lamar bellowed.
Compared to Eilish's impenetrable volume, Lamar's artistry became stifled by what appeared to be a faulty sound setup, causing a portion of his set to be audibly indistinguishable.
Nonetheless, the genius of K.Dot spoke for itself as he transformed timeless hits into interpretive pantomimes through performative storytelling. A group of background dancers — intentionally resembling the artist — shifted robotically about the stage, visually complimenting Lamar's controlled delivery.
As 10 p.m. hit, unsuspecting festivalgoers began to abandon the area as the stage's screens faded to black — signaling what some believed to be Lamar's exit. The stage lights suddenly flashed into a red hue and Lamar erupted onto the stage, returning to perform his final two songs "Alright" and "Savior."
"Chi-town, you could be anywhere in the world," Lamar said to the adoring crowd before ending his set. "But you're here with us, so thank you."
This story was written by Ella Govrik, Hanna Houser, Austin Hojdar and Angela Ramírez. All photos by Austin Hojdar / The Phoenix